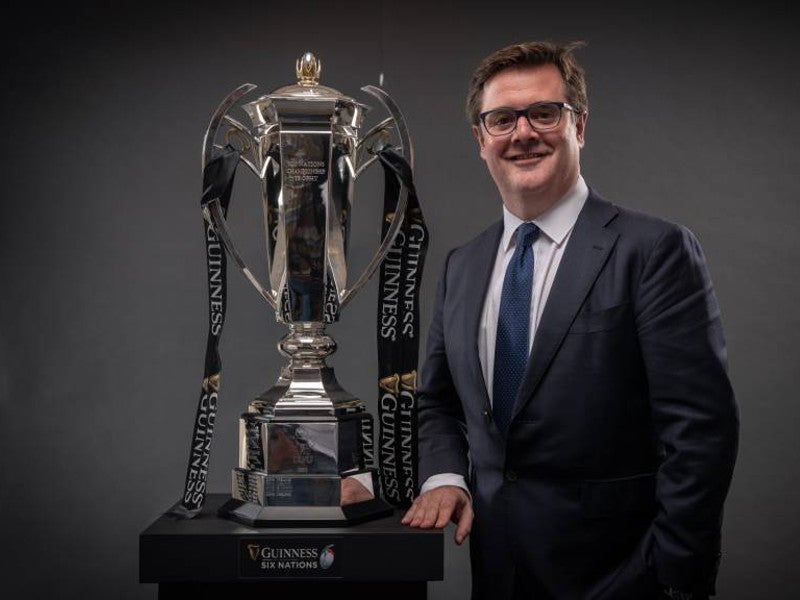 Ben Morel is to step down from his role as chief executive of Six Nations Rugby, the organizer of the prestigious annual international rugby union tournament, after five years at the helm.
Six Nations Rugby said Morel had informed the organization's board he will end his tenure after the 2022-23 season to ensure a smooth transition with his successor.
Morel said: "It is an unbelievable privilege to be leading such an organization as Six Nations Rugby and in particular such a talented group of people.
"I am immensely proud of the many accomplishments over the last five seasons ranging from successfully completing our Championships during the pandemic, centralizing our rights to offer a better experience for our fans around the world, and bringing state-of-the-art partnerships to place rugby on a significant growth trajectory.
"I am at the stage of my life when I want to tackle other personal and professional projects and a Rugby World Cup year is the perfect time to ensure a smooth transition to keep the pace of our rapid transformation.
"There are several key projects I am focused on delivering before I depart and look forward to the next months ahead."
The board has said the process to find a new chief executive is already underway, with an announcement expected early next year.
During his tenure at Six Nations, Morel has overseen a period of transformation for the organization underpinned by new investment secured through a strategic partnership with private equity firm CVC Capital Partners.
The agreement, signed off in March 2021, will see the fund invest up to £365 million ($509 million) in the Six Nations over five years in return for a stake of just over 14% in the commercial rights over a more long-term period.
Morel also led the effort to centralize media rights to the men's Six Nations, revamped women's tournament, and under-20 Six Nations, the Autumn Internationals, and other international matches.
Elsewhere, he participated in negotiations with streaming giant Amazon Prime Video for rights across the UK and Ireland to broadcast the new Autumn Nations Series, the end-of-year set of test matches first played in 2021 after the Autumn Nations Cup in 2020 and the Autumn Internationals before that.
Ronan Dunne, chair of the board of Six Nations Rugby, said: "We have been privileged to have Ben's wise counsel and steadfast leadership during these past five seasons.
"He has delivered an outstanding performance, whilst establishing a strong and effective organization and executive leadership team, leaving us well placed to deliver on the next phase of our vision for Six Nations Rugby."
Morel joined Six Nations in August 2018 from North American basketball's NBA, where he worked for 20 years. His final role at the organization was as managing director and senior vice president of Europe, the Middle East, and Africa (EMEA).
At the point of leaving the NBA, he was credited with driving growth in the popularity of the league in the EMEA region, a key market given the large following for basketball there, and helping establish partnerships with Perform, the international digital sports content, and media group, and broadcasters such as BeIN Sports in France and the Middle East and Movistar in Spain.
It resulted in NBA games and programming being shown in 36 languages in 61 countries in the region, with Morel a key driver of the NBA Sundays initiative, in which live games are shown in prime-time on Sunday evenings, a scheme that has now expanded to include prime-time games on Saturdays.
Morel's tenure at the NBA also coincided with the playing of sold-out regular-season games at the O2 in London.