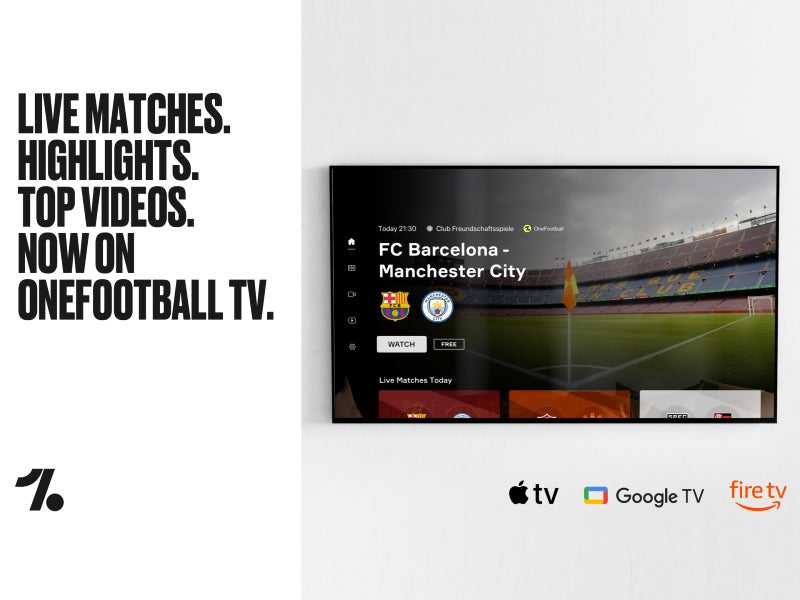 OneFootball, the international soccer content portal, has today (November 3) launched its first connected TV app via which users can watch its full library of video content.
This includes live games, highlights, and news and features about clubs, leagues, and tournaments around the world.
Among the live matches that can be watched on the app as a result of OneFootball's portfolio of rights are those in the German top-tier Bundesliga, Italian top-tier Serie A, and Brazilian top-tier Campeonato Brasileiro Série A – although availability varies depending on the user's home market.
OneFootball users can pay for single matches or packages, with access then provided for any device. These can be purchased within the TV app itself, as well as online and via the OneFootball mobile app.
OneFootball TV is available globally on Apple tvOS and Amazon Fire TV devices, with Android TV, Samsung, and LG smart TVs to follow.
The launch of the app will help with the portal's continued growth and, OneFootball says, opens up new opportunities for its partners to connect with its "audience of young and engaged football fans." It notes that all of its content – including live games and highlights videos – supports programmatic advertising.
OneFootball says it has over 100 million monthly active users worldwide, as well as a network of over 150 clubs, leagues, federations, and players. In addition, it says it works with "hundreds of independent content creators and broadcasters."
Ismail Elshareef, chief product officer at OneFootball, said: "Today's football fan experiences the game in many different ways, whether that's in a stadium, on TV, or on their mobile device. We know our users want the option to watch live matches on the big screen, so we've answered their call by making it even easier to enjoy the game they love, in any way that suits them – on their phones, on the web, and now on connected TV devices."