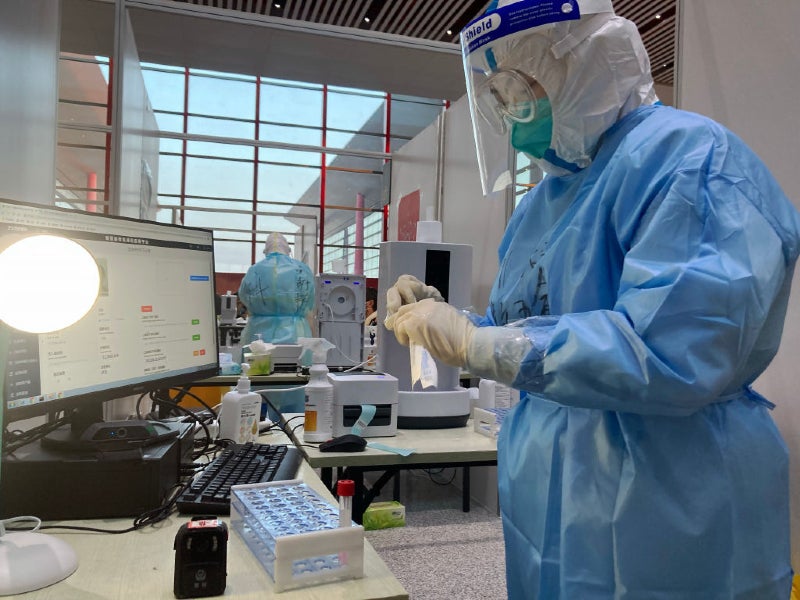 Beijing, the host city of the upcoming Winter Olympic and Paralympic Games, has introduced additional Covid-19 countermeasures after recording its first case of the highly transmissible Omicron variant of the disease.
From this coming Saturday (January 22) until the end of March, it was announced yesterday (January 16), anyone arriving in the city must take a Covid-19 test within 72 hours after their arrival.
This is in addition to the existing requirements to take a test in advance of traveling to Beijing and testing for international travelers to China.
Many schools have also instructed students to study from home ahead of the winter vacation, local media has reported.
The new measures bolster those that China already has in place as part of its strict zero-Covid strategy ahead of the Beijing Winter Olympics in three weeks' time (February 4 to 20) and the subsequent Paralympics (March 4 to 13).
In addition to mask-wearing requirements and stringent localized lockdowns when cases are detected, many incoming flights have been canceled to protect against Omicron, certain public spaces have been closed, a closed-loop system is in place to stop Beijing 2022 participants mixing with their local population, and playbooks providing guidance for games participants have been published.
The International Olympic Committee, meanwhile, has said that nearly 100% of Olympic Village residents will be fully vaccinated.
In addition, it has been announced today (January 17) that tickets will not be sold for events at Beijing 2022, although some groups of spectators will be invited to events through an adapted program. The organizers of the Beijing Winter Olympics and Paralympics had held off making a final decision about spectators until close to the events so that they would have a clear idea of the risk involved.
Xu Hejian, a spokesman for Beijing's municipal government, said at a briefing on Saturday (January 15): "Beijing has entered the Winter Olympics moment, and it faces the dual pressure of defending against imported cases and preventing the rebound of the outbreak. The newly reported locally transmitted case today has set off a new alarm for the pandemic prevention and control effort."
Local media has reported that the individual who tested positive for Omicron had not had any known contact with other confirmed cases of the variant or left the city in the fortnight prior, making the case of particular concern.
Subsequently, around 13,000 people and all of the places that the individual had been recently are said to have been tested.
A number of other Chinese cities are also dealing with outbreaks of Covid-19 to varying extents.
Meanwhile, Denmark's foreign minister Jeppe Kofod announced on Friday that the country will not send a delegation of officials to Beijing 2022.
Kofod said: "It is no secret that we from the Danish side are very concerned about the human rights situation in China. The government has decided that we will not attend the Winter Olympics in China."
Denmark joins the US, Australia, New Zealand, Britain, Canada, and Japan in diplomatically boycotting the games.