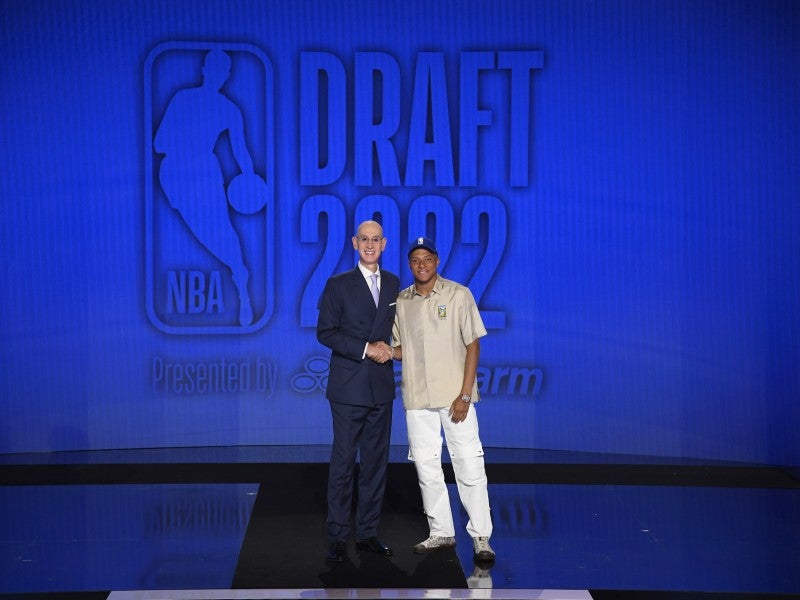 North American basketball's NBA has agreed a multi-year content creation partnership with Zebra Valley, the new US-based production company launched by French soccer star Kylian Mbappe.
As part of the tie-up, Zebra Valley will create original NBA content to engage fans around the world.
The partnership was brokered by WME Sports, the Endeavor-owned athlete representation business, and tipped off last night at the 2022 NBA Draft in New York, which Mbappe attended.
The 23-year-old Paris Saint-Germain and France superstar launched his production firm, which is based in Los Angeles, earlier this month and signed a deal with WME Sports through he and his entertainment company will be represented by the company.
Mbappe said "The strategic partnership between Zebra Valley and the NBA represents a significant step in bringing football and basketball fans together around premium content by telling stories that matter.
"We look forward to working with the NBA team to encourage dialogue among global communities and make cultural conversations more relevant."
George Aivazoglou, NBA head of fan engagement and direct-to-consumer for Europe and the Middle East, added: "Drafting Kylian Mbappe into the NBA family speaks to the global appeal of NBA basketball and the convergence of the league, the global football community, and popular culture.
"We look forward to working with Kylian and the Zebra Valley team to create unique, compelling content that will engage and inspire fans around the world."
Mbappe created Zebra Valley to produce television and film projects focused on sports, music, art, technology, gaming, consumer products, and youth culture.
The production company will create scripted, non-scripted, live-action, and animation content.
Zebra Valley will also focus on topics around diversity and "look to generate dialogue among global communities by telling universal stories."
WME Sports is targeting partnerships with brands and platforms looking to deepen their consumer engagement with a focus on multi-platform content.