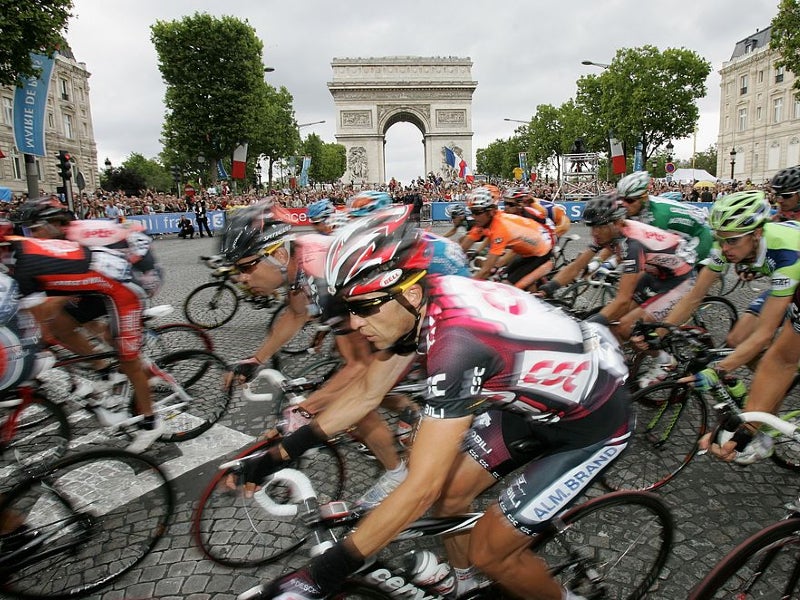 FloSports, the US-based over-the-top sports subscription service, will continue to provide exclusive coverage of cycling's iconic Tour de France in Canada until 2028 after agreeing a renewed long-term deal with organizer Amaury Sport Organisation (ASO).
Under the extended five-year agreement, the streaming platform will show the prestigious race live and on-demand from 2024 through 2028.
The partnership extension also includes a selection of women's and men's competitions including the women's Tour de France, Paris-Roubaix, and La Vuelta.
Additional non-cycling races produced by ASO will also be streamed by FloSports including motor racing's Dakar Rally and the Paris Marathon.
FloSports will broadcast this year's edition of the Tour de France starting on Friday (July 1) and the inaugural Tour de France Femmes avec Zwift on July 24 on its FloBikes platform as part of its existing partnership with ASO.
Ryan Fenton, FloSports' director of global rights acquisition, said: "FloSports is committed to delivering the best in competitive cycling to Canadian audiences and we are excited to extend our relationship with Amaury Sport Organisation.
"The addition of the Tour de France Femmes and other women's cycling events brings more diverse programming to our FloBikes platform, and we're honored to shine a spotlight on these world-class competitors. We take pride in the opportunity to broadcast these prestigious global sporting events including the Dakar Rally and the Paris Marathon across our network."
Julien Goupil, media and partnership director at ASO, added: "We are very pleased to extend our partnership with FloSports in Canada. They have proven their commitment in bringing innovatively to their audience the year-long action of our cycling portfolio and the exciting storylines – culminating with the Tour de France and the first edition of the Tour de France Femmes in 2022 that will create a strong momentum for women cycling."
Meanwhile, Warner Bros. Discovery Sports (WBDS), the sports division of the multinational media and entertainment giant, has unveiled its coverage plans for the upcoming Tour de France and announced it will co-produce the men's and women's editions for the first time.
The company will also use its Cube mixed-reality studio to present its coverage of the races.
The Cube has already been used for grand slam tennis events, the Tokyo 2020 Olympics, and 2022 Olympic Winter Games in Beijing on WBDS platforms.
WBDS will also roll out several innovations, augmented reality analysis tools, and virtual backdrops for this year's Tour de France and Tour de France Femmes.
An 'inclinometer' feature will be introduced, a 3D representation bringing to life the gradients faced by the peloton.
All of the Tour de France and the Tour de France Femmes will be available to watch on the Discovery+ and GCN+ streaming platforms, as well as pan-European sports broadcaster Eurosport and the Eurosport app.
The men's edition will run from July 1 to 24, while the women's race will be held from July 24 to 31.
Scott Young, senior vice president of content and production at Warner Bros. Discovery Sports Europe, said: "Our Cube studio is one of the best storytelling innovations in broadcasting and harnessing tailormade tools and added analysis features to help unpick a particular stage, climb or sprint finish is truly unique for the sport of cycling.
"Further elevating women's sport and doing more to deliver gender balance across the events we showcase is hugely important. Presenting more women's sport and giving equal billing to women's and men's events during our coverage of the tennis grand slams and Olympics is only the start.
"When the ASO launched the Tour de France Femmes, we were determined to bring the very best of our production innovation and expertise to both Tours. With live coverage of every stage and even more cycling content across our digital platforms, we can't wait to take our coverage of the Tour de France and the Tour de France Femmes to a whole new level this year."