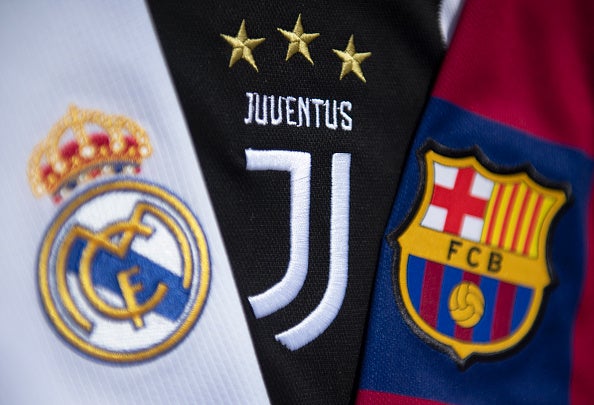 A Spanish court has asked the European Court of Justice to look into whether soccer's international governing bodies are breaching competition law in blocking clubs from launching a breakaway Super League.
The commercial court in Madrid also wants the ECJ to determine whether Fifa and Uefa have the right to impose sanctions on clubs that remain involved with the proposed competition.
Last month, 12 clubs from Spain, Italy and England announced plans for an elite Super League that would usurp the Uefa Champions League as the top European clubs competition.
However, amid a significant backlash, the venture fell through as nine of the teams withdrew.
The group of nine has now recommitted to Uefa and its competitions while accepting limited financial penalties.
However, Spanish giants Real Madrid and Barcelona and top Italian club Juventus are refusing to abandon the Super League plan.
As a result, Uefa yesterday began a disciplinary investigation to establish whether the three teams had violated its legal framework with the breakaway project.
It is thought that the trio could be banned from Uefa club competitions, including the Champions League, for up to two years, if found guilty.
The intervention of the Madrid court comes after, on the direction of the Super League organisers, it last month passed an order that Fifa and Uefa and associated federations must not adopt "any measure that prohibits, restricts, limits or conditions in any way" the competition.
The court document, which was released on Thursday, focuses on Articles 101 and 102 of the Treaty of the Functioning of the European Union.
The first of these prohibits cartels and other agreements that could hinder free competition in the bloc, and the latter prevents undertakings which have a dominant position in a market from abusing a position.
The document also asks he ECJ to rule if Fifa and Uefa dictating to an economic operator from a member state constitutes a breach of other articles.
Lawyers spoken to by GlobalData Sport last month indicated that while the Super League was planned to be a semi-closed competition, Uefa would face difficulty in seeking to block it on competition grounds.
Peter Crowther, managing partner of Winston & Strawn's London office, said: "There's nothing inherently wrong in having a closed league from a competition law standpoint, so they're going to find it very difficult to advance that argument successfully.
"And the reason is a league is closed in terms of organising the sport for that season. Now you could say, 'well, there's relegation and promotion, that's not the case'. But all you have is basically competition for three spots in the league above and the league below.
"Once that's settled for a particular season, it's a closed shop. There are only so many matches you can play. If you think about it, you have to be able to organise your sport in accordance with the demands of the particular sport."
He added: "It's a fallacy to say that it's closed therefore it's anti-competitive. That's just the way that the system is designed, and that's what competition law respects. Competition law will not intervene to second-guess the organisation of a sport where it's inherent in the very sport itself that you have those restrictions."
Mark Orth, a German lawyer who specialises in competition law cases in European sport, went further in arguing that European soccer's governing body was itslef acting restrictively.
He said: "Uefa is a monopolistic undertaking, and hasn't allowed competition in the past, and will not allow competition in the future. They have exclusivity with many players [in the market], nearly everyone dealing with them. They try to hinder the existence of any kind of competition.
"What I'm always saying is just imagine if Amazon had a similar procedure, saying that anyone using Amazon Marketplace is not allowed to deal on any other online marketplace. It is clear and obvious that should not be allowed.
"Uefa has a 100 per cent market share, not just this year, last year, but for many years. From that point of view, who is acting anti-competitively? It's quite obvious."