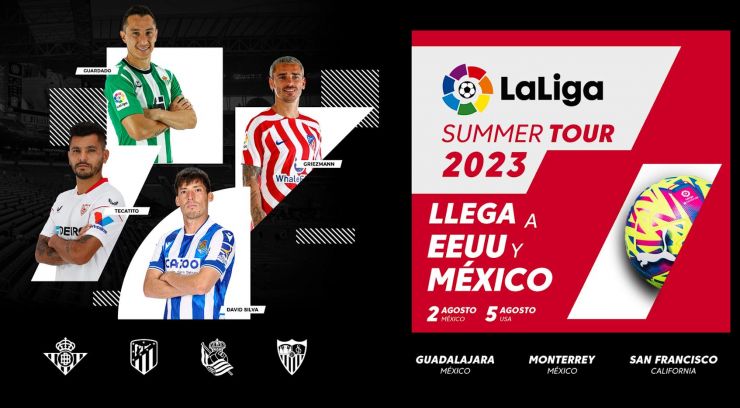 LaLiga has announced the four clubs that will play in its pre-season tour of Mexico and the US ahead of the 2023-24 campaign.
The LaLiga Summer Tour will feature Atlético Madrid, Sevilla, Real Betis, and Real Sociedad.
It will run across the two dates of August 2 and August 5 in Monterrey and Guadalajara in Mexico along with the US city of San Francisco.
The opening day will see Atlético take on Sociedad at the Estadio BBVA in Monterrey and Sevilla face Betis at the Estadio Akron in Guadalajara. Both stadiums are to host matches at the 2026 FIFA World Cup, which Mexico will jointly stage alongside the US and Canada.
The second pair of fixtures will take place at San Francisco's Oracle Park, home of Major League Baseball team the Giants, and will see Atlético play Sevilla and Real Betis take on Sociedad.
LaLiga has said the tour, organized in partnership with US soccer events and media business Relevent Sports Group, will be the biggest it has organized outside of Spain.
It will be shown by LaLiga's official broadcasters in the two countries – pay TV's Sky in Mexico and sports broadcaster ESPN in the US.
The tour will follow shortly after the Premier League Summer Series in the US, a pre-season tournament to be contested by six clubs from English soccer's top flight at the end of July, with both events having been announced this week.
Both LaLiga and the Premier League have pointed to their fanbases in the region and the aim of building upon existing success there as reasons for the tours.
Óscar Mayo, executive general director of LaLiga, said: "The LaLiga Summer Tour is an exciting opportunity for us to continue reaching new fans by bringing the history and passion of LaLiga to North America.
"LaLiga is in a period of rapid transformation as more teams are improving and the athletes are reaching entirely new fan bases globally. There's a real passion growing in Mexico and the United States for the sport, and we hope to tap into that with this tour."
Boris Gartner, chief executive of LaLiga North America, added: "We believe that through these matches we can continue to foster deeper connections with our fans across Mexico and the United States."