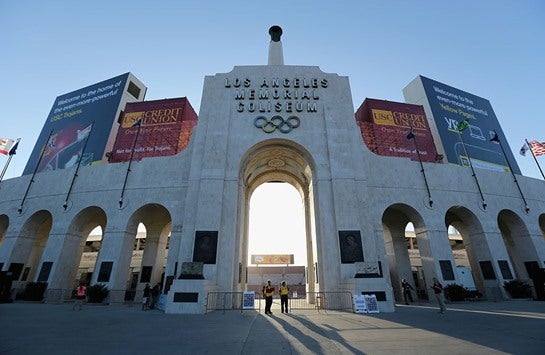 After being burnt by the failings of Chicago's campaign for the 2016 Olympics, the US Olympic Committee has taken its time to come back to the bidding table, returning with Los Angeles, the entertainment capital of USA, in what could prove an irresistible offer to the IOC: a privately-funded games, with no need to rely on government assistance at a time when the Olympics are being used as a political tool in western democracies.
Olympic Games: 19 July – 4 August — Paralympic Games: 16 August – 29 August
• Privately-financed games with no call on the taxpayer
• No permanent venues need to be built and athletes' village already exists
• California is the entertainment and technology capital of the world
• Does it have a 'story'?
• Transportation – LA is vast, with the city's metropolitan area covering 87,941 km²
• International opinion of USA
From the outset, the Los Angeles 2024 message to the IOC has been clear: zero risk, zero surprises.
It's a compelling sales pitch to an organisation whose showpiece event has taken a public battering over the past decade.
A growing consensus among western democracies has been that the Olympic Games are too expensive to host, and leave a herd of white elephants in their wake.
It put together a plan with an operating budget of $5.3 billion, but a net outlay of zero, given an improved revenue picture. Built into those calculations is a $492-million contingency.
LA 2024 claims its bid is "perhaps the most scrutinised, third-party validated in Olympic history, and it does not rely on any public investment. This is a drastic change from many past bids – and this means no surprises for the IOC or the Olympic Movement."
---
A growing consensus among western democracies has been that the Olympic Games are too expensive to host, and leave a herd of white elephants in their wake
---
The low budget stems from the fact that 85 per cent of proposed venues either already exist or are planned. No new permanent competition or non-competition venues would be built specifically for the games, with only a canoe slalom venue needed.
The bid book is direct: "We began our planning by addressing the real concerns of recent Olympic Games – their increasing cost, size and operational complexity – with the existing assets of our city. This means we are not changing our city to fit the Olympic Games, rather, we are applying the existing resources of our city to create an exceptional games concept that is fully sustainable, because it already exists."
Overall, LA 2024's games concept features four Sports Parks, all located within 40 minutes of the Olympic Park. The big traditional Olympic Games outlays are already accounted for: the athletes' village will be the campus accommodation at UCLA, one of USA's leading universities; and track and field will be in the existing LA Memorial Coliseum, the focal point of both the 1932 and 1984 Olympic Games.
What's more, an LA 2024 organising committee will be able to make use of the privately-funded $2.6-billion, 85,000-seat stadium being built at Hollywood Park for NFL American football's Rams and Chargers. The stadium is due to open in 2019.
As Casey Wasserman, chairman of the bid says: "From day one, LA 2024's budgetary objective has been: 'no surprises.' If LA is chosen to host the 2024 games, the IOC does not have to worry about changing or evolving budgets, shifting competition venues or uncertainty about the delivery of the games."
Presenting to the summer Olympic sports federations at April's SportAccord Convention in Denmark, Wasserman was quick to hammer home the point: "LA 2024 is not a government project, with all the risk and uncertainty that implies in today's world. Just like our bid, our games will be privately funded and privately managed, free of government interference. LA 2024 will achieve two very important goals: minimise financial and execution risk, and maximise the experience for each of your sports at the games."
Yet, as one IOC member tells Sportcal Insight, that is not a guarantee of success: "LA must be able to answer the question 'why LA?' Chicago [2016] had no 'story' and that was one of the main reasons why it lost in 2009.
"One of the oddities in Olympic bids is that the countries in which you can have the most confidence in a capable organisation are taken for granted, and the capability becomes almost a liability."
---
LA must be able to answer the question 'why LA?'
---
LA 2024, of course, is confident it does have a story.
Wasserman says: "LA 2024 will reimagine what's possible for a modern Olympic Games, just like the city did in 1932 and 1984. Our prudent, pragmatic and responsible approach will refocus the world's attention on the value – not the cost – of the greatest celebration of humanity on the planet."
In addition, in what would be an Olympics first, LA 2024 has proposed the LA Memorial Coliseum staging the culmination of the torch relay, with 70,000 spectators watching "a Hollywood-produced programme of live entertainment," and "top musical performances," while simultaneously, "a live viewing and virtual-reality experience of all Ceremony events" would be offered at the LA Stadium.
Attention would then switch to the LA Stadium, which would stage "the formal Opening Ceremony elements, including the Parade of Nations, the Olympic Oaths, the official opening of the Games and the lighting of the Olympic Cauldron." At the closing ceremony, roles would be reversed. LA 2024 said the plan would "allow as many Angelenos as possible to attend."
Critics have branded the plan arrogant, a break with Olympic tradition.
LA 2024 will also get the benefit of a major transportation upgrade, with $88 billion in public transit investment, the $14-billion modernisation of Los Angeles International Airport and $120 billion in transit funding all having been approved.
They'll be needed too – a quick Google search of 'LA traffic' produces more than 350 million results.
Speaking of Google – and indeed Twitter, Facebook, Apple, Snapchat et al – California's technological prowess cannot be ignored in this race.
Bach's visit to Silicon Valley in February 2016 to meet with technology experts was notable. His primary objective since assuming the IOC presidency is for the Olympic Games to resonate with young people and he knows technology and media is the way to their heart – the digital-focused Olympic Channel a case in point.
According to bid documents, LA 2024 would create an 'Innovation Network' to "leverage top minds from thought leaders in mobile, search, social media and digital content distribution."
Early in the process, bid chief executive Gene Sykes explained the thinking to Sportcal: "We want to explore every way we can present the games to spectators and athletes participating, using technology and creativity to give people experiences at the edge of what's available. Over time that's how we expect the Olympic movement to connect best with kids. The future of the sporting movement requires an Olympics that is interesting and fascinating."
He continued: "Our biggest interest is in expressing to IOC members that we are committed to innovation, the future, creativity. We believe we can throw all of our energy in that direction. The Olympic village is already built, and we don't need to build venues. How much have we watched construction occupy all of the time [in preparations for other editions of the games]?
"Our time and attention can be occupied with constructive energy, creativity and innovation, with the help of Silicon Valley and Hollywood, and without distraction."
The former British prime minister, Harold Wilson, famously coined the phrase: "A week is a long time in politics."
You'd have to reconsider your perspective of time to comprehend US politics at present. No-one quite knows Donald Trump's next move. While the businessman-turned politician has openly supported the Olympic Games bid – including in a telephone call with Bach – fears remain that his positions on NATO, international trade and immigration could alienate IOC members.
The LA 2024 bid team has sought to address the issue head on. Allyson Felix, six times an Olympic gold medallist in the 200 and 400 metres, told the Association of National Olympic Committees in Doha on 15 November, a week after Trump's election victory: "I want to tell you about the America that I love, and the America that needs the games to help make our nation better – now, more than ever.
"America is diverse. We are a nation of people whose descendants came from all over the world for a better life. But we're also a nation with individuals like me, descendants of people who came to America, not of their own free will, but against it.
"We just finished our presidential election, and some of you may question America's commitment to its founding principles. I have one message for you: Please don't doubt us. America's diversity is our greatest strength. Diversity is not easy. Diversity is a leap of faith that embraces all faiths."
But since then, Trump's executive order in January banning immigration from seven majority-Muslim countries, and temporarily halting the entry of all refugees was great PR… for Paris (albeit the measure was suspended on the direction of a federal judge and then revised by the president in March).
---
A large number of IOC members clearly understand that we [the Olympics] need to be in the USA sooner rather than later
---
LA 2024, as you'd expect, has been giving off the correct messages throughout, expressing confidence that the IOC will "judge on the merits of our bid, not politics."
Politics goes hand-in-hand with economics, and that could be where USA holds the – ahem – trump card. There is a strong argument within Olympic circles that the games are indebted to NBC. The US Olympic broadcaster holds the rights to the Olympics until 2032 in a $7.65-billion, six-games deal that comes into effect from Beijing 2022. It additionally shelled out a $100-million 'signing bonus'.
Broken down, the new deal is worth $2.5 billion for 2022 and 2024, $2.55 billion for 2026 and 2028, and $2.6 billion for 2030 and 2032. NBC paid $4.38-billion for the rights to four games between 2014 and 2020, of which $2.38 billion is attributable to PyeongChang 2018 and Tokyo 2020.
So, for 2018, 2020 and 2022 NBC will pay $4.88 billion to show three successive Asian Olympics in unfavourable time zones for a US audience.
As one experienced IOC member told Sportcal Insight: "A large number of IOC members clearly understand that we [the Olympics] need to be in the USA sooner rather than later. You can't have huge, long-running TV contracts and not be considerate of going to USA."
Key players
Eric Garcetti
Charismatic mayor of Los Angeles, Garcetti has no formal role with the LA 2024 bid but has been an integral player since its inception. Garcetti has helped fundraise for the bid and is proving to be a smooth operator in Olympic circles. His ability to converse in French and Spanish (even a little Japanese) is winning friends among IOC members.
Casey Wasserman
Chairman of the LA 2024 bid, Wasserman is the renowned US sports agent and head of the sports and entertainment agency of the same name. He has made a name for himself as a power broker in Southern California sports over the last two decades, and his contacts within the Olympic movement could prove vital to LA's chances.
Gene Sykes
Co-chairman of global mergers and acquisitions at US investment bank Goldman Sachs, Sykes is chief executive of LA 2024, managing day-to-day operations of the bid. Sykes, like other key members of the bid team, is a lifelong Angeleno.
Janet Evans
A five-time Olympic medallist in swimming, Evans is vice-chair, director of athlete relations. She leads the LA 2024 athletes' commission, working closely with Olympians and Paralympians to ensure their voices are heard during the bid process.
Anita de Frantz, senior advisor to LA 2024, IOC member since 1985
Angela Ruggiero, chief strategy officer LA 2024, IOC member since 2010, chair of IOC Athletes' Commission
Larry Probst, chair of US Olympic Committee, IOC member since 2013.
Analysis of Paris' bid to host the 2024 Olympic Games, ahead of the IOC evaluation commission's 14 to 16 May visit to the French capital, will be published next week in Sportcal Insight Online. Don't miss it!