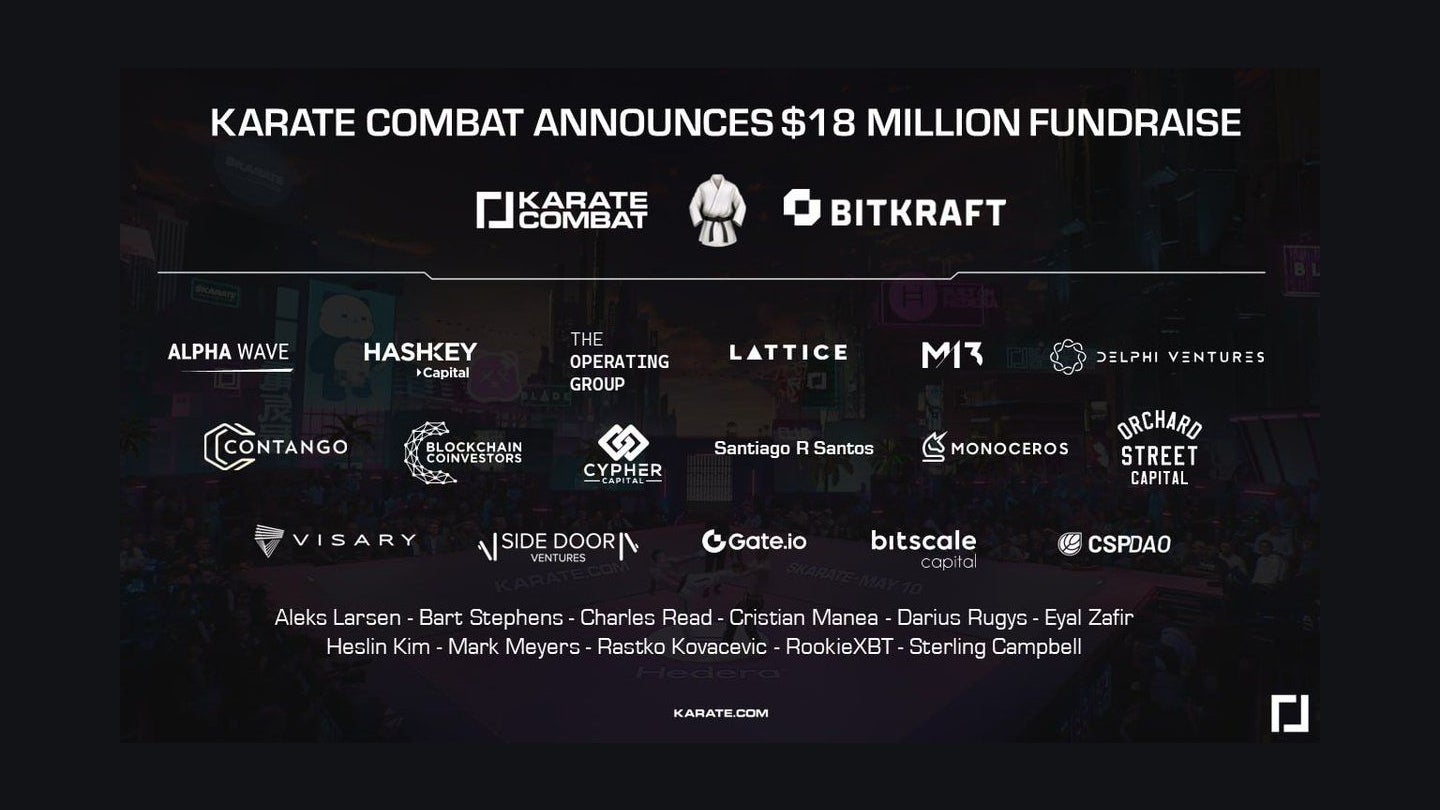 Karate Combat, the professional full-contact league for the sport, has raised $18 million to support the launch of a new app and fan token.
The funding round was led by Bitkraft Ventures, an investment platform focused on gaming, Web3, and immersive technology. Bitkraft was joined by Delphi Digital, The Operating Group, Alpha Wave Global, Hashkey, Lattice, M13, Santiago R Santos, and RookieXBT, among others.
The round follows previous investments by league founders Michael Depietro and Robert Bryan, Packy McCormick's Not Boring Capital, and Keyboard Monkey.
In September last year, it was announced the property would become a 'decentralized autonomous organization (DAO)' in which everyone with a stake in the organization has a say in how it is run.
Karate Combat is due to launch its app and $KARATE digital fan token on May 10, with the token serving as a stake in the organization in the DAO model and the app used to facilitate engagement within the model.
Fan tokens are widely offered within sports now – including by soccer giants like Barcelona, Paris Saint-Germain, and Manchester City – but typically as means to provide fun engagement and minor benefits, such as polls, giveaways, and exclusive content.
Karate Combat, however, claims to be the first sports league structured as a DAO with token holders having input into its direction. It says that the token "both governs the league and gamifies the live viewing experience."
Holders will able to participate in the league's governance via the 'smart contract' the token affords them, voting on aspects like fighter pay.
Bryan said: "Karate Combat has done a great job fulfilling the need for sports content for younger fans in a manner vastly different from traditional sports.
"We are thrilled to now have Bitkraft Ventures, a distinguished investment firm led by a team of venture capitalist heavyweights, in our corner and believe the DAO will continue to supercharge our ongoing success and create a new category of entertainment within Web3."
Carlos Pereira, partner at Bitkraft Ventures, added: Sports league value largely emerges from the quality of the competition, and the passion and loyalty of the fan base.
"Karate Combat is leveraging its Web3 tools and ethos to shift how fans engage with their favorite sports by building direct relationships, aligning incentives, and enabling influence over every aspect of the league. More than that, it's doing it with an incredibly fresh and differentiated media that strikes all of its fans as 'videogames meet MMA', making it a fun and doubly-innovative new partner for Bitkraft."
Karate Combat has seen strong growth since it was founded in 2018, last year striking new domestic broadcast deals and an expanded deal with pan-European sports broadcaster Eurosport.