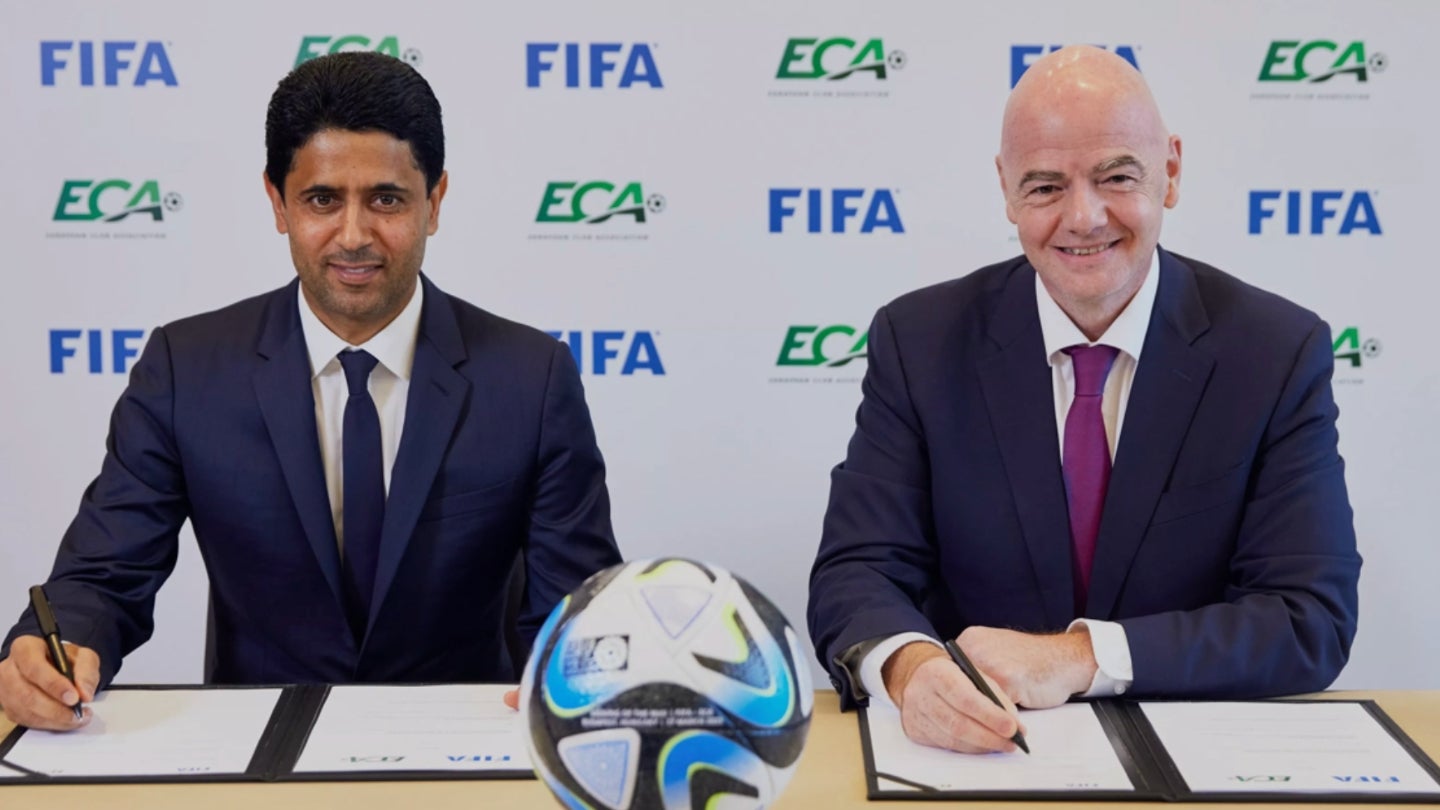 FIFA, world soccer's governing body, has today (March 27) announced the renewal of its memorandum of understanding (MOU) with the European Club Association (ECA) continental representative organization until the end of 2030.
The governing body said the tie-up "reinforces the relationship between FIFA and ECA, bringing long-term stability to the national team and club game."
The MOU covers a commitment by clubs to adhere to FIFA's new international match calendar for the next seven years, the ECA committing to support for FIFA's enlarged Club World Cup from 2025, and support for the creation of a Women's Club World Cup.
The ECA has secured an increase in the money available to clubs as compensation for the release of players to appear at national teams' tournaments.
For the 2018 and 2022 FIFA World Cups, that sum stood at $209 million. For the 2026 and 2030 editions of the tournament, this will increase to $355 million, as the number of teams involved rises from 32 to 48.
Gianni Infantino, president of FIFA, said: "This is a significant day for the future of football and its long-term stability. We are very happy to renew and strengthen our cooperation agreement with ECA, an important stakeholder representing clubs from all over Europe."
Earlier this month, FIFA announced an expanded 104-game calendar for the 2026 World Cup, including a last-32 stage.
This came as one part of an overall change to the international match calendar which will see a 16-day, four-match international window added in September and early October from 2026, as well as nine-day two-match windows in March June, and November.
At the time these changes were signed off by FIFA, they provoked some negative reactions from European clubs and leagues, who claimed they were not consulted about the expansion of competitions (like the Club World Cup) that affect their schedules).
In December, the World Leagues Forum, the association of professional soccer leagues, criticized FIFA for its proposed calendar changes and accused the governing body of "acting unilaterally without consulting, let alone agreeing, with those who are directly affected by them: the leagues, their member clubs, the players, and fans."
March has also seen Infantino re-elected as FIFA president unopposed until 2027.
Nasser Al-Khelaifi, the ECA's chair, as well as the president of French soccer heavyweights Paris Saint-Germain, added: "We are delighted to have signed this landmark agreement. The MoU recognizes the central role of clubs in football globally and ensures that they are properly represented in decision-making around issues which affect them.
"FIFA and ECA will also now establish closer working practices on a future new Club World Cup, including finalizing the sporting and commercial aspects for the 2025 edition, and working together on future editions including on potential structures for managing the commercial rights going forward."
In an announcement to the ECA's general assembly Al Khelaifi has also said that the MOU will see a 70% increase in club benefits and that clubs "will work much more closely with FIFA and confederations" on the international match calendar.
In addition, he commented that the proposed joint venture between the ECA and FIFA "will also open up whole new revenue streams for global club competitions."