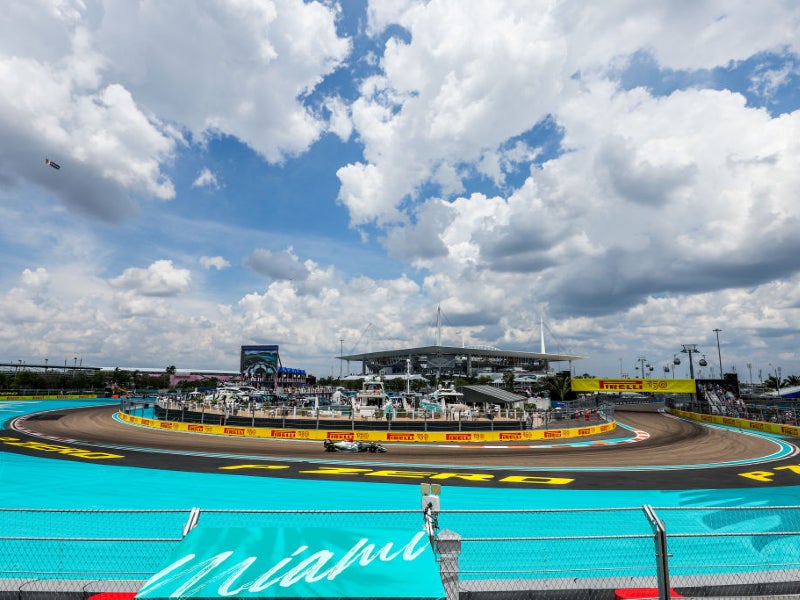 By Susan Lingeswaran
Motor racing's prestigious Formula 1 (F1) series is looking to capitalize on its thriving popularity by broadening its geographic footprint and engaging younger fans after successfully establishing itself in the US.
F1 is currently enjoying a popularity surge in the US, which has seen the series expand to a second American race added to the calendar this year – the Miami Grand Prix that debuted last month (May). That number will increase to three next year with the addition of the highly anticipated Las Vegas GP.
The US has been a key target market for series owners Liberty Media since it acquired F1 in 2017, and now that it has firmly established itself in the country, race organizers have indicated their eagerness to expand into other parts of the globe.
Speaking at a webinar hosted by CSM Sport and Entertainment yesterday (June 7), F1's global director of race promotion Chloe Targett-Adams said the series would look to stage races in cities that reach new demographics and bring commercial opportunities for the sport.
She said: "I think for me there's always a couple of really key factors. One is where gives us that broadest global footprint and what is the widest reach that we can get for the sport as a whole.
"Every stakeholder is in our minds when we're thinking about adding races to a calendar or renewing existing races. We are a commercial organization, so revenue and the commercial aspect in the widest possible sense play a part in that.
"Equally, the racing spectacle has to be phenomenal where we go. I think we'd all agree in terms of event spectacle and delivering what we wanted to set out to achieve, the Miami GP really met the objectives.
"We've been measured and targeted in growing that presence in the US and building off the back of our Austin race with Miami, which fit with so many of our brand values, and Las Vegas from next November.
"Africa, for sure, as a target is the only continent that we're not in – it's an unbelievable demographic and population and one that we're very keen to bring into the series, so that's very much in our sights. And Asia has been a strong market for a while and, equally, more growth there is something we're working very hard on."
Targett-Adams added: "The flexibility and freedom that Covid bizarrely allowed us with racing in new locations and seeing fans and stakeholder reactions to embracing locations we hadn't been to in a while are on our near-term view to go back to so that's a big part of the mix too."
Last year, F1 added the Qatar GP and Saudi Arabian GP, while the Turkish GP replaced the Singapore GP. The Styrian GP in Austria and Portuguese GP were also added to the calendar to fill gaps caused by cancellations.
A total of 2.69 million spectators attended F1 events in 2021, which was well below pre-Covid levels of 4.16 million but was a significant improvement from 2020 when many races had spectator restrictions or bans. Therefore, the total was regarded as "still a very strong attendance figure."
The highest attended race weekends all saw increases from 2019 when full capacities were last allowed. These were in the US (400,000 up from 268,000 in 2019), Mexico (371,000 up from 348,000), and Britain (356,000 up from 351,000).
This year's inaugural Miami GP, meanwhile, attracted huge attendances at the Hard Rock Stadium, with 242,955 fans coming over the three days and a record 85,280 on race day.
On the broadcast side, the series saw growth in its number across multiple media channels during its record 22-race 2021 season, including securing a 4% year-on-year increase in its cumulative TV audience to 1.55 billion.
China led the way for unique viewers for the season, with 70.8 million, while the biggest year-on-year increases were seen in Spain (272%), Russia (129%), and the US (53%).
The numbers, F1 said, made the series "the fastest-growing major sports league on the planet in terms of follower growth in 2021", with its digital share of total minutes consumed across broadcast and digital among other properties having grown from 10% in 2020 to 16% in 2021.
F1's recent surge in popularity in the US and globally has been largely attributed to the huge interest generated by Netflix docuseries Formula 1: Drive to Survive, which follows the series behind the scenes. The strong growth numbers in TV audience led to F1 securing the Las Vegas race.
Yesterday, it was reported Netflix had entered the race to secure the next cycle of US broadcast rights for the series's races and would bid against current rightsholders Disney-owned ESPN, Comcast-owned NBC, and streaming giant Amazon to attract new subscribers.
If successful, it will be the platform's first step into the arena of live sports.
Targett-Adams, meanwhile, said on the back of Netflix's success in bringing in a younger fanbase, F1 has moved to open engagement across social and digital platforms to keep the new demographic engaged in the sport.
She said: "The sport has gone from zero to 100 miles per hour when it comes to digital. There was a time when F1's digital footprint was largely non-existent, but now that has changed with the way we engage fans, teams, sponsors, and drivers. I think we're currently at over 50 million on our social media platforms.
"It has been a concerted effort and direction to open up engagement across social and digital platforms because engagement with that younger fanbase and interactions is absolutely critical.
"If we look back, I think some of the content pieces that are being put out there show the dynamics of F1, the characters, building off that Netflix effect – it's that human side that is just so entertaining."
Kate Dalton, head of brand strategy at Aston Martin F1, added: "What Netflix, in particular, has done and what has emerged massively on a platform like TikTok is there's a huge number of sub-cultures within F1 fandom, these little pockets of communities that are clinging on to various strands of the sport that resonate with them.
"For some people it's tech, and for others, it's the drama, and they're finding like-minded people on these platforms. It's about us finding those people and giving them a voice, so allowing them to co-create with us.
"I think it's an exciting time for F1 teams to start to progress towards increased access and bringing more behind-the-scenes content."
Last year, Aston Martin's F1 team partnered with China-based video-sharing platform TikTok, which sees the pair collaborate to create exclusive social content on the team's TikTok account. As part of the deal, the platform's logo is featured on the team's AMR21 car, on the driver's headrest and inner halo.
The Formula 1 2022 season is currently underway and continues with the Azerbaijan GP this weekend (June 12).