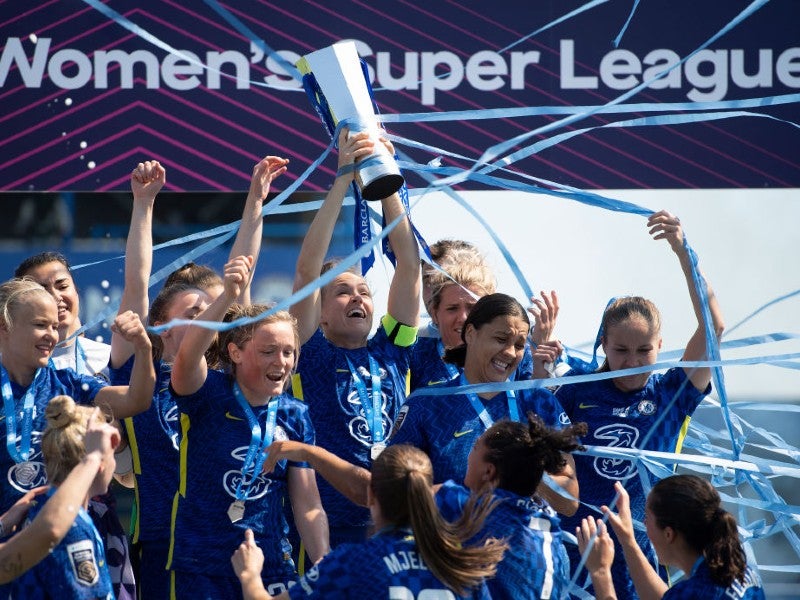 Clubs in English soccer's Women's Super League (WSL) have seen a surge in ticket demands for next season following the national team's triumph in the UEFA Women's Euro last Sunday (July 31).
Nine WSL clubs reported that sales of match and season tickets were up on last season or that they had experienced a surge in interest.
Manchester City, Brighton, and Reading have all set new records for season ticket sales, while Chelsea, Leicester, Liverpool, Tottenham and West Ham reported significant increases in sales.
Liverpool, newly promoted to the WSL, said they had experienced a 254% increase, while Manchester City, for which England's match-winner in the Euro 2022 final Chloe Kelly plays, said their figure had effectively doubled and was at a record level.
Brighton said they had sold more season tickets since Saturday (July 30) – the day before the final at Wembley – than in the whole of last season.
Tottenham also revealed they had sold an unprecedented number of season tickets and West Ham reported their figure was up 20% on this time last year.
Leicester's figure is up 22% on last season's total after sales opened last week, with a 228% increase in purchases on Sunday and Monday (August 1).
Arsenal said that on Sunday and Monday they had sold 7,000 tickets for the home game against Tottenham at the Emirates Stadium in September and that more than 10,000 seats had now been bought.
The record attendance for a WSL game is 38,262, set at the north London derby between the sides at Tottenham Hotspur Stadium in 2019.
Liverpool, Aston Villa, Leicester, Brighton, and Reading are all hosting women's games at their men's stadiums this season with Everton also considering playing games at Goodison Park.
For the upcoming 2022-23 WSL season, which starts on September 9, clubs are also set to enjoy an increase in sponsorship and media rights revenue.
Conrad Wiacek, head of sport analysis at GlobalData, commented: "Many WSL teams currently share a number of sponsors with their male counterparts, and it is rare to find a woman-only deal.
"However, following the success of the England Women's team at Euro 2022, brands will undoubtedly be paying attention to the record attendance figures and TV viewership numbers.
"Brands will now want to associate themselves with women's sport, given the current excitement and potential audience that could now be watching the WSL, which may mean a windfall of anywhere between $5 to $10 million per club.
"With the three biggest attendances in Europe in 2022 all coming from women's sport, some significant deals will be struck — especially with teams such as Manchester United and Manchester City, which have a number of Lionesses in their current squads."
All WSL games are shown domestically by public-service broadcaster the BBC, pay-TV giant Sky, and on the FA Player streaming service.
The BBC will air one game from each round of matches – 22 games in total – next season, beginning with Chelsea's title defense against West Ham on September 11, while Sky has rights to two games a week.
Any games not on TV will be available to watch for free on the FA Player.
The rise in ticket sales for the domestic game comes as the successful national team received an unprecedented demand for tickets for their recently announced clash against the US in October.
Tickets for the match on October 7 were put on sale by the Football Association (FA) national governing body on Tuesday (August 2) and sold out within 24 hours.
The demand also led to the FA's website crashing and fans being held in queues online of more than 45,000 people.
The FA has sold more than 20,000 tickets for what will be the first home game since England's 2-1 win against Germany to win the Euros, with more tickets to be released.
It is another indication of the interest the England team will generate after winning the competition – the first trophy won by any senior England team since 1966.
The victory over Germany was watched by 87,000 fans inside Wembley, while the television audience on the BBC peaked at 17.4 million.
The friendly against the US is subject to England qualifying next month (September) for the 2023 World Cup which is being held in Australia and New Zealand.
The newly-crowned European champions need just one point from their next match against Austria or a win over Luxembourg three days later to book their place in the tournament.