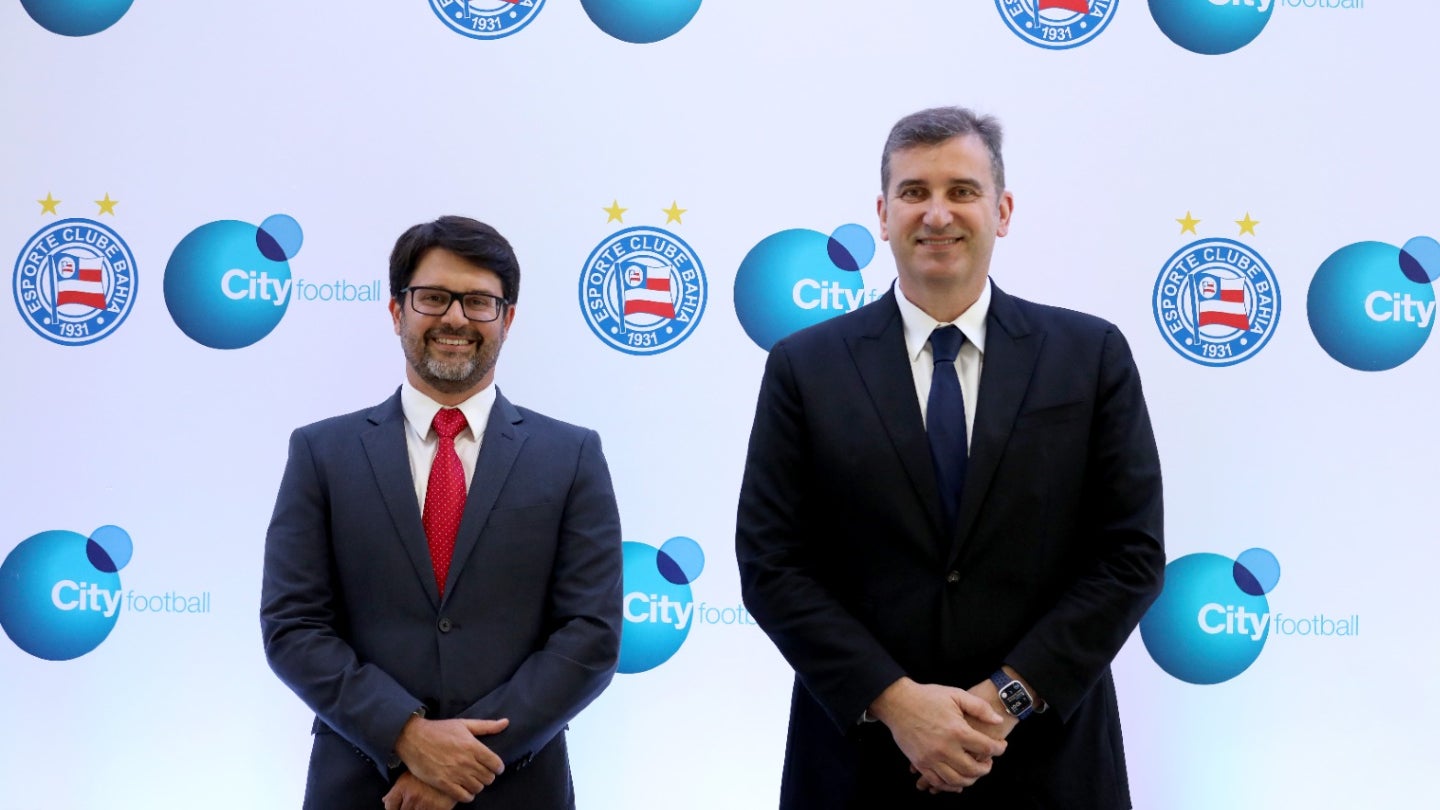 The acquisition of Brazilian soccer's Esporte Clube Bahia by City Football Group (CFG), the owner of English giants Manchester City and multiple other clubs worldwide, has been finalized.
The deal, completed yesterday (May 4), is worth a reported £158 million ($198.7 million and sees Bahia become the 13th club to be owned by or partnered with CFG.
CFG has taken on 90% of Bahia's newly created holding company, with 10% retained by the club.
Bahia has said the deal and new company formation took over a year of work between the two parties to put together. It was passed by a vote of club members on December 3 with 99% in favor.
CFG will now work with the club to develop a multi-year strategy for growing and strengthening Bahia on and off the field.
Among the initial priorities are said to be strengthening all of the club's teams, investing at the grassroots level to develop future talent, bringing CFG's knowledge and technology to all levels of operations at the club, ensuring the men's senior team is consistently among the best clubs in Serie A and qualifying for continental competitions, and achieving financial sustainability.
Bahia men's senior team has previously won two national titles and fifty state championships among its honors, while its senior women's team has six state championship titles to its name.
The club currently sits 15th in the men's top-tier Brasileirão and ninth in the women's top-tier Brasileirão Feminino.
In addition to City, Bahia joins join New York City (US), Melbourne City (Australia), Yokohama F. Marinos (Japan), Montevideo City Torque (Uruguay), Girona FC (Spain), Sichuan Jiuniu (China), Mumbai City FC (India), Lommel SK (Belgium), Esperance Sportive Troyes Aube Champagne (France), Palermo FC (Italy), and Club Bolivar (Bolivia) as part of the CFG portfolio.
Ferran Soriano, chief executive of CFG, said: "Today we celebrate the first day of an exciting new long-term relationship between Esporte Clube Bahia Bahia and City Football Group. I am honored to welcome a club with such a beautiful history and such a passionate following into our global family.
"Bahia's heritage as a football team and its roots in the Bahian community are an incredible foundation for us to build something great together. From now on, we begin a journey to help Bahia reach its full potential while remaining faithful to its people, its origins, and the energy that makes this land blessed and makes Brazilian football one of the most exciting in the world. City Football Group will bring all its experience, knowledge, technology, and passion to support Bahia in this trajectory."
Guilherme Bellintani, president of Bahia, added: "Bahia becoming a City Football Group club is an exciting new chapter in the great history of a pioneering club since its founding in 1931. We move forward with the support and energy of millions of fans and members, who have undisputed the adherence of our Steel Squadron to the CFG.
"Now we will be able to benefit from being part of the most experienced and ambitious football organization in the world while strengthening our performance on and off the field, developing young talents who are the future of Brazilian football, and offering even better opportunities for Nação Tricolor, which has always It was the heart and reason for our club's existence."