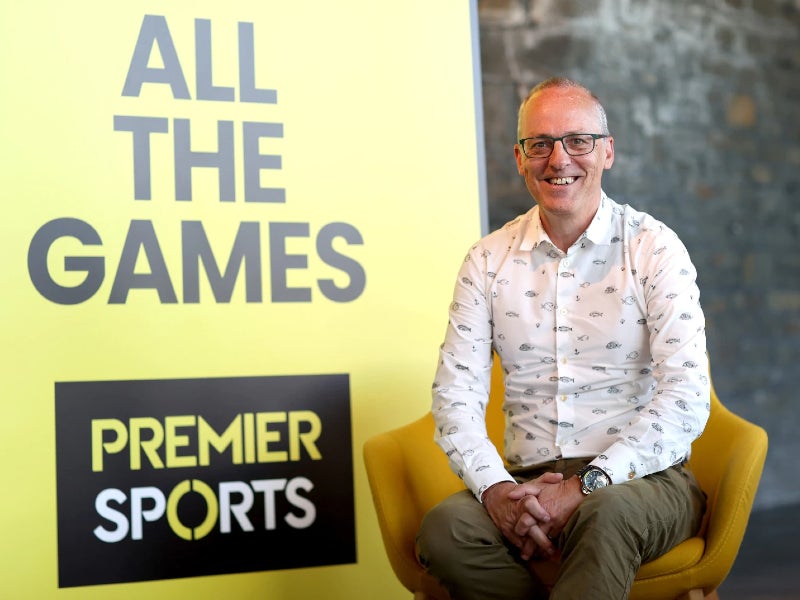 Viaplay Group, the Sweden-based media and entertainment company, has today (July 21) announced the acquisition of Irish pay-TV operator Premier Sports and the appointment of Edward Breeze as its head of sports for the UK.
The moves come ahead of its launch in the UK, which is planned for the second half of this year, and Viaplay has described it as "a significant acceleration" of its ambitions in the market.
The acquisition of Premier Sports, which operates in the UK as well as in Ireland, had been rumored as a means for Viaplay to secure more UK sporting rights.
Viaplay has now confirmed this, saying that "Premier Sports' portfolio of attractive sports rights complements the rights that Viaplay has previously secured for the UK."
It also noted that the operator's platforms are already available across the territory through long-term distribution agreements with Sky, Virgin, Amazon, and Netgem TV, helping to increase Viaplay's reach from launch.
In addition, there will be synergies in terms of sports production and opportunities to boost brand awareness among viewers, it has said.
Premier Sports' pay-TV channels Premier Sports 1 and Premier Sports 2 and its Premier Player streaming service, which have 222,000 subscribers, will be rebranded as Viaplay but continue to be available through existing distribution partners and will have their content line-up expanded through Viaplay's rights portfolio.
Premier Sports' commercial free-to-air channel FreeSports will also be rebranded.
Among the UK rights Viaplay brings to the table are North American ice hockey's NHL, the KSW European mixed martial arts promotion, and top-tier national team soccer competitions featuring Scotland, Wales, and Northern Ireland between 2024 and 2028.
The acquisition of Premier Sport will give it additional rights in the country to soccer properties like the UEFA Nations League national teams competition, qualifiers for the 2024 UEFA European Football Championship continental national teams competition, the Spanish top-tier LaLiga, the Scottish Cup and Scottish League Cup, and Italy's Coppa Italia.
Premier Sports also has rights to rugby union's United Rugby Championship and Rugby Football League, North American ice hockey's NHL, the US-based Nascar stock car motor racing series, and World Athletics properties, among others.
Anders Jensen, president and chief executive of Viaplay Group, said: "This acquisition will put Viaplay firmly on the UK map and accelerate our development in this key market. Premier Sports has a loyal and expanding subscriber base, well-established distribution agreements and production capabilities, and a great sports portfolio that complements our own.
"There is also a big opportunity to make Viaplay's wider offering, including our award-winning Viaplay Originals, available to Premier Sports' subscribers. We have secured this growing and profitable business at an attractive valuation. This is a fast and effective route to building an even stronger position for Viaplay in the UK."
Richard Sweeney, chief executive of Premier Sports, added: "At Premier Sports, we're proud to have created a dynamic, innovative sports streamer and broadcaster over the past 13 years. From modest beginnings, and through the hard work and dedication of our people, we have continually grown the company, and today we have an extensive portfolio of must-see live sports that entertain loyal customers across the UK.
"Our sale to Viaplay Group will dramatically increase the content available to new and existing subscribers. This is the start of an exciting new chapter in the development of the business, and is great news for our colleagues, customers and partners."
Premier Sports was founded in 2009 and is majority-owned by Setanta Sports. Its revenues grew by approximately 33% in 2021 to £26.4 million ($31.5 million).
Through its acquisition, which values Premier Sports at £30 million and is subject to regulatory approval, its 23 full-time Dublin-based employees are expected to join Viaplay Group.
Viaplay intends to launch two streaming packages. A 'Total' package will include Viaplay and Premier Sports' combined sports line-up, alongside Viaplay's Films & Series offering, which will also be offered separately as a 'Films & Series' package. Pricing and a launch date will be "announced in due course."
Overseeing Viaplay's UK sporting output will be Edward Breeze, who has been installed as a senior vice president and the head of sports in the territory.
The appointment, also announced today, will see Breeze move from DAZN, where he is currently executive vice president for rights. He will take up the role in October.
Breeze has previously worked as a director for partnerships and then head of rights at Perform during a six-and-a-half-year stint, as a rights manager at Inform, and as an account manager at Octagon.
He will be based in London and will become a member of Viaplay Group's sports leadership team, reporting to chief sports officer Peter Nørrelund.
Nørrelund said: "We're pleased to welcome Edward to Viaplay's experienced and talented sports team. His in-depth knowledge of streaming, sports, and the local market makes him an ideal fit as we launch in the UK. Live sport is in our DNA and we will offer UK viewers a very attractive line-up – with much more to come."
Breeze added: "I'm thrilled to join Viaplay Group. I've been impressed by the way the company is successfully launching in new countries, acquiring high-profile sports rights, and constantly developing synergies between markets. I like the big ambitions and am looking forward to the adventures and opportunities that lie ahead."
Elsewhere, Viaplay has also announced its second-quarter results for the period running to June.
It has seen a 69% year-on-year increase in the number of its paying subscribers to 5,549,000, with 766,000 added over the last quarter.
The year-end international subscriber target has been raised from 2.2 million to 2.5 million, and the overall subscriber target from 7 million to 7.3 million as a result.
The group's organic sales have grown 18% year on year to SEK3,725 million ($363 million), delivering operating income of SEK205 million and net income from total operations of SEK175 million.
As a result of its strong performance, the group has reduced its expected full-year international earnings-before-interest-and-taxes (EBIT) loss from approximately SEK1.5 billion to approximately SEK1.35 billion.
Anders Jensen, president and chief executive at Viaplay Group, said: "We have delivered another quarter that is well in line with our strategy and goals. The strong performance of Viaplay in the Nordics was complemented by further growth in the international operations …
"We now expect Group revenues to grow by at least 28% this year and for higher growth in sales for the international operations to be reflected in lower losses for the international operations of approximately SEK1.35 billion. There is no change to our full-year sales growth and profit growth expectations for the Nordic operations …
"We are fully funded for our expansion and have full visibility over our forward content costs, which are locked in for years to come. The broader macro-economic outlook and geopolitical backdrop are of course less certain, and we are ready to make adjustments as and when required, as we have done in the past."