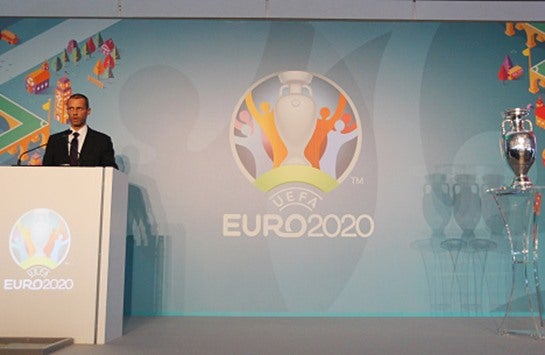 By Simon Ward
Uefa has now achieved 70 per cent of the target for media and
sponsorship sales for the 2020 European Championships, the first edition of the
competition to be held across the continent.
The figure was announced today by Martin Kallen, the tournament
director, at the Uefa Congress in Bratislava.
The event, which will comprise 51 matches involving 24 teams in 12 different cities, has a total revenue target of €2 billion ($2.5 billion).
Broadcasting deals have already been agreed in various major
European markets, including Germany, Italy, the Netherlands and the UK, and
there will be a new major sponsor in Volkswagen, which signed up for Euro 2020
and other Uefa national teams competitions last August.
Kallen pointed out that ticket and hospitality sales for the
competition do not begin until the summer of 2019.
There will be a record 3 million tickets on offer for the competition,
while Uefa, having initially launched a tender for agencies last year, has
since decided to take the hospitality rights in-house.
At the Congress, representatives of the 55 Uefa member national associations approved the budget of €3.89 billion for the 2018-19 financial year, an increase of nearly 40 per cent on the forecast figure of €2.79 billion for 2017-18.
Club competitions are anticipated to generate €3.26 billion in what will be the first year of a new three-year commercial cycle for the Uefa Champions League and Europa League, up 30 per cent from a forecast €2.51 billion this year.
Meanwhile, national team competitions have a budget for 2018-19 of €596 million, well up on the anticipated figure of €222 million for the current financial year, as the new Uefa Nations League, a competition that is largely replacing international friendlies in Europe, kicks off this September.
Uefa stressed that €3.08 billion, nearly 80 per cent of its turnover, will be distributed to Uefa member national associations.
Some €775 million has been allocated to the HatTrick V solidarity and development programme for 2020 to 2024, an increase of 30 per cent on the €600 million for the 2016 to 2020 cycle, meaning that each association will receive up to €14.1 million over four years to implement education and development programmes and spend on football infrastructure.
Meanwhile, it was agreed at yesterday's Uefa executive committee meeting that prize money for Euro 2020 will total €371 million, up from €301 million for Euro 2016, which was held in France, and won by Portugal.
All 24 teams will receive a participation fee of €9.25 million, and the winners of the competition, which culminates at Wembley Stadium in London, stand to receive up to €34 million, compared to a maximum of €27 million two years ago.
In his opening speech, Uefa president Aleksander Ceferin (pictured) said Uefa had "not been afraid" to introduce reforms, including admitting members of the EPFL and the European Club Association to the executive committee or to engage in a dialogue with European institutions, citing last week's extension of the co-operation agreement with the European Commisison, which takes in Euro 2020 and covers issues such as financial fair play and third-party ownership of players.
The Slovenian official added: "We have not been afraid to take risks, calculated risks that have paid off. In terms of revenue, we have beaten all records since Uefa was established in 1954."
However, Ceferin stressed that the Nyon-based organisation's main commitment was to its members, saying: "We must dare to go further and distribute in new ways. Uefa is not a bank. Switzerland has enough banks already. Our primary purpose is to promote football development in Europe. What is the point of generating record-breaking revenues, if it is just an accumulation of wealth?"
Earlier, in his speech, Fifa president Gianni Infantino, the former Uefa general secretary, said it was "an emotional day" as it marked exactly two years since he had been elected to his current position, and admitted that, given issues elsewhere, Europe, the dominant soccer continent, had not been a priority since he changed roles.
The Swiss head of world soccer said: "I have the feeling that yes, on one side, we have done a lot, but, on the other side, we might have neglected you, the European associations."
However, he added: "Everywhere, people are looking at European football with admiration."
In other developments at the Uefa Congress, Juan Luis Larrea of Spain was elected unopposed and by acclamation as a member of the Uefa executive committee, and Sandor Csanyi of Hungary was elected, in the same circumstances, as a Fifa vice-president, both for one-year terms.
Furthermore, Lars-Christer Olsson was ratified as the representative of the European Professional Football Leagues on the executive committee for a term running until the 2021 Uefa electoral Congress.
Despite an impassioned speech by Phil Austin, the president of the Jersey Football Association, the Uefa delegates decided, by an overwhelming margin, not to grant membership to the island in the English Channel. There were 49 votes against the proposal, while six countries did not vote at all.
The Jersey FA had successfully appealed to the Court of Arbitration for Sport to compel Uefa to hear its case to become the 56th member.
However, Uefa had recommended that the existing members vote against the motion as Jersey is not a sovereign country as recognised by the United Nations and therefore allowing it to join would be in contravention of the governing body's statutes, as they stand.
Ceferin said: "Jersey cannot be considered as an independent state. The Jersey FA does not satisfy the admission criteria."