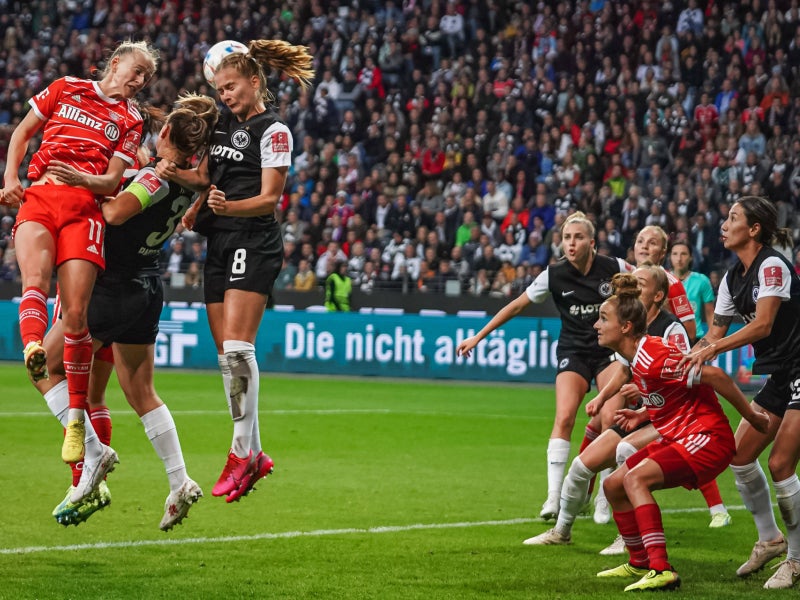 Sport1, the German sports broadcaster, has acquired a package of live and highlight rights to German soccer's top-tier Women's Bundesliga.
The deal, announced today (October 12), will see Sport1 air 22 Monday-night matches each gameweek for the four seasons from 2023-24 to 2026-27.
The league's C3 rights package is described by the broadcaster as being particularly attractive because "no other game in the German professional soccer leagues takes place during this time period."
It is for free-to-air coverage of one match each gameweek, with Sport1 having the first pick of each round's matches 12 times per season and second pick 10 times, and also includes highlight and archive rights to all Women's Bundesliga matches.
Live matches will be broadcast freely via Sport1's free TV, digital TV, and streaming platforms, with supporting audio and social media coverage.
The rights acquisition follows the success of the German women's national soccer team at the UEFA Women's Euro 2022 tournament earlier this year when they reached the final, ultimately losing to England.
That most recent edition of the women's Euros, which was held in England, saw various attendance and viewing figure-based records broken.
The German Football Association (DFB) governing body launched the tender for the domestic media rights to the Women's Bundesliga between 2023-24 and 2026-27 in July.
MagentaTV, the streaming platform owned by German telecoms giant Deutsche Telekom, holds rights to all games in the women's Bundesliga until 2023, with some games also shown on pan-European sports broadcaster Eurosport.
Holger Blask, managing director of the German Football Association governing body, said: "The Women's Bundesliga has developed consistently in recent years. Higher performance density, international competitiveness, full production of all games – the league is among the top in Europe and worldwide.
"Media distribution plays a central role in the league's development and has grown steadily in recent years. We are therefore pleased to continue this growth together with our new partner Sport1 and a new prominent broadcast slot on Monday and to take advantage of the current momentum of women's football, which manifested itself not least in the Women's European Championship, and get more and more people excited about the FlyerAlarm Women's Bundesliga."
Olaf Schroeder, chief executive of Sport1 and chairman of its board, added: "The DFB team's thrilling performance at the Euro in England and the fantastic atmosphere in the stadiums this summer, in particular, showed just how much potential there is in women's soccer – and what great personalities and exciting stories make the Women's Bundesliga so attractive.
"A particularly positive factor here is that, unlike many other German national teams, almost all DFB stars are also active in the domestic league. The task now is for the association, the clubs, and the media to take this Euro euphoria with them – to give the league and its protagonists the stage they deserve.
"With the regular soccer slot for the top game on Monday evening on free TV and in the free livestream, as well as accompanying full coverage on our TV, digital, audio, and social media platforms, we will help to make all soccer fans want to see this league and its leading characters even more, freely available on our channels."