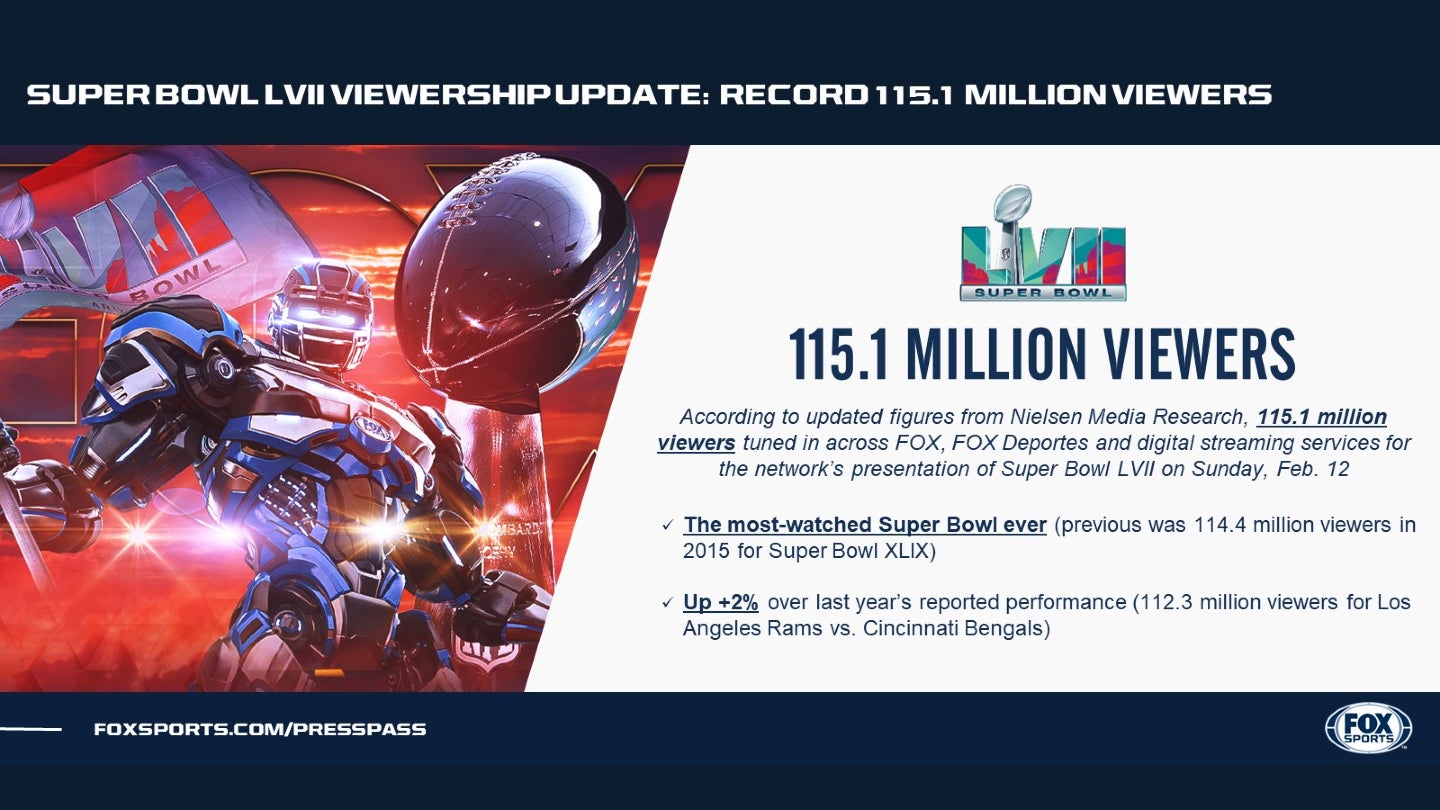 The 2023 edition of the NFL's showpiece Super Bowl was the most watched ever in the US, according to new figures.
The cumulative audience for the Kansas City Chiefs' 38-35 triumph over the Philadelphia Eagles on February 12 across US national network Fox, its Fox Deportes Spanish-language network, and its streaming services has been revised up to an average of 115.1 million from 113 million.
Today, Nielsen restated the viewership for FOX Sports' presentation of Super Bowl LVII as 115.1 million viewers – the most-watched Super Bowl in history. This revision is the product of a thorough review by Nielsen that revealed irregularities in the encoding that enables… pic.twitter.com/cZV5TysadX

— FOX Sports PR (@FOXSportsPR) May 2, 2023
That takes it above the previous highest audience of 114.4 million set in 2015 when the New England Patriots beat Seattle Seahawks 28-24 to clinch their fourth title.
The original figure of 113 million had put the 2023 match at only the highest Super Bowl viewership since 2017.
The number was revised upward by 2.1 million by US analytics firm Nielsen after what Fox has called "a review that revealed encoding irregularities as well as issues with out-of-home measurement."
The issue was reportedly identified after the NFL noticed that its NFL Network channel had been accredited more viewers than it should have, with some subsequently reallocated to Fox.
Michael Mulvihill, executive vice president and head of strategy and analytics at Fox Sports, said: "I really appreciate their diligence in conducting the review and coming to the most correct number possible. Super Bowl Sunday is the most difficult day for them because you have not just the scale, but people are watching on English and Spanish, in and out of home, online – and all of that has to be stitched together into a credible number. I give them credit for acknowledging the issue, being transparent about it, and getting to the most correct number they can get to."
Viewership for the half-time show, which this year featured popstar Rihanna, was also revised upward from 118.7 million to 121 million.
A separate survey by the NFL found that the 2023 Super Bowl had a total US reach of around 200 million, taking into account group viewing.
Meanwhile, the subsequent 2023 NFL Draft, the process by which newly eligible players are selected by teams, was watched by a total audience of 54.4 million viewers across the three days of April 27 to 29.
The event was seen by an average audience of 6 million viewers across both the TV and digital platforms of ABC, ESPN, NFL Network, ESPN2, ESPN Deportes, and elsewhere, according to the NFL.
This represents an increase of 12% from the figure of 5.3 million in 2022.