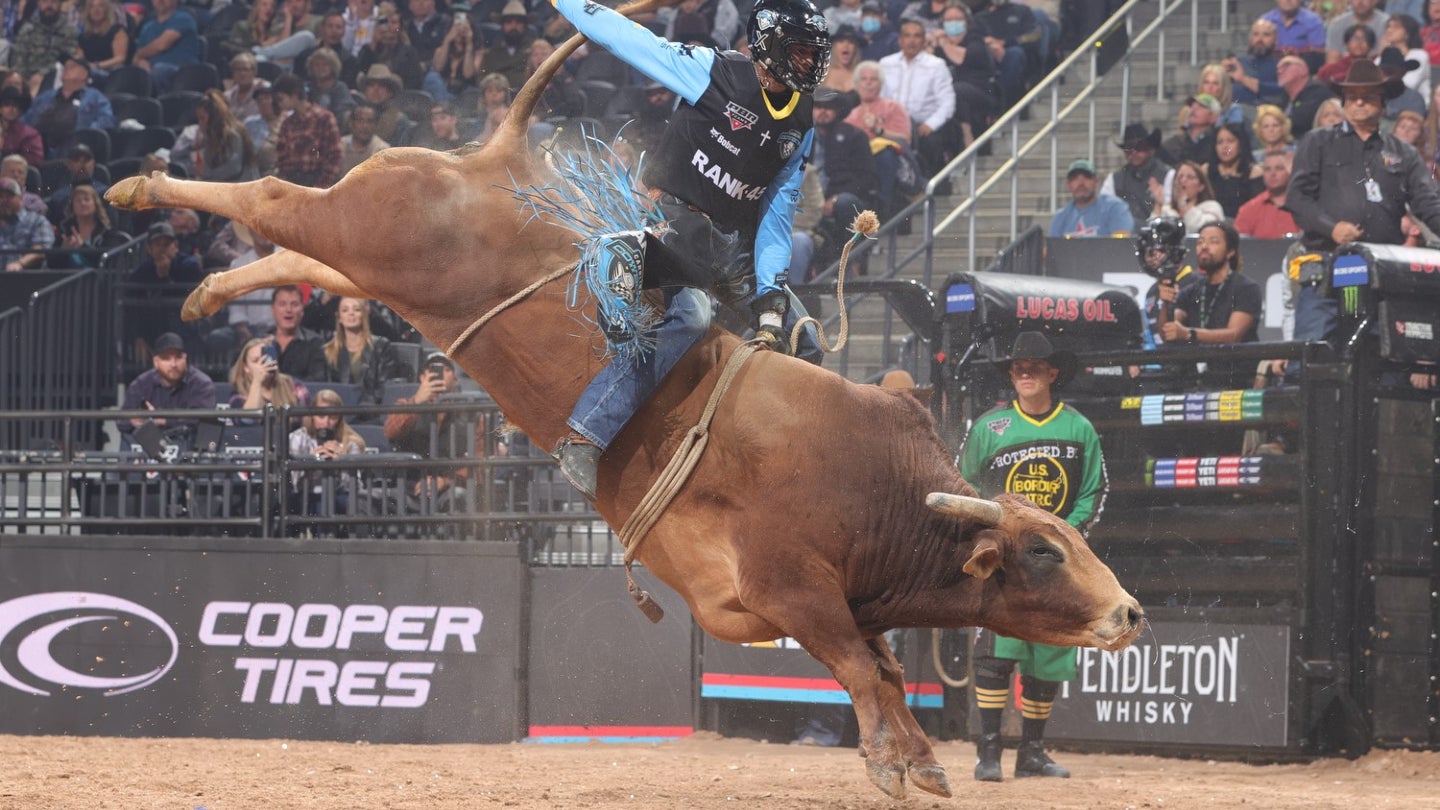 Prime Video, the streaming service of tech and retail giant Amazon, is set to debut a docuseries about the Professional Bull Riders (PBR) US-based international bull riding circuit later this year.
The Ride will provide a behind-the-scenes look at the circuit and focus on some of its biggest stars.
Amazon said the series "follows an ensemble cast of bull riders and coaches throughout the PBR Team Series, as they navigate the league's inaugural 2022 season, budding rivalries, exhilarating highs, and challenging lows of PBR's newest team-based competition."
The eight-part series will be available to watch in more than 240 countries and territories worldwide.
It is produced by Kinetic Content. The firm's Chris Coelen, Eric Detwiler, Karrie Wolfe, and Micah Brown serve as executive producers, as do PBR chief executive and commissioner Sean Gleason and senior vice president and head of content Lawrence Randall.
Wolfe, co-head of development at Kinetic, commented: "Kinetic is thrilled to partner with Amazon and PBR to bring global audiences an intimate look into the adrenaline-charged world of professional bull riding. As the sport and Western culture surge in popularity, this premium docuseries will introduce the world to the modern-day cowboys putting their lives on the line for eight perilous seconds of glory.
"The Ride will place viewers onto the magnificent 2,000-pound bulls bred to buck, as they ride along with the world's best riders and witness the blood, sweat, tears, heartbreak, and victories on and off the dirt."
Matt Newman, head of Prime Video Original sports content, added; "We're excited to take Prime Video customers deeper into the lives of the athletes and cowboys competing in professional bull riding. The Ride will showcase the intense action, heated competition, raw emotions, and personal battles that are fueling the sport's brightest stars.
"We can't wait to bring PBR fans and casual viewers closer to the western lifestyle driving this great American sport. We couldn't ask for better partners than Kinetic and PBR."
The PBR Team Series launched in June to capitalize on what PBR said is the growing popularity of team-formatted bull-riding events.
Teams compete in head-to-head, five-on-five matchups to "conquer as many bulls as possible" and earn the highest aggregate score.
Participating teams, of which there are currently eight, each host an annual bull riding event and accompanying festival in their respective cities.
The season also includes two 'neutral site' events, as well as playoff and championship elements.
Gleason said: "The Ride is a deep, engaging, and beyond-the-arena window into the world of PBR athletes who risk life and limb to entertain the world's most passionate sports fans. Regardless of their background, walk of life, or familiarity with the sport, anyone who is exposed to the infectious, determined, and youthful exuberance of a PBR bull rider inevitably walks away as a fan, which is why we partnered with Prime Video and Kinetic Content to capture their compelling stories.
"From their homes, through the locker room, and ultimately into the bucking chute on top of a 2,000-pound bull, The Ride captures these modern-day gladiators like never before while answering the question: Why do they do it? These are riveting stories of family, brotherhood, passion, and dreams against the backdrop of the world's most dangerous organized sport now redefined in the PBR Team Series. The compelling episodes that unfold will entertain everyone whether they are a fan of PBR bull riding or about to become one."
The Ride is the latest in a host of sporting docuseries that have been launched following the huge success of Formula 1: Drive to Survive, the behind-the-scenes documentary following the iconic motor racing series, the fifth season of which launches on February 24 and which has also been renewed for a sixth season.
Drive to Survive has been credited with driving significant fresh interest in Formula 1, especially from a younger demographic, since its first season aired in 2019.
Among the other sporting properties that have launched series are the Extreme E and Formula E motor racing championships, cycling's UCI Track Champions League, and tennis' ATP and WTA tours.
Amazon's own successful All or Nothing series has featured teams from various sports such as English soccer's Arsenal, rugby union's New Zealand All Blacks, and various NFL outfits.
The company also recently secured an exclusive distribution deal for FC Barcelona, A New Era, about the Spanish soccer giants and produced by their in-house production division Barca Studios.
Elsewhere, streaming giant Netflix will debut its Full Swing docuseries about the PGA Tour on February 15 and also has a series in the works about the Six Nations international rugby tournament, cycling's Tour de France, and soccer's 2022 FIFA World Cup.