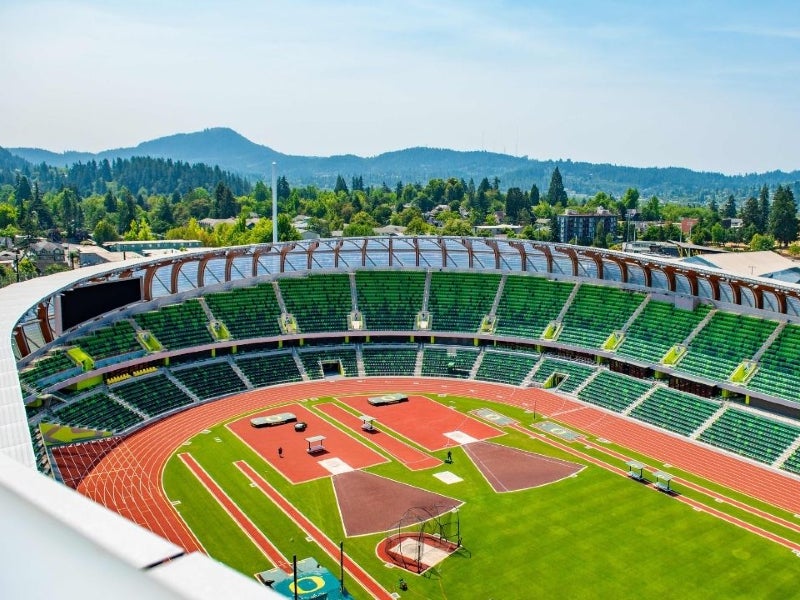 The upcoming 2022 World Athletics Championships will be covered by over 40 broadcasters in Europe and Africa through the European Broadcasting Union (EBU), the alliance of public service broadcasters announced yesterday (July 13).
The biennial event, which is organized by the World Athletics governing body, is the top tier of international outdoor competition for athletics.
This year's edition runs from Friday (July 15) to July 24 at Hayward Field in Oregon, US, having been delayed by a year due to the postponement of the Tokyo 2020 Olympic Games as a result of the coronavirus pandemic.
The coverage by EBU members and partner broadcasters is made possible through a long-standing partnership it has with the World Athletics governing body, which was most recently renewed last year for the 2024-2029 period.
The existing deal between the two parties, together with major sports broadcaster ESPN, took effect in 2018 and runs until 2023.
Through that deal, the following broadcasters will provide coverage of Oregon 22:
ORF (Austria); RTBF and VRT (Belgium); HRT (Croatia); CBC (Cyprus); CT (Czech Republic); TV2 (Denmark); ERR (Estonia); YLE (Finland); France Télévisions (France); ARD and ZDF (Germany); ERT (Greece); MTVA (Hungary); RUV (Iceland); RAI (Italy); LTV (Latvia); LRT (Lithuania); NOS (Netherlands); NRK (Norway); TVP (Poland); RTP (Portugal); RTV (Slovenia); RTVE (Spain); SRG SSR (Switzerland); SVT (Sweden); TRT (Turkey); the BBC (UK); UA:PBC (Ukraine); and SNRT (Morocco).
Elsewhere in Africa, ESPN will distribute coverage through its partnership with the EBU to the Kenya Broadcasting Corporation, the Seychelles Broadcasting Corporation, the Malawi Broadcasting Corporation, Liberia National Television, and Eswatini Television.
Other broadcasters include Sports Channel (Israel), Sky (Italy), TV4 (Sweden), Arena Sport (Balkans), SABC (South Africa), and Supersport (sub-Saharan Africa).
Eurovision Services, the media services arm of the EBU, will provide satellite distribution of all integrated and isolated feeds across the Americas, Asia, and Europe for over 417 hours of content, as well as streaming and other services.
It has also been announced this week that Canada's public-service broadcaster CBC and Mexico's pay-TV broadcaster Claro Sports have secured exclusive deals to show the championships.
Andreas Aristodemou, head of summer sports rights at the EBU's sports division Eurovision Sport, said: "This year's World Athletics Championships in Oregon have been much anticipated and this is very much demonstrated in the broadcast plans we received so far.
"Despite the unfavorable time zone, audiences around Europe and Africa will enjoy blanket coverage from the action at Hayward Field which promises to be unforgettable."
Sebastian Coe, president of World Athletics, added: "We're delighted at the extensive broadcast commitment made by the EBU members to ensure that our European and African fans will enjoy widespread live coverage of our signature world championships. This is further confirmation of the enduring appeal of athletics, not only across Europe but around the world.
"We're all eagerly anticipating the spectacle of the world's best athletes going head-to-head for global titles, especially after the exceptional quality of competition at last year's Tokyo Olympic Games."
Among the other events being covered by the EBU this year are road cycling's Tour de France and Tour de France Femmes (July 1-24 and July 24-31), soccer's ongoing 2022 UEFA European Women's Football Championship (July 6-31), the 2022 European Championships multi-sport event (August 11-21), and the 2022 European Aquatics Championships (August 11-21).
The body also covered the rearranged 2022 World Aquatics Championships, which took place in Budapest, Hungary, from June 17 to July 3.