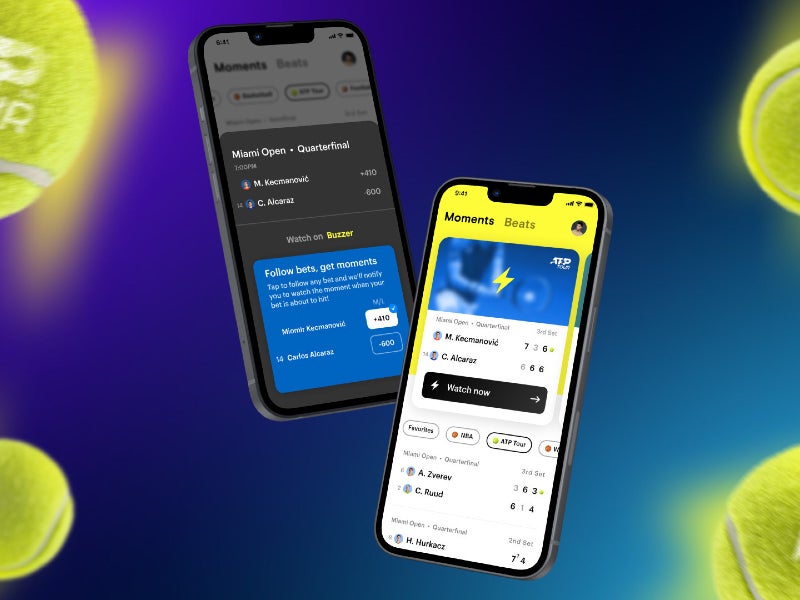 Buzzer, the short-form video content sports app, has entered into an agreement with ATP Media, the media arm of the top men's tennis tour, to distribute live match content.
The deal, announced today (October 31), will see live 'look ins' of key moments from ATP Masters 1000, ATP 500, and ATP 250 matches made available on Buzzer via micropayments.
Buzzer users will be able to receive real-time notifications as the look ins go live.
ATP Media is the latest in a number recent deals struck by Buzzer, including a content and betting partnership with FanDuel, a distribution deal with DAZN, and renewals with US basketball's NBA and WNBA.
The app says partnerships will be announced in the coming months and is building out its product and feature set.
In June, it was reported that Buzzer had reduced its workforce by 20% and was seeking to raise $20 million in additional funding to continue its expansion.
It was confirmed last week (October 27), meanwhile, that the ATP Tour has partnered with the women's WTA Tour to launch an annual mixed-gender national teams tournament called the United Cup.
The ATP Tour's calendar has also now been aligned with the Davis Cup annual men's national team tennis tournament, it was announced today (October 31).
Andrew Barge, chief business officer of Buzzer, said: "We're thrilled to bring the ATP to Buzzer during an especially exciting time in the tennis world. Our mission – delivering the best live moments in sports to fans, no matter where they are – aligns perfectly with men's tennis, where tournaments happen all over the world and in different windows throughout the day. We can't wait to test and learn alongside ATP Media, while delivering revenue and a younger, incremental audience in the process."
Mark Webster, chief executive of ATP Media, added: "This partnership with such an exciting and innovative platform represents another step towards better understanding and serving our fans. Buzzer has a young and engaged user base and we look forward to seeing how Buzzer will continue to grow its unique offerings in the U.S. and beyond."