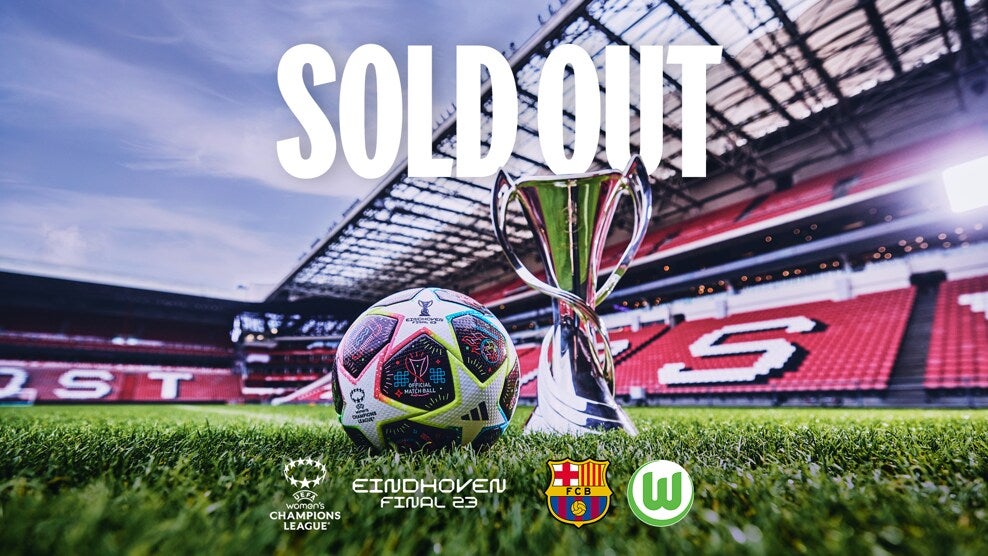 Over 34,100 tickets have been sold for the upcoming final of soccer's 2023 UEFA Women's Champions League continental clubs competition.
Ticket sales for the match between Spain's FC Barcelona and Germany's VfL Wolfsburg at the PSV Stadium in the Dutch city of Eindhoven on June 3 have set a new record for a women's soccer match in the Netherlands, beating the previous high of 30,640 at the same venue when the Netherlands played Australia in 2019, in a friendly before that year's FIFA Women's World Cup.
The match is also the first Women's Champions League final to have sold out since continental governing body and competition organizer UEFA rebranded it as the Champions League from the Women's Cup in 2010.
Then, 10,372 spectators failed to fill Coliseum Alfonso Pérez in Getafe, Spain, as Germany's Turbine Potsdam beat France's Lyon on penalties.
Assuming all ticketholders attend the 2023 final, it will become the second most attended behind the 2012 edition when Lyon beat 1. FFC Frankfurt in front of 50,212 fans at Munich's Olympiastadion.
Notably, however, it won't be the highest attendance ever for a match between the Barcelona and Wolfsburg women's sides. That record was set in April last year when 91,648 watched Barcelona's home semi-final victory against Wolfsburg towards the culmination of the 2021-22 campaign – the highest-ever attendance for a Women's Champions League game and, indeed, a women's soccer game.
That figure sits at the pinnacle of an ongoing upwards trend in attendance at women's soccer matches, with the 2022 UEFA Women's European Championships in England having also set a new total attendance record with 15 games remaining and set a single-match attendance record for the Women's Euros of 68,781 when England beat Austria 1-0.
Nadine Kessler, UEFA's managing director of women's football, said: "This is the first time we have fully sold out a Women's Champions League final. And that's a few weeks in advance, which is just another sign that we have reached a new level. The amount of fans who wish to travel with their team has risen enormously, too.
"Each team has picked up an allocation of more than 4,500 for their own supporters – far more than ever before. In addition, we can expect fans from both teams to have also acquired tickets through the general sale. It's going to be an amazing occasion for everyone, whether in the stadium or in front of the TV."
Gijs de Jong, secretary general of the Royal Netherlands Football Association, added: "We have wanted to host the UEFA Women's Champions League final in the Netherlands for quite some time, so it's great to see it happen now. And it's even more wonderful that we will become the first sold-out final in history.
"By bringing matches like this to our country, we hope to inspire girls and women to become even more involved in football – to become a player, a coach, a board member, a referee, or a fan."