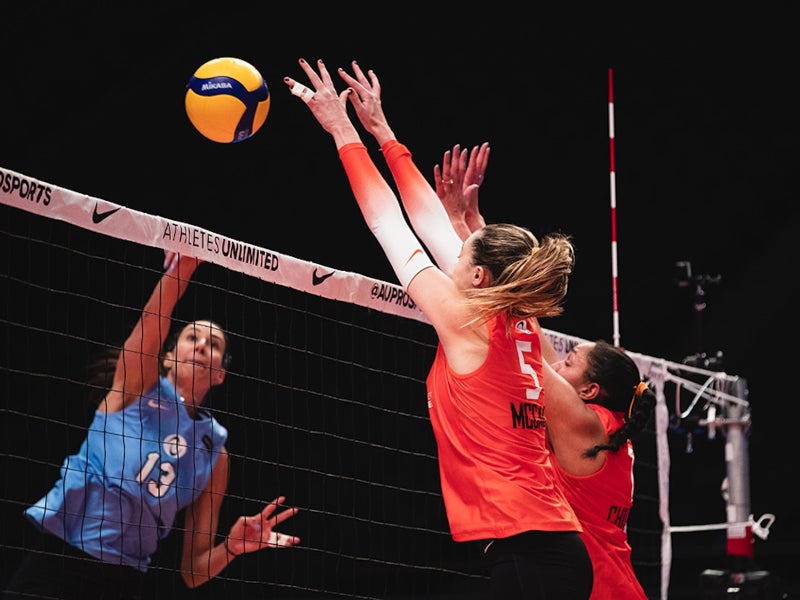 Athletes Unlimited, the US network of professional women's sports leagues, has today (November 15) announced the renewal of its deal with sports broadcaster ESPN for coverage of volleyball and that it will add a new exhibition tour to its program for the sport next year.
The new ESPN deal covers the third season of Athletes Unlimited's volleyball championship in 2023.
All 30 matches will be aired exclusively live on ESPN's television networks and ESPN+ streaming service.
The deal is an expansion of Athletes Unlimited's relationship with ESPN, which also carries its softball and lacrosse competitions.
Meanwhile, the Athletes Unlimited Volleyball Exhibition Tour will see a team of its athletes travel across the US and play a series of matches against eight "top college programs," as well as splitting into two teams for head-to-head exhibitions at a pair of the largest youth tournaments in the US.
The tour will run from March 23 to April 21 next year and include visits to the University of Louisville, Ohio State University, University of Minnesota, University of Wisconsin, University of Texas, Baylor University, Howard University and Penn State University, as well as the Windy City Qualifier in Chicago.
Athletes Unlimited has noted that a number of its players will have the opportunity to return to their alma mater and compete against their college program.
In January, US networks CBS and Fox agreed on broadcast deals for the 2022 seasons of Athletes Unlimited's basketball and volleyball leagues.
In September, meanwhile, it was announced that Athletes Unlimited had raised $30 million in funding from a range of new investors to grow its leagues.
Cassidy Lichtman, director of sport for Athletes Unlimited Volleyball, said: "Volleyball is clearly gaining in popularity, both in terms of participation as well as fan interest at all levels. As the only professional league in the United States, we're excited to expand Athletes Unlimited Volleyball to give more people access to the highest level of the game.
"It's amazing to see industry leaders like ESPN recognize the value of the sport and invest in its future. The Exhibition Tour is a great opportunity to reach the many volleyball fans across the country at the collegiate and youth levels and it will be really special for our athletes to go back to the places and programs that set them on the path to their professional careers."
Image: Athletes Unlimited/Jade Hewitt Media