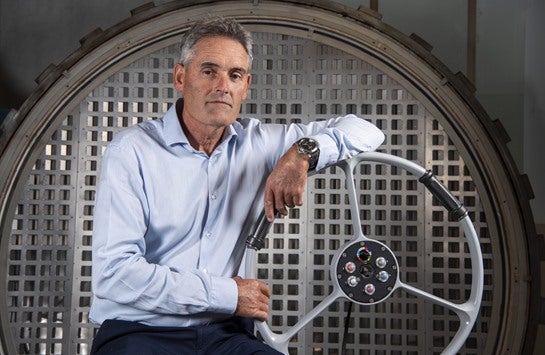 Sir Russell Coutts is a perfectionist.
It's a characteristic found in elite sportsmen, and one that helped him to win Olympic gold in 1984 and then five America's Cups, in doing so becoming the most decorated sailor in the Auld Mug's storied history.
And it is a trait Coutts has transferred into his career off the water as a successful sports administrator and event organiser, first with the America's Cup and now with SailGP, the annual series that he created with the financial backing of Larry Ellison, the US billionaire co-founder of software giant Oracle Corporation, and which debuted this year.
SailGP, featuring F50 catamarans hitting speeds approaching 50 knots, was, according to all measurable indicators, a success in year one.
The events in Sydney, San Francisco, New York, Cowes (in southern England) and the Grand Final in Marseille attracted more than 133,000 spectators and a total global event audience of 1.8 billion across broadcast, social, press and in-venue audiences.
The total economic impact across the five host cities was $115 million, the most being $29 million in Marseille for the final, where Australia defeated Japan to claim the $1-million prize fund.
On top of that, SailGP was crowned the winner in the content creation category at the 2019 IBC Innovation Awards for its remote production strategy, an ambitious initiative that enabled live world feeds to be fully produced in London, up to 10,000 miles away from where the action was happening.
SailGP's world feed used more than 40 video and data sources, including the LiveLine technology, which inserts graphics into live shots from helicopters, showing which boat is ahead, distance to the marks and course boundaries, and 1,200 data points derived from hundreds of sensors placed on the boats and athletes, collecting metrics such as wind speed and ride height (the distance at which the boat 'flies' above the water).
Integration of super-low latency technologies and the in-house design of bespoke equipment such as IP-controlled waterproof cameras were "key innovations in this landmark remote production," according to the judges.
So, Coutts' take on being an award-winner in year one? Considerably measured.
"We were reasonably happy with live production," he tells Sportcal Insight. "But not with our analysis between races and there's work to be done on data and clipping content for social media. With the mobile app, we've only really scratched the surface and yet we've been lauded for that.
"The data coming off the boats is non-proprietary, so we will use a lot more next year and look to get AI [artificial intelligence] interfaced with that so we can analyse key differences between the boats in real time and bring that out in a much more engaging way.
"We could in theory do this today, but we need to get the graphics and story-telling right around it. Imagine being able to instantly get AI to explain the top 10 key differences between the British team and the Australian team? And then that would create extra commentary and dialogue around that, which we can use in many different ways. And I don't just mean for the teams [data collected is shared with all the crews, allowing them to make adjustments between each race], but also in terms of fan engagement.
"We could get fans posing questions through the app that can be answered by AI. That is exciting and we are well-positioned with the Oracle cloud to really be a leader in that field."
---
It's about creating compelling content between events, more awareness about our athletes and some of the technology we have
---
Season two of SailGP will once again start in Sydney next February, and Coutts says there will be "much more noise" in the lead-up to, and between the races, which are expected to number six in 2020, one more than this year.
He explains: "It's amazing how quickly it all came together. We have moved from being a start-up to a fully-fledged sports championship that has proven it can run events in multiple locations around the world.
"We are now going to move into marketing this a lot more extensively and aggressively. It's about creating compelling content between events, more awareness about our athletes and some of the technology we have."
Its stakeholders readily admit that sailing is not easy to follow for armchair sports fans, but SailGP is working hard to make it more understandable, through the use of data and technology, in order to appeal to that much-coveted younger audience.
"Stage one is sharing our content, and that's something we'll continue to work on. Stage two is bringing out the sailors' personalities and we need to be better at doing that," Coutts admits. "It's a whole other thing to be creating content and really enabling the fan to get to know them in a more interesting way.
"All research is pointing towards that becoming the driver to attract fans across all sports. It is more important now to get these athletes' background stories and get to know them personally. That will drive new fans into the live product."
With boosting fan engagement considered a priority, SailGP, like many of its peers in the sports industry, has turned its attentions to eSports, teaming up with digital sailing platform Virtual Regatta and World Sailing, the sport's world governing body, to launch eSailGP.
Virtual Regatta partnered with World Sailing at the end of 2017 to create the eSailing World Championships, and the F50s are now set for a gaming takeover.
---
Imagine taking control of an egame with Oculus goggles and all of a sudden you are racing on an F50… Well, we will do that
---
Coutts says sailing's close links to innovative technology mean the two go hand-in-hand.
He adds: "Because we have our sailing simulators, all the technology involved in reflecting an accurate egame is all there. We are ready to expand on that and take this into the future in a fairly significant way.
"Imagine taking control of an egame with Oculus goggles and all of a sudden you are racing on an F50 against Tom Slingsby [skipper of the inaugural SailGP winners, Team Australia]. Well, we will do that.
"We need a little bit of time to perfect the competition conditions for the sailors on the water, as they obviously will not be able to physically see the gamers' boats. But we'll get there. In the next 18 months or so, we'll be ready."
The interview with Sir Russell Coutts appears in the new-look issue of Sportcal Insight, available to read here.
Sportcal