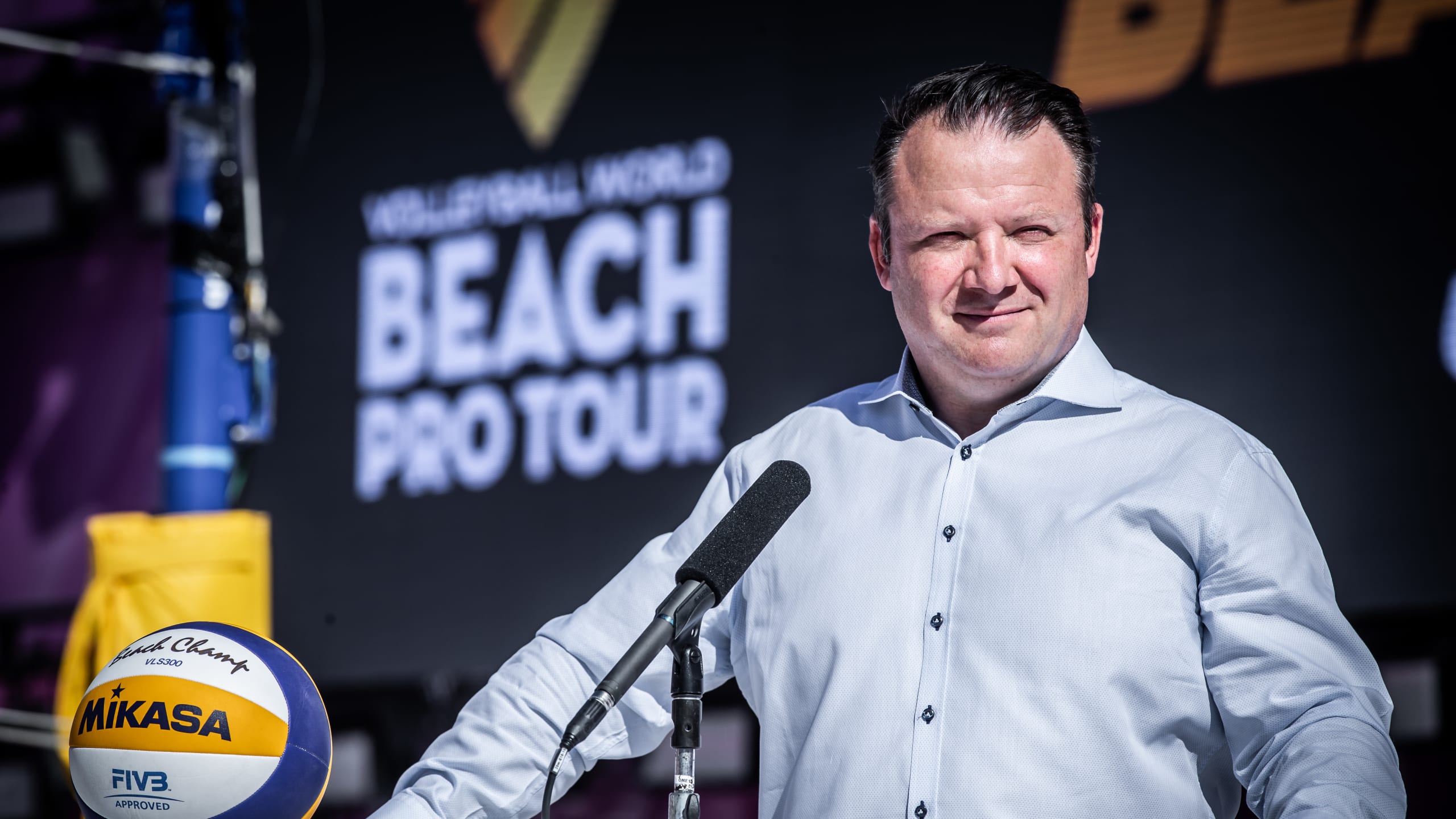 Finn Taylor, chief executive of Volleyball World, spoke to Phoebe Street about the newly-announced Volleyball World Beach Pro Tour – how it was formed, how it is different and what its commercial strategy looks like.
Last month, Volleyball World, the commercial joint venture between the FIVB, the international volleyball federation and CVC Capital Partners, announced the launch of the Volleyball World Beach Pro Tour, a concept borne in part of the pandemic-enforced break in play for sports and one that has been built upon the foundations of the FIVB Beach Volleyball World Tour.
Volleyball World has already revealed a multi-level structure for the tour that is intended to deliver an exciting and promotable event.
The three levels – Elite16, Challenge and Futures – will be played in a single-elimination format, with the best 10 teams to take part in the finals, which will conclude each season.
So far 12 competitions have been confirmed for the inaugural season in 2022, with more to be announced in due course.
How did the concept for the Volleyball World Beach Pro Tour come about?
The Beach Pro Tour is the evolution of the FIVB World Beach Volleyball Tour.
As with many other sports and events, the past two years of Covid-19-related disruptions has been incredibly challenging for the Beach Volleyball World Tour and for the athletes. However, we have taken this time as an opportunity to look at how we can continue to grow our sport and provide unique events for our athletes, fans, broadcasters and sponsors. The Beach Pro Tour is the result of this reflection.
What will make the Beach Pro Tour different to other competitions?
The Beach Pro Tour is the ultimate competition for beach volleyball professionals and goes beyond just a sporting event. It is a unique entertainment platform that combines sport, music, food and the beach lifestyle within a single event space. We want the Beach Pro Tour to showcase the best beach volleyball competitions but also provide fun for the entire family.
What is the strategy for growing the Beach Pro Tour?
We have purposely simplified the event format to attract new host partners and to maximize the number of events around the world. We are creating a global tour so it's important for us to have events on every continent.
We are building for the long-term, creating relationships into the coming years rather than one year at a time. Finally, we want the athletes to shine. They are truly the stars of the sport and, with the Beach Pro Tour, fans will be closer than ever to their superstars.
What has the response been like from potential sponsors and rights-holders?
The response has been fantastic! Developing a long-term calendar is an essential factor for potential sponsors and broadcast partners. It allows them to have visibility for the years ahead and work with us to grow and develop the sport. In addition, our fan engagement areas where we encourage sponsors to activate with the local communities beyond the matches is highly attractive.
What Tour partners are lined up and ideas are there for future partnerships?
We have existing long term global partners and we're in discussions with a number of major household brands about new partnerships. The new format along with the enhanced TV production and strong digital capabilities will enable brands to engage with a highly coveted demographic year-round and in 5 continents, all of which are proving to be very attractive.
The ideal partner for us is one who will use their association with us to enhance the fan experience at events and digitally, and in return earn goodwill from a very loyal audience.
We'd love it if a brand helped us communicate and develop some of our sustainability initiatives, such as the GoodNet Project which aims to raise awareness of and help to reduce the 640,000 tonnes of fishing nets discarded in our oceans every year.
We pride ourselves on being a brand-led, marketing-focused organisation and have every confidence our partners will enjoy a long and profitable relationship with us while having a lot of fun in the process.
What will contribute to the tour's promised "highest level of TV production"?
By centralising the media production for the entire tour, Volleyball World is focusing on creating a consistent global broadcast product.
For the first time ever, all matches at every event will be produced and broadcast to allow fans to get the full story at each event and throughout the entire season. We are also exploring new technologies to further increase the experience of our community online and expand the awareness of our beautiful sport.
What is on offer for prospective host destinations and on what basis will hosts be selected?
We are lucky that our calendar is starting to fill up but we always welcome new partners to join the tour. More events mean more opportunities for our athletes. Hosts get a unique sporting and entertainment event that is showcased on a global scale. We often work with governments and cities to build a showcase platform for a global tourist audience. Being a beach-focused event, we are fortunate to visit some of the most beautiful places on earth.
How many more competitions will be added to the 2022 season than the twelve announced?
Many more! Despite the current Covid constraints, we see the eagerness of host cities wanting to reattract visitors to their region as well as provide events to their local communities. International sporting events also provide that exposure to the cities and enhance their image on a global scale.