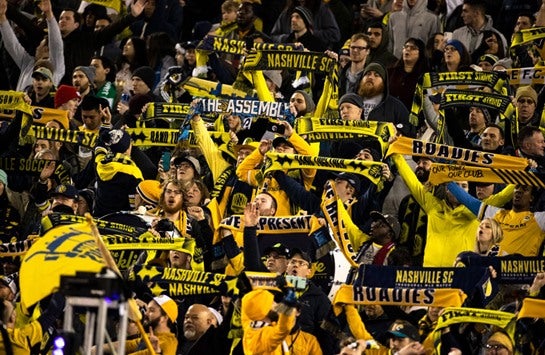 The band played the hits, the crowd screamed in appreciation, singing along, arms flaying around in unison.
This was Nashville on a Saturday night – it could be any night – but this was not one of the many honky-tonk bars that line Broadway, the city's downtown party hub.
This was opening night for Nashville SC in Major League Soccer, the culmination of a two-year project overseen by chief executive Ian Ayre, best known in the sport for holding the same position at his beloved Liverpool until 2017.
I meet Ayre in the days leading up to Nashville SC's MLS bow.
He's in particularly buoyant mood, showing me a graphic on his tablet that 50,000 tickets have been sold for the opening game at Nissan Stadium, the 69,000-seater stadium belonging to NFL American football's Tennessee Titans that hugs the banks of the Cumberland River.
As it turns out the attendance for the season-opener against Atlanta United is an astonishing 59,069. It sets a record for a soccer match in the state of Tennessee.
How well do you really know your competitors?
Access the most comprehensive Company Profiles on the market, powered by GlobalData. Save hours of research. Gain competitive edge.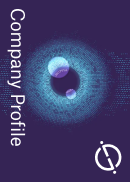 Company Profile – free sample
Thank you!
Your download email will arrive shortly
Not ready to buy yet? Download a free sample
We are confident about the unique quality of our Company Profiles. However, we want you to make the most beneficial decision for your business, so we offer a free sample that you can download by submitting the below form
By GlobalData
That figure far exceeds the attendance for Ayre's opening game as chief executive of Liverpool in 2014. He left that role three years later, having been at the club for a decade in total, for a brief spell as managing director of Germany's 1860 Munich, before relocating to Tennessee in May 2018.
His task? Construct the entire ecosystem of a soccer club, and then sell it to commercial entities and the general public. In under two years.
"You are literally building everything, whether it's picking carpets or players," Ayre says. "You need really key ingredients. Number one is great ownership. We have that with John Ingram. It's so important as an executive running the organisation to have that. You then have to have a great city with great energy and Nashville is a place on fire, and third you need the right type of people to come and support this."
The first year of his tenure could be best summed up as "an awful lot of planning, with little execution."
Ayre explains: "You can't bring people in too early because there's nothing for them to do, and you can't bring them in too late because you've got to get across the line. So it's more strategic than I probably expected and a lot of that timing and delivery points become more challenging and more evident as you go through."
General manager Mike Jacobs, formerly of Sporting Kansas City, was brought in, with the hiring of recruitment, scouting and analysis teams then prioritised.
Players included, the organisation now employs some 120 people at its offices in an industrial park near the state fairgrounds on the south side of the city, a short walk from where the club's new stadium will sit when it is finished in 2022.
"At the start it was about building a plan, a structure and then thinking about timing. Doing what when," Ayre continues. "Getting the sequence right was probably the most strategic part, the infrastructure, like stadium, training ground, academy, offices. You have to start that early because construction takes time."
Ayre likens running Liverpool to "driving a supertanker; it's very difficult to change course."
The appeal of a start-up is that there's no precedence, it is flexible, adaptable. Traits Ayre has quickly learned.
"I'm 56 this year and still learning," he says. "For me it was about taking what is 20 years' experience in the sport and maybe 30 in business and localising that to this country and this project. When you are able to do that you get more out of it. It's one thing to be successful and deliver something, but when you learn you grow.
"There was a lot of adaptation for me. It was also about moving to the south of the US, which is very different to moving to New York, say. You've got to learn how to connect and be culturally aware of what's going in Nashville, in the south, in a different part of the world. It's been hugely enjoyable, hugely challenging and hopefully, on the pitch, it will be hugely rewarding."
On the pitch, Nashville SC's MLS debut did not go to plan, a 2-1 defeat to 2018 MLS champions Atlanta United.
Some fine tuning to the team is needed, but, as an organisation, Nashville SC did what Music City does best, it put on a show. And it felt authentic, not forced.
Moments before kick-off, in front of the club's hard core 'The Backline' supporters' section, Lzzy Hale, the Grammy-winning Halestrom singer and songwriter, performed a 'Gibson Guitar Riff' that will now be a fixture at home matches.
The new club ritual will showcase different artists playing on a Nashville SC customised Gibson guitar throughout the season.
Furthermore, the club and The Backline partnered with Judah & the Lion, the local alternative rock band, to create an official club anthem, 'Never Give Up on You'.
The fans, scarves above their heads, were proudly singing along to the anthem at the end of the game, an alien concept to Ayre.
"We wrote this anthem and somebody said, 'we'll play that right at the end of the game then'. And I'm like, 'shouldn't it go at the start?'. But that's not what happens in the US," he explains.
"Likewise, when we were developing the early designs on our stadium I had this idea that, having been to NFL and baseball games here, you shouldn't be able to see the field from the concourses because people just stand up there and eat and drink and you want everyone in their seat. But again, it's not the way here. People like to graze food and drink and come in and out.
"So it's not about coming in and changing mindsets, it's about adapting for that market at the time. My job is to create ideas based on knowledge and history and experience, but sometimes I'm the least experienced person in the room. It's about localisation of knowledge."
For Ayre, the live music pre-game – the stage is a permanent fixture behind the goal – and the club anthem are all part of the wider drive to create an identity.
"That's the hardest part of all of this," he admits. "To begin with you have a logo, a colour and a name. That's all relatively uncomplicated. As you start to exist, which is more in the last six to 12 months [before playing], you have to start to be recognised for the way you do things. The way you are perceived becomes part of your brand.
"We have tried to be very authentic and inclusive of our city, be approachable, get into communities. What you are building is more of a culture than an identity, and that will ultimately manifest itself in who you are as an identity.
"But I don't think you just come out the gate and say 'we are this and we stand for this'. I think we've done a good job of creating the brand, it's very Nashville, lots of energy, full of sound.
"And we've done a good job of being authentic about the name and colours we chose, because they are the colours from our amateur team and then the USL [the second-tier that Nashville SC only joined in 2018], and the name is from the amateur days of soccer in our city. That was a tribute to what came before, rather than say 'we are the new game in town, we are going to be called the Nashville Wolves'.
"We have a blank sheet of paper for MLS in Nashville, but soccer is not a black sheet of paper in Nashville, so let's pay homage and testament to the fans and people that came before. That helps to start creating an identity."
Having their own stadium will certainly help strengthen that identity. The 30,000-seater stadium will be the biggest of all the soccer-specific venues in USA when it opens in two years' time.
That project hit the buffers last September when new Nashville mayor John Cooper halted construction plans until he had secured a better financial deal for the city. After a very public feud, a compromise was eventually reached in mid-February, allowing ground-breaking to commence.
In the meantime, Nashville SC will continue to play in the vast Nissan Stadium.
"It's a great stadium, but it's not home," says Ayre. "When you go on holiday you have a great time, but you kind of love to get home. We need that. It's everything. It's the spiritual centre of what you are. For the game to continue on the trajectory it has been on in this country, it needs dedicated soccer venues, because it's a totally different experience.
"We are very grateful to the Titans for letting us play in their stadium for two years but it's not designed for soccer, you're too far away from the pitch in certain parts. You can still enjoy the game but it's not the same as being close to the field, hearing the noise, feeling the atmosphere."
---
If you've got a good crowd turning up on a regular basis you are doing a good job because in Nashville there is too much to spend your money on so you better put on a good show
---
While they are unlikely to replicate a near-60,000 turnout every week, anything approaching even half that number will ensure the club is a successful addition to the city's sporting landscape by the time the new stadium opens.
Ayre adds: "If you've got a good crowd turning up on a regular basis you are doing a good job because in Nashville there is too much to spend your money on so you better put on a good show.
"There's a saying, you're judged by the quality of the company you keep. Well we have signed over 30 partners, all six- and seven-figure sponsorship deals. Having come from a team that was 100-plus years old to one where you're selling these partnerships for something that hasn't existed, you're sort of selling fresh air and hopes and dreams, so I think that's a great testament. To have that level of buy-in from business in the city and the fans, that has to be the barometer of success."
For now, the focus will be on serving those partners and a fledgling fanbase.
But Ayre's mind is never far from home, with Liverpool fast closing in on a first Premier League title and a first championship since 1990.
The title could be secured at the end of this month but Ayre won't be making a whistle stop trip back.
"I've been at Anfield when they won the championship a couple of times. For me that is all about other people now. I will be celebrating as much as anyone, but I'll be doing it in a bar in Nashville with 200 other Liverpool fans," he says.
"I'll wait until the melee dies down and pick the phone up to Jürgen [Klopp, the manager who Ayre hired] and Michael [Edwards, sporting director] and [club owners] Mike Gordon and John Henry, as I did after the [2019] Champions League final, and I'll find my own way to say congratulations to them.
"You can't sell your house and then go and take a shower there when you feel like it. For me, it's their championship and good luck to them."
Sportcal