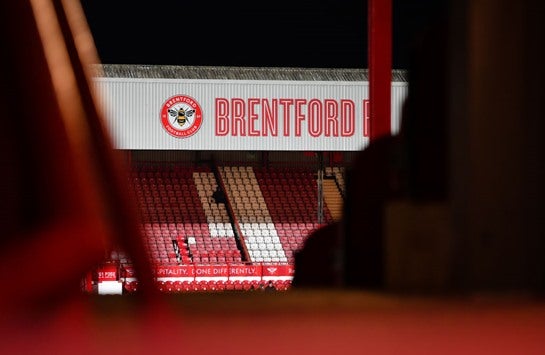 On and off the pitch, Brentford FC are getting "Premier League-ready."
With two-thirds of the season gone, the west London club sit fifth in the Championship, English soccer's hugely competitive second-tier.
After Middlesbrough on Saturday, there will be just eight more guaranteed matches played at Griffin Park, Brentford's home for the past 116 years.
A bonus ninth game may well come in the form of the play-offs, the Championship lottery: four teams fighting for one place on offer in the riches of the Premier League.
But Brentford's business model is anything but a game of chance.
Their owner Matthew Benham, an Oxford graduate, made his fortune as a professional gambler, finding success using mathematical modelling techniques.
Benham is one of the smartest minds in soccer and has used those statistical techniques to fast turn Brentford into one of the smartest, sleekest operations in the English game.
This is a club with the fourth-lowest playing budget in the Championship, generating minimal commercial revenue from a 12,500-seater stadium.
Player trading keeps Brentford afloat, and there are few better clubs at it. Buy for £750,000 ($977,100), sell for £9.5 million in the case of Scott Hogan. Buy for £1.5 million, sell for £16 million, as was the case with Neal Maupay last summer.
Time and time again Benham, along with co-directors of football Phil Giles and Rasmus Ankersen, have excelled with a data-led approach to transfers.
Now data is playing a central role to the club's approach to landing commercial partners and enhancing the in-stadia experience for fans at the new 17,250-seater stadium half a mile down the road.
For now it is known as Brentford Community Stadium, but active discussions are being had with a handful of potential partners, with confidence high that an agreement will be in place for the start of the 2020-21 season.
The naming partner will sit atop a new look commercial structure with six second-tier, venue founding partners.
There's plenty of inventory to sell for chief executive Jon Varney and commercial director James Parkinson.
Varney, a lifelong Brentford fan, joined the club almost a year ago as chief executive, tasked with overseeing the relocation from Griffin Park.
A former partner at the Pitch International agency and head of commercial at Premiership Rugby, he is well-versed in the nuances of sports marketing.
Speaking to Sportcal Insight from his sixth-floor office overseeing the stadium project, Varney says: "We are clearly an organisation that is very much built on data and we are trying to do some analysis work around stadium naming rights values. There is just no pattern to them.
"Through a naming rights partnership you can do far more than just a shirt sponsor can for example. There's greater connectivity within the venue through WIFI technology, giant screens, concourse screens and venue access systems. The opportunities to engage with the consumer in venue are considerable.
"But it is an immensely immature market in the UK. Clearly the territory that everyone always looks at that has been the market leader in sports marketing and sports sponsorship is the US. Naming rights are engrained in commercial partner programmes in the US. This has just not happened in this market. I'm confident that over time it will start to establish itself."
For Bretford, Varney says it's about getting "the right deal, not just any deal."
"It would be nice to have from day one but it is not the be all and end all," he insists. "That brand is going to have their name above our door for a very long time. We want to make sure they are the right partner, not just a financial contributor. It genuinely has to be a partnership.
"History has shown that if you are moving into a new stadium, the first naming partner through the door is going to get the greatest value."
Varney calls the stadium move "a game changer for us… commercially the handbrake comes off now. Across all of our commercial streams, we are looking for significant growth… We are getting the business Premier League ready."
There are just 60 hospitality spaces at Griffin Park. In contrast, the new stadium will have 2,900 premium seats with five hospitality lounges. Season ticket capacity will go from 6,600 to 10,000, while revenue from retail, food and beverage will all rise significantly.
Additional cash will come in from having London Irish, the Premiership Rugby team, play their home domestic and European games at the new stadium from 2020-21.
Parkinson says: "It's not just the quantum of what we can offer brands, it's the quality. We are going from a stadium that is over 100 years old to one that is state of the art, purpose-built and Premier League ready. Going to something new and shiny always helps.
"Ideally we would like to move into our new home with a full complement of commercial partners… It is very important go get those from day one so that the fans see them within the venue and adopt them as founding partners."
Of the six venue partners, three deals are at very advanced stages, one of which is in the beer category, albeit the club has not committed to particular sectors.
Varney explains: "You go into any sales process with ideas of categories you want to go after. Clearly for us, pouring rights is a key area. The education sector is also important to us in our local environment, and technology is clearly something we are looking for.
"We have this unique location being equal distance between Heathrow Airport and the West End of London, so we have an obvious opportunity around the aviation industry. Yes, we have set categories that we think are worth mining, but you never say we are only going for that category, because we don't know what's out there."
Parkinson adds: "We have a partnership structure, a template, but every partner wants something different. We look at what their objectives are and build it accordingly. Most partners are similar in their delivery, but when it comes to activation, brand placement and digital presence, they tend to be quite fluid."
---
Brands are not coming into sponsorship for pure brand awareness reasons any more. They are coming in for engagement, both with their external audience and their internal staff
---
Varney sees corporate social responsibility as being the key consideration in any sponsorship discussion.
"Brands are not coming into sponsorship for pure brand awareness reasons any more. They are coming in for engagement, both with their external audience and their internal staff," he says.
"We have an award-winning Brentford Community Sports Trust, with over 60 full-time employees doing outreach work in the surrounding areas. I don't think there's a conversation we have had with a prospective commercial partner that does not want a strong CSR angle to the overall deal.
"We are mindful that we are in one of the most competitive sponsorship markets in the world in London. But we are also surrounded by large corporations and numerous small-to-medium-sized-enterprises."
Parkinson interjects that west London is the second largest economic hub in the UK, with some 120,000 SMEs and a £1.5bn economy.
Varney continues: "We sit on the Golden Mile, which is everything from Sky's headquarters down to the Asahi Fuller's brewery. In between you have GSK's global headquarters, Sega's European headquarters. There are a whole host of global corporations for us to go and talk to.
"Clearly they're not going to sponsor us for brand fame. They are going to do it because they are part of the local community and we can help amplify their CSR initiatives. We now go very heavy in our sales approach when it comes to CSR."
As a lifelong Brentford fan who grew up in the area, Varney is well aware of the need to make the stadium migration as stress-free as possible.
"Data is engrained throughout our whole organisation. Trying to retro-fit technology into an old stadium is quite tough, but we have a unique opportunity where we are building a brand new stadium to use data to enhance the fan experience," he says.
"We are looking at opportunities for queue busting by putting touch screens in hospitality lounges and concourses. So if you are in general access areas you can order through the screen, get your ticket and your food will be waiting for you."
Late last year, Brentford appointed Levy as their official food and hospitality partner for the new stadium.
Work is already under way to ensure fans spend more time – and more money – in the new stadium, something Brentford fans have never needed to do, with Griffin Park famous for having a pub on all four corners of the ground.
Varney says: "Last week the Levy guys had the delightful task of going around the local pubs and doing a price check. What is the price point for fans in and around the current stadium? I always joke our fans are the most adept in the world at getting into stadium at two minutes to three on a Saturday afternoon. We have pubs on the corners and don't have the facilities in the current stadium to cater for them.
"The focus in the new stadium is to deliver a world class service from day one. If you do that early on, people will come back with their business."
With a new stadium on the horizon and a lucrative promotion in the offing, there is a buzz around the club. But in the boardroom there is an element of calm.
"Jon has a saying that we can only control the controlables. And we are doing everything we can to be Premier League ready," Parkinson says.
Varney adds: "The job for an off-field organisation is to try to increase the revenues so that all the money can be ploughed back into the playing department. The revenue growth generated from the new stadium may be the difference between holding onto a player and selling him in the transfer window."
Putting his fan hat back on, Varney has a vested interest in swelling the coffers.