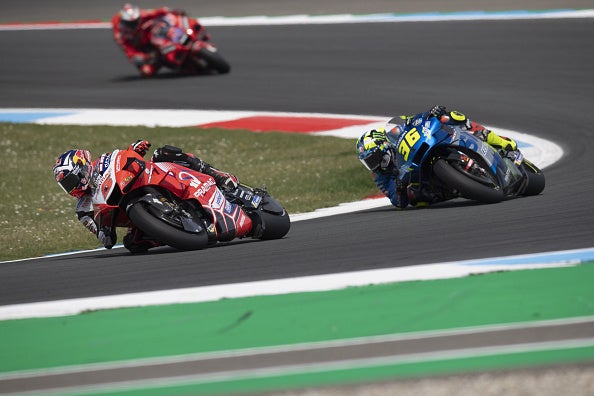 Dorna Sports, the promoter of motorcycling's MotoGP World Championship, has posted a record loss of €94.5 million ($112.2 million) for the Covid-hit year of 2020.
However, the Spain-based company has claimed that the prospects for this year are much improved.
MotoGP was severely affected by the coronavirus-enforced postponement and cancellation of multiple rounds in 2020, with the result that only 14 events were held, all in Europe, between July and November, and in large part without spectators.
This contributed to Dorna revenue falling by 29.5 per cent to €209 million.
Of this total, €137 million, equivalent to 66 per cent, derived from the sale of audiovisual rights, albeit the amount was down 35 per cent on 2019.
Advertising services accounted for €42 million, down 14 per cent, television services €28 million, down 15 per cent, and logistics services €1 million, down 68 per cent.
Dorna had recorded a loss of €8.3 million in 2019.
In addition to MotoGP and its support series Moto2 and Moto3, the company is the promoter of the Superbike World Championship and the MotoE World Cup, a new electric motorcycling series.
Despite the truncated season, MotoGP broadcast programming in 2020 amounted to 22,208 hours and reached 432 million homes in more than 200 countries, and 62 per cent of viewers are aged under 35, according to the company's report.
Dorna was hopeful of being able to stage a full season, with more than 20 rounds, this year, but events in Finland, Japan, Thailand and Australia have already been cancelled as a result of ongoing Covid restrictions, while the race in Argentina has been postponed to a date to be confirmed.
Nonetheless, financial results are expected to pick up, with Manel Arroyo, the chief commercial officer, telling the 2Playbook website: "In 2021, there will not be a return to the levels of 2019, but we have recovered a long way, since the main income is from television and we will deliver a complete product. With the circuits the situation is a bit similar."
He added: "We emerged from this crisis with even stronger ties with stakeholder; We chose not to charge the hosting fee to the circuits to mitigate the fact they were not able to sell tickets, but they paid their part of the organisational costs.
"We said that things should continue as they were, and that also implied paying everyone – teams, federations, manufacturers…"
Dorna has this year launched a new commercial division headed up by Arroyo. This coincided with the departure, after 22 years, of commercial managing director Pau Serracanta.
The company insists it is in a stable financial situation, with long-term debts having been reduced by 0.5 per cent to €821.9 million, practically all of which are with financial institutions.
In addition, it has a loan limit of €880.8 million, which expires in 2024, a year when refinancing will have to be considered again, but by which time the business is expected to have fully recovered.
Arroyo said: "We have done everything with our own resources, the support of our shareholders and the credit lines we have with the banks."
Private equity firm Bridgepoint and Canadian pension fund CPPIB both have 40 per cent stakes in Dorna, with the remaining 20 per cent held by the management team led by chief executive Carmelo Ezpeleta.