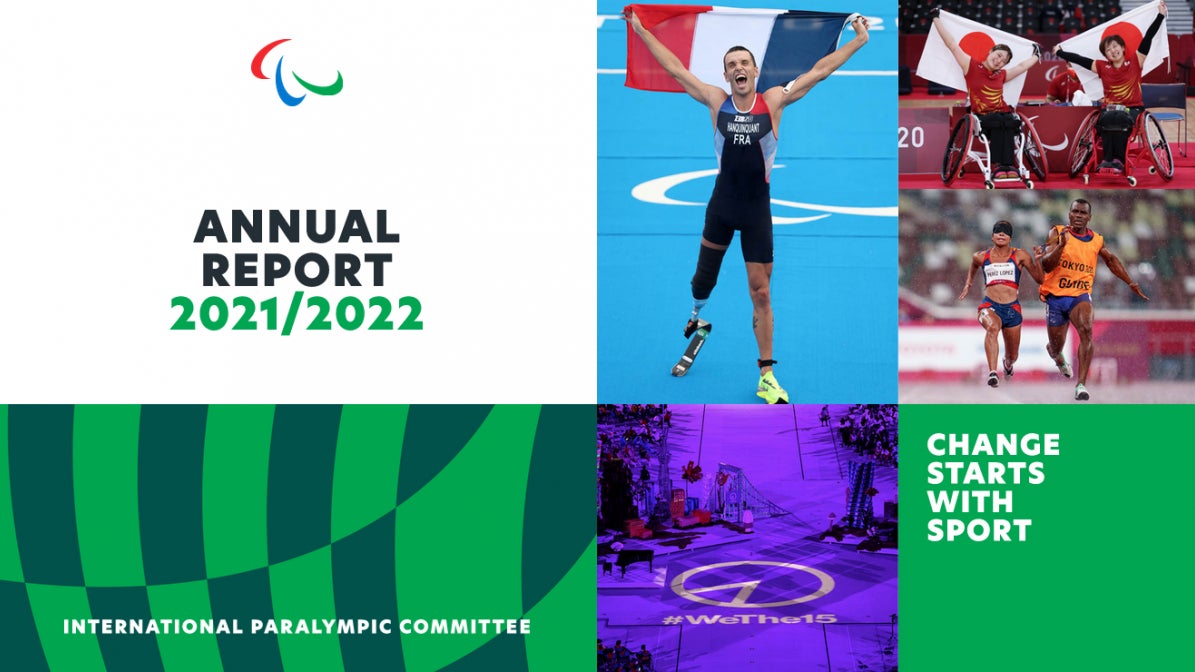 The International Paralympic Committee (IPC) has published its 2021-2022 Annual Report in which it posted strong revenues for the period and reflected on "a momentous year."
For the year ending December 31, 2021, the IPC reported revenues of €53.4 million ($56.7 million), triple the €19.3-million figure of 2020. It attributed the increase to the broadcasting of the Tokyo 2020 Paralympic Games, with the games accounting for 54% of all revenue.
Excluding what the IPC terms "the one-off effect" of broadcasting Tokyo 2020, income for the year was €24.5 million, slightly below the pre-Covid level of €26.3 million in 2019.
Total expenses for 2021 were €53.4 million, giving the non-profit a small surplus for the year of €12,078.
As with incomings, outgoings were significantly higher in 2021 than during 2020 when they amounted to €19.3 million. The Tokyo games were again the biggest factor, accounting for €28.6 million in expenses.
In the report, IPC president Andrew Parsons called Tokyo 2020 "the most important Paralympics in history," taking place as they did still under the cloud of the pandemic and without spectators in attendance.
He said: "As the only global event for persons with disabilities that celebrates, talks, and puts them at the center, they simply had to happen."
For its role in hosting the 2020 games – and doing so with such technical excellence – Parsons added that the Paralympic movement "will forever be indebted to Japan …"
The report notes the close collaboration between the IPC and the International Olympics Committee for hosting the first-ever postponed Olympic and Paralympic event.
Among the other notable achievements in 2021 outlined in the report are the launch of the 'WeThe15' campaign for disability visibility, accessibility, and inclusion, the launch of a three-year-long Classification Code Review, and the IPC's first-ever remote general assembly.
This year, meanwhile, has seen the election of a new Athletes' Council and IPC governing board, record digital engagement, and "pioneering" new broadcast partnerships.
Of the release of the report, Parsons said: "Without doubt, 2021 was an extremely demanding year for the IPC and the whole Paralympic Movement. It is one that in decades to come we will all look back on with great pride and immense satisfaction.
"Faced with unimaginable challenges, we did what Paralympians do every day of their lives. We sought solutions to succeed.
"Within a 12-month period, we delivered the Tokyo 2020 Paralympic Games in the most challenging circumstances, launched the world's biggest human rights movement to represent persons with disabilities, and received overwhelming approval for a new constitution that ensures the IPC's governance structures are world-leading."
"We continued preparations for the Beijing 2022 Paralympic Winter Games, strengthened our working relationship with the IOC, and staged a first-ever online general assembly where members elected the most athlete-focused and gender-balanced governing board in history.
"It was an extremely hard but rewarding year, which ensured the IPC's purpose grew in strength and relevance globally."