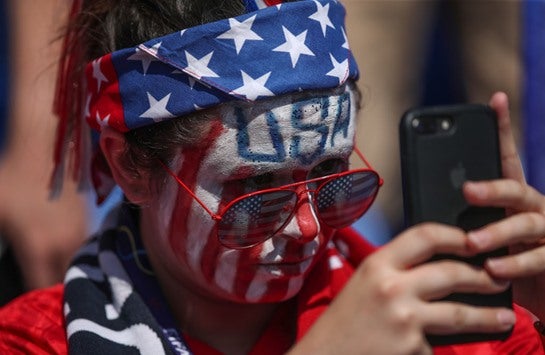 In recent years, mature media markets have experienced increased 'cord-cutting', the gravitation from often costly pay-TV services to cheaper, and more flexible, digital options, with the beneficiaries including the likes of Netflix, Amazon Prime and the expanding over-the-top sports streaming platform DAZN.
In a not unconnected development, smartphones
have overtaken traditional television sets and computers to become the number
one device for viewing video, and there has been a huge growth in social video,
albeit this is often most effective for promoting other products and services.
These are among the findings of the '2019 Global
Video Trends Report' recently published by Grabyo, the UK-based video
technology specialist, and will provide food for thought for sports
rights-holders and content platforms as they seek to maximise the value of
their assets.
It states: "Sport remains the most popular
live category, which will help each sport to regain rights value, but usage
patterns suggest that for sports properties to maximise audience growth, they
need a distribution model which moves beyond exclusivity on pay-TV."
The study is based on a survey of 9,690
people across seven countries – the UK, USA, France, Germany, Italy, Spain and
Australia – that sought to ascertain the priorities of video audiences today.
It found that 50 per cent of consumers pay
for an OTT video service such as Netflix or Amazon Prime compared to just 42
per cent that shell out for a pay-TV subscription. Meanwhile, traditional
linear TV now trails behind satellite/pay-TV and online video platforms as a
medium for watching video.
The differences are most stark among
18-to-25-year-olds, 63 per cent of whom subscribe to online video platforms,
while only 37 per cent are committed to satellite/pay TV. An increasing
proportion, 25 per cent, subscribe to YouTube Premium or another paid-for online
service, and only 15 per cent do not pay for any service at all.
Among this group, 35 per cent plan to cut
the cord in the next three years or have already done so, and a large
proportion will be 'cord-nevers'. Meanwhile, of all consumers that have cut the
cord, 43 per cent now watch video most often on a smartphone.
Addressing reporters at the Grabyo Summer
Sports Summit at The Oval cricket ground in London, Gareth Capon, the company's
chief executive, says: "One of the challenges of pay-TV is that it's become
increasingly expensive, and certainly in sport, and we're probably at the
tipping point right now where the aggregation of content rights on a device
that has primarily been the television… is now expanding into the OTT space,
and there's lots of 'TV Everywhere' services…
"But the online business model hasn't
changed, and there's still a limited amount of flexibility because most of the
propositions are still driven off the TV schedule primarily, and certainly the
rights are."
The survey shows that smartphones are now
the most popular means of watching video for 25 per cent of consumers, ahead of
traditional TVs, on 18 per cent, Smart TVs/streaming devices, on 15 percent,
and tablets and laptops/desktop computers, both on 14 per cent.
However, among audiences under 50, Smart
TVs and streaming devices are more popular than traditional TVs for bigger screen
viewing at home, indicating the level of demand for streaming and on-demand
services, and not necessarily just the younger demographic groups.
Across all age groups and media platforms,
sport is the most-watched video genre, with the highest consumption among 26-to-35-year-olds
(49 per cent), and entertainment usually second, while flexibility, price and
quality of content and service are the main requirements of consumers.
While home broadband and 4G mobile phone
technology have improved the online viewing experience, particularly in
developed markets, connectivity remains a hurdle for OTT video services,
particularly with live coverage.
---
"People care about sports and entertainment, flexibility of devices, the price point, but they want quality of service"
Gareth Capon, chief executive of Grabyo
---
"When we extrapolate what people are
looking at, they care about sports and entertainment, they care about
flexibility of devices, they care about the price point, but they want quality
of service, and that's probably the point in OTT and the current world around
mobile, social and all of the OTT stuff that still is challenging," says Capon.
"Every live TV provider has had their
challenges, and everyone from Facebook to DAZN to YouTube. You won't find an
OTT provider out there in live sport that hasn't gone out and not had a
significant technical challenge delivering the service. To me it isn't that the
internet can't deliver live TV, it's just that there are so many fluctuations
and variability in the infrastructure between the source of the content and you
watching it on your phone or your TV or your connected TV in a whole range of
markets that it is quite complicated.
"But that's a technology challenge that
will get solved. As with all technology challenges I don't see that as
something that is going to be an issue. 5G might be the catalyst that starts to
make big changes in certain markets. We're at this quite interesting inflection
point where the quality of service is still patchy, certainly in some regions,
or maybe not as good as people want, but people are demanding flexibility
around the service at a price that's going to work. That will be the mechanism
that starts to drive change in the media and sports industry and that will have
an impact on rights and business models as it did in the music industry in the
past."
The increase in mobile viewing has been a
stimulus for social video, with penetration now above 75 per cent in all the
markets covered in the Grabyo report. Some 40 per cent of 18-to-25-year-olds
watch video on social media most often, while the platforms with the biggest
social video audience are YouTube (78 per cent of consumers), Facebook (55 per
cent) and Instagram (30 per cent).
Following sports (12 per cent) ranks only
fifth among the reasons consumers watch social video, a list that is headed by learning
about new products (21 per cent).
Asked which specific content they wanted to
see live-streamed on social media, 13 per cent said sport, placing it behind
only news, on 13.8 per cent, and showing that such rights will continue to have
value going forward.
However, pressed on which types of video
clips they wanted to see more regularly, only 24 per cent cited sports
highlights, sixth overall.
Social video platforms are not necessarily
becoming a primary means for watching sport, but the advertising is encouraging
the adoption of OTT services and presenting another challenge for pay-TV
operators, according to Grabyo. The study shows that 42 per cent of
18-to-25-year-olds have looked to purchase an online media subscription service
after watching social ads.
Capon says: "Our perspective on the
relationship between social and other platforms is that it isn't necessarily
always a direct relationship between putting something on a social platform,
getting them to watch your clip, and then they'll pay for something and become
a customer. That linear journey is a lot more nuanced and a lot more complex
than people see."
He adds: "What we have seen elsewhere is
when you start to drive engagement, and you get people watching, sharing and being
involved in your content then that often has a read-across to much greater
uptake, tune-in or consumption of other platforms.
"But, building that direct relationship is
much harder than people think and we look at the social platforms much more as
brand propositions then we necessarily do as direct consumption platforms."
In the sports sphere, the Grabyo chief names DAZN, whose OTT service is now available in nine countries on four continents, and US media giant Discovery, which now owns the Global Cycling Network and has launched GolfTV, combining live and on-demand coverage of events with playing tips from the likes of Tiger Woods and Francesco Molinari, as leading proponents in digital video.
Capon says: "If you look at what GCN did in cycling, they built their business around talent, but really about performance because people who are really engaged in the sport are willing to spend media time and money to learn more about it.
"GolfTV is starting to do similar things with Woods and Molinari and others. It's going to be about how to play the game as much as watch the game because people who are committed enough to pay for an OTT subscription probably play the game and want to get better. These things have never really been tied together in the past."
However, he believes that the platforms are
still just scratching the surface of the possibilities of the technology,
saying: "There's a lot more to come in terms of flexibility. The first
generation of OTT was taking TV and putting it on the internet. It was taking
the live broadcast or the five-minute or 20-minute highlights and making them
available on an on-demand platform.
"That is not really what OTT is going to be
about. It's going to be a lot more nuanced, personalised and data-driven and
enhance the experience because you'll be on a connected platform whether that's
live interactive experiences like you're seeing on Facebook, whether it's
having a completely personalised set of highlights or whether it's timeshifting
your view of a game and your social experience alongside that so you don't get
any spoilers.
"There's tonnes of stuff that's going to
come with technology that's going to change the way that you watch, and that's
excluding VR and AR, and the more advanced opportunities. We're at the very
early stages of that. From an OTT perspective it's partly driven by rights and
it's partly driven by technology.
"Part of the problem is that people's
understanding of personalised experiences has been going on to YouTube and
Facebook, and the newsfeed, and the algorithms do a very good job of serving up
things I want to watch…
"But there's much more to come with that in
sport and that's something that we're really interested in because one you're
abstracted from the [TV] schedule then you get into a world where you start to
create an experience model which can be very personal."