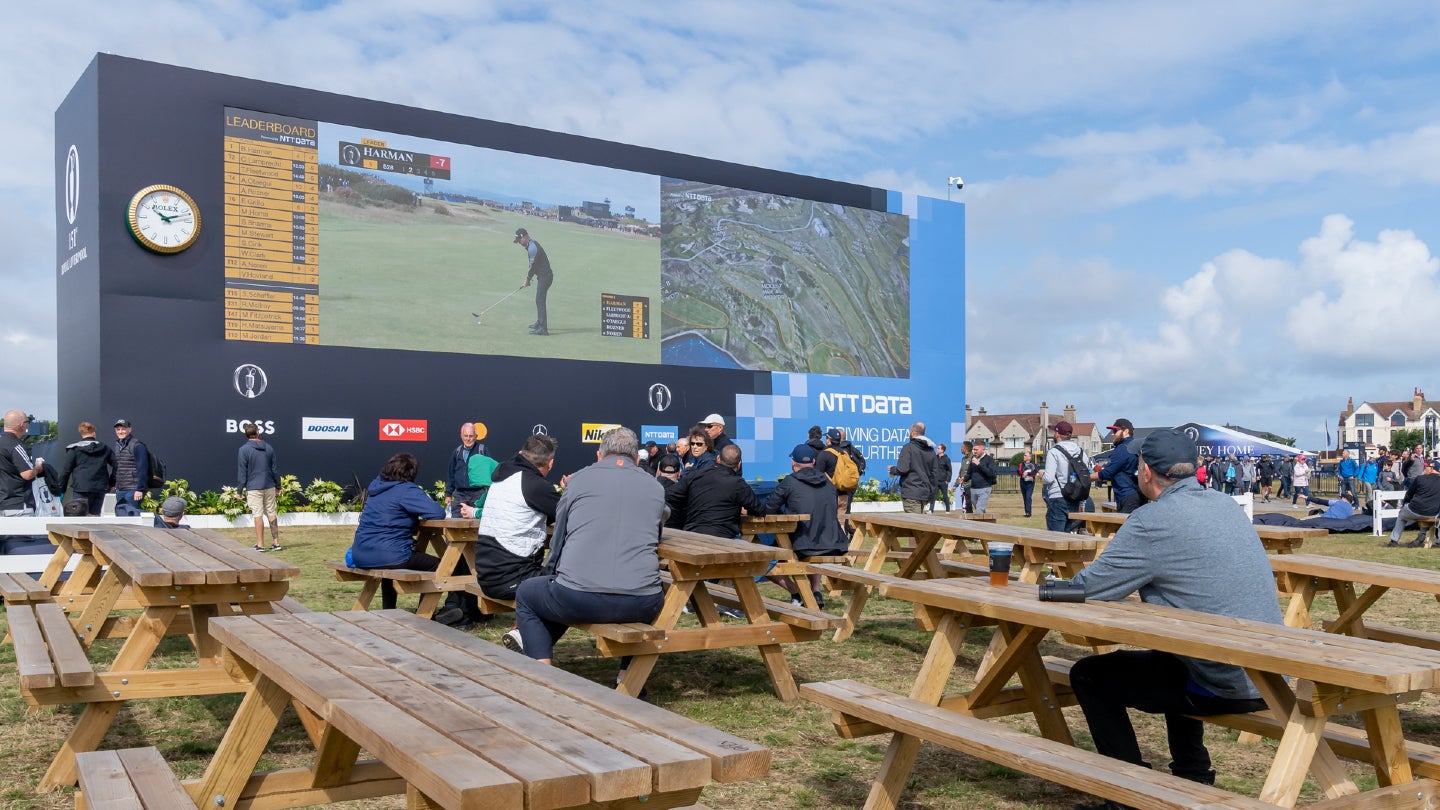 When Brian Harman holed his putt on the 18th at Royal Liverpool to win The Open Championship on Sunday (July 23), it was the last of over 32,000 shots that had been tracked over the course of the week.
The Open is the oldest and for many the most prestigious golf tournament in the world, with this year's edition in Hoylake, UK, being the 151st. The sport itself is, of course, fundamentally low-tech, and the coastal links are inextricable from the natural world – something to which this year's "forged by nature" Open tagline alluded.
All this is to say that any introduction of technology to this most traditional of tournaments must be carefully considered – something of which Steve Otto, chief technology officer of The Open's organizer The R&A, is acutely aware.
With that in mind, he talks of using technology to improve the fan experience but tells GlobalData Sport: "What happens inside the ropes is sacred. We don't want to interfere with that."
He explains: "It's trying to respect tradition so that, when you're playing, it's pretty much you and the course, but realizing we need to move forward with the times and embrace technology."
Otto is in no doubt about the role that tech will play, though, both for The R&A's championships and the game itself, of which the organization is also a governing and developmental body.
"We have as a central value that we want golf to be thriving in 50 years, and technology needs to be a big part of that," he says. "It's as simple as that."
This line between tradition and innovation is what The R&A must tread with its IT provider NTT Data, the business consultancy arm of Japanese tech and telecoms behemoth NTT.
NTT Data became a patron of The Open in 2013 and remains one of only a handful alongside Boss, Doosan, HSBC, Mastercard, Mercedes, Nikon, and Rolex.
Until that point, Otto is clear that technological innovation had not been a priority.
"We had a sort of fairly traditional IT company model, but not really a conscious technology function," he says. "With the birth of the technology function, that's enabled us to really mature the relationship with them and to realize we can ask informed questions rather than have them bring stuff to us and saying, 'Well, this looks shiny', or, 'This looks good'. And that relationship has gradually matured."
Elaborating on the development of the partnership, Tom Winstanley, chief technology officer and head of new ventures at NTT Data, tells GlobalData Sport: "It started as a traditional patronage, but we'd always wanted to bring in technology.
"Whenever we're doing these kinds of things – we do the Tour de France, we do the IndyCar Series, we just beginning to be padel in Spain, we have a whole range of sports – we're always looking to find ways that we can contribute materially rather than it just be about giving some money."
Winstanley explains that, for The Open, that input began in 2014 – coincidentally, the last time it was held at Royal Liverpool – with the first iteration of the NTT Data Wall, an on-site display drawing in stats and information about what was going on around the course.
Today, the NTT Data Wall has evolved into a 20m screen displaying video, shot tracking animations, and course data. It is fed by data captured and processed by NTT Data's ShotView platform – more on that shortly – for use also in The Open's mobile app, on its websites, in the scoring feed, and by broadcasters.
The purpose across all of these channels is to make the fan experience – both on-site and at home – more engaging but always with purpose.
Otto notes: "We really get into the really technical details with NTT Data and not about how it's delivered – Is this real? Is it something that actually produces a tangible benefit?
"We audit a lot to make sure what we're portraying is real, tangible, and useful, rather than just looking good."
For Winstanley, this approach has delivered what he believes is the best tech of its kind in the field in the form of ShotView, technology launched last year that is based on a digital twin of The Open's course and provides insights into millions of data points in near-real-time. Over one billion calculations were carried out across this year's tournament to deliver all of this across The Open's various channels.
"ShotView, this year, is a real step change. We think this is best-in-class. I don't think there's anywhere else in the world really that's at this level."
Looking to the future, Otto says: "Our day-to-day lives are really looking at how the sport is played and what ways in which we can anticipate future changes and really understand how the sport is played as well. We invest a lot in biomechanics – how equipment functions and stuff like that. There are a lot of good innovations coming."
He adds that the R&A now draws inspiration from not just other golf properties like the PGA Tour, but elsewhere in sports like tennis' Wimbledon and the International Cricket Council, as well as further afield from the likes of Dreamworks, the feted animation company.
In terms of specifics, Winstanley adds: "What we want to do next year is take more of the video footage, the analytics that that you can do around the swing, and bring more to live the experience of being here on site into ShotView."
Pressed on what else NTT Data might work on for The Open, he says: "This whole topic of virtual reality and extended reality is interesting, and we as a company are pretty invested in that area, both here in Europe and in Japan. So I can see us taking a path down there.
"We'd be interested also looking at things like connectivity. So private 5G might be a topic for the coming years to make this really seamless at different events. That kind of speaks to our heritage as an organization."
Image: NTT Data