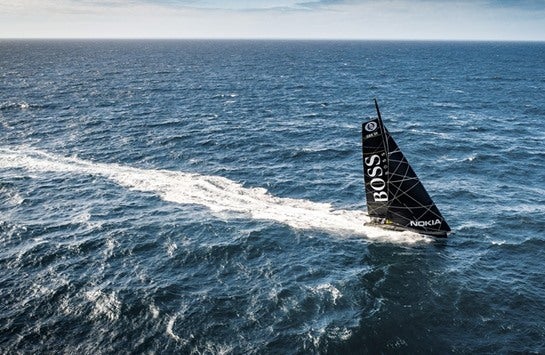 Offshore single-handed sailing is one of the most
challenging disciplines in world sport and this is reflected in the choice of
commercial partners of its leading proponents.
For Alex Thomson Racing, the team behind the UK's leading long-haul sailor, it is a case of the familiar and the new as it prepares for the next Vendée Globe, the prestigious 24,000-mile non-stop round-the-world race, in 2020-21.
Hugo Boss, the renowned German fashion brand, remains on
board as the title partner of the team, in a relationship that dates back to
2003, and continues to provide the majority of the budget, but has been joined
by Finland-based Nokia, as technology partner, in a multi-faceted tie-up.
The new sponsor was seen as necessary to improve the capability and connectivity of the 44-year-old Thomson's IMOCA 60 race boat in campaigns over the four-year cycle running to 2021.
The partnership with Nokia Bell Labs, which was announced in
September, is regarded as being a productive one in providing 5G and other
technologies on the high seas.
Indeed, it was human error, rather than a technical fault,
that cost Thomson victory in the Route du Rhum, from France to the Caribbean,
this month as the sailor forgot to charge his electric-shock wrist alarm to
wake him up from sleep while in autopilot in the closing stages, and ran
aground on the northern tip of Guadeloupe.
Although his boat was not badly damaged, Thomson was forced to use his engine to restart, thereby incurring a 24-hour time penalty that resulted in him finishing third behind French pair Paul Meilhat and Yann Elies in the IMOCA class.
Speaking to Sportcal ahead of the Route du Rhum, Stewart Hosford, the chief executive of Alex Thomson Racing, welcomed the co-operation of Hugo Boss in securing its latest sponsor, saying: "They were open to having more select partners and we went out to the market at the end of last year and start of this year and got Nokia… They really fit with what we want to do."
German firms Mercedes and BASF were sponsors in the last
cycle, but, with racing yachts becoming ever more hi-tech, the team prioritised
this aspect, and Nokia is using the partnership to develop and test existing
and new technologies, including augmented intelligence, wearable technology and
networks and communications capabilities, as it seeks to attract new customers.
Hosford described the new sponsor as "both a funding source and technical developer," adding: "We think of Nokia for its traditional [mobile] handset business, but that no longer exists, and they are now a communications enterprise business."
He cited the company's partnership with Vodafone to create the first 4G network on the Moon as part of the privately-funded PTScientists mission, involving Audi Lunar Quattro vehicles, planned for 2019.
There are parallels with the remoteness of single-handed ocean sailing, with Hosford saying: "Where we're interested in working with them is how we face big technology problems, in that we send a human out on their own in pretty extreme conditions. There are technical issues like avoiding collisions and injury, and ensuring connectivity."
As well as contributing to boat enhancements such as the development of autopilot and sleep-monitoring systems, Nokia will be working with Thomson to help him engage with fans and transmit his story, after a second-place finish in the Vendée Globe in 2016-17, potentially with new cameras and drones.
---
" As an ambition, I would like to see these boats live-stream for the full 74 days "
Stewart Hosford, CEO, Alex Thomson Racing
---
Hosford said: "Fewer than 100 people have sailed non-stop around the world and in the last race Alex communicated his experience quite thoroughly."
This entailed recording video clips onto a computer that
could then be uplinked via satellite, but there are plans to take the
engagement to a whole new level.
Hosford said: "As an ambition, I would like to see these boats live-stream for the full 74 days. That's a quantum leap from where we are today."
He added: "It has to be simple and automated, when a solo sailor has so many other things to do."
Hugo Boss extended its long-running association with Alex
Thomson Racing, through to 2021, in November of last year, and shows no sign of
waning.
Hosford said that the partnership had "grown and evolved over time," adding: "We have a very good understanding of their imperatives and, as their business has changed, we've changed our structure to fit with them."
In 2018 Hugo Boss has refocused on the two brands that make
up its name and stepped up its commitment to digital and sustainability, while devising
a business plan running to 2022 based on the tenets of personalisation and
speed.
There are obvious synergies with single-handed sailing, and Hosford said that Alex Thomson Racing has "become an extension of their marketing and HR functionality," with public appearances of the boat and online initiatives to connect with consumers.
He added: "The demographic is people who enjoy the adventure side of the sport, and they [Hugo Boss] are one of the most recognised brands in sailing."
Asked why the Hugo Boss partnership had endured, Hosford said: "We work to get value out of it. There are benefits for both sides, and they think they get value out of it.
"They believe in building long-term partnerships and working them hard instead of changing between different sports."
---
The demographic is people who enjoy the adventure side of the sport, and they [Hugo Boss] are one of the most recognised brands in sailing
---
Hugo Boss was for over 30 years a sponsor of the McLaren
Formula 1 team, but switched to Mercedes in 2015, and is now concentrating its
motorsport efforts in Formula E, having become an official partner of the
electric car racing series ahead of the 2017-18 season.
Alex Thomson Racing's priorities for 2019 are headed up by the launch next summer of a new £5-million ($6.4-million) IMOCA 60 boat that will be fitted out with Nokia technology and form the centrepiece of the team's Vendée Globe campaign.
While there is no need for other major sponsors, the team
will continue to be on the lookout for further official suppliers, to join the
existing portfolio that comprises Crewsaver (safety equipment) Gleistein Ropes,
Oceanvolt (electric motors), Haydale (nanomaterial processing), Dream Yacht
Charter, Opihr (gin) and Rich Energy (energy drink).
Sailing has never been a cheap sport, and Hosford spelt out the annual budget required for single-handed campaigns, saying that it costs between £1 million and £1.5 million to take part, between £2 million and £3 million to be competitive and between £3 million and £4 million to have a winning team.
He concluded: "Our ambition is to win in 2020, so we've set our budget at the winning end."