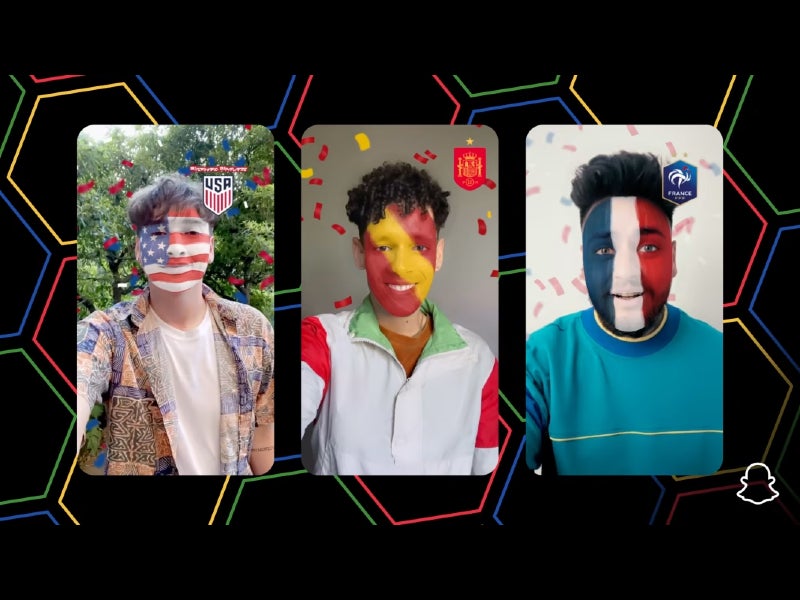 Snap Inc., the parent company of the Snapchat messaging app, announced its plans for the ongoing 2022 FIFA World Cup in Qatar with the goal of "transforming how football fans and Snapchatters around the world experience, celebrate, and watch" the tournament.
Lofty as that claim may sound – after all, Snapchat is not as big or in many ways as simple as Facebook, Instagram, or Twitter – Snap can already claim to have changed the way people view soccer in some ways.
Its use of vertical video, for example, popularized the format among other apps and has seen matches broadcast vertically as a result.
Nonetheless, Snapchat remains one of the least understood mediums among those that brands know they should perhaps be using. Indeed, Snap would argue that the headline of this article is a misnomer and that Snapchat is not really a social media platform at all.
The platform
"We position ourselves as a tech company that's powering people to communicate and change the way they're doing that," Snap's senior manager for international sports partnerships Kahlen Macaulay tells GlobalData Sport.
"What you'll see on Snapchat is smaller, tighter groups – people less willing to broadcast themselves and everything they do to a huge following – and more about intimate friendships and real friendships."
At face value, that sounds like the opposite of the large-audience, large-reach type of platform on which a brand would want to promote itself, so why would they choose to?
In short, Macaulay says: "Building fan relationships early."
"In over 20 markets we reached 90% of 13-to-24-year-olds. That number goes to 75% when you get to 13-to-34-year-olds. We are very much still the home of Gen Z, and moving forward that's what we're helping our partners do – reach an elusive audience that they can't reach anywhere else and bring their products and their content to life in different ways."
Primarily, Snapchat is based around its messaging and camera functionalities, with accompanying filters and augmented reality (AR) Lenses. These allow users to capture creative photos and videos for sharing with their friends, and they're regularly added to by Snapchat itself and through partnerships with brands.
By way of example, Macaulay explains: "For Paris Saint-Germain's (PSG) recent 10th record title win last year, we were able to transform the Eiffel Tower into an augmented reality celebration with fireworks and 'Paris Saint-German congratulations!' Just by simply holding the camera up to the Eiffel Tower, it triggered this experience in augmented reality."
Despite the protestations, Snapchat does have some more social features too. Users – and indeed brands – can also send their videos to a public Spotlight section that can be scrolled through in much the same way as short-video competitor TikTok.
Multiple videos can be compiled into Stories, meanwhile, which users can happen upon in another dedicated and scrollable section or can find along with other past episodes on a brand's profile.
On this front, PSG produces a regular show, as well as daily content like behind-the-scenes footage, player perspectives, celebrations coverage, and clips from the locker room. This is where brands can capture attention, build relationships with viewers, and grow their audience through users sharing their content with others.
Of PSG's willingness to dive into both content production and AR experiments, Macualey says: "We love partners like that who are willing to innovate and explore."
The partners
Beyond the French soccer giants, Snapchat has deals with rightsholders across the sports industry, including federations, leagues, teams, broadcasters, and other media outlets.
"Since the inception, the early days, we had amazing deals with the NFL and NBA that still would be held up as the most expansive and ambitious in terms of what we can do for the fan experience when it comes to things like augmented reality," Macaulay explains. "Those partnerships are 10-plus-years old."
Pay-TV broadcaster Sky Sports broadcaster is another example of a major partner that has been working with Snapchat for a number of years now, having come on board in 2015. Today, it distributes every single goal of every single game from English soccer's Premier League on Snapchat.
"They do it in a very punchy format," he notes. "It's really quick, it's all the best action rounded up, you're done in three minutes. And that is the format that works."
Currently, for the World Cup, Snapchat has tie-ups in place to provide localized highlights from every game in over 30 countries. Most notably, its deal with BeIN Sports, the official broadcaster of the 2022 World Cup, covers the 24 countries in the Middle East and North Africa region. Others include ITV in the UK, MediaPro in Spain, and Bell in Canada.
New Lenses have been released via which fans can kit themselves out in the different team shirts, users' Bitmoji avatars can be dressed in team kits through a partnership with Adidas, and there are a host of new stickers and filters for the event.
Elsewhere, users are creating content off the back of Spotlight Challenges, such as for showing off trick shots and capturing celebrations for their teams, and the app's Snap Map is showing curated Stories about how users are watching and celebrating around the world.
Beyond the World Cup, Snapchat has partnerships with major sporting properties like motor racing's Formula 1, cricket's Indian Premier League, mixed martial arts' UFC and Combate Global, and motorcycling's MotoGP.
The partnerships
"What we try and do with our partners – as to why they should be working with Snap – is say, 'You're looking at this from a longer-term perspective about creating a lifelong fan'," explains Macaulay.
"When Man City, Real Madrid, Barcelona, Marseille, and other clubs are looking at 'Why Snapchat?' it's because of that ability to ignite that that fandom early and then look at the fan from the lifetime perspective rather than just on the quarterly: 'What can I extract now?'"
He continues: "Within the Snapchat ecosystem, as a camera company focused on communication and self-expression, we've got tools like Bitmoji, which is one of the world's most used avatars. I think the recent stat was that 85% of the Gen Z audience in the US have a Bitmoji, which is insane.
"There are also products like augmented reality, and that's an area where we have been investing as a company for a long time. Today, we look for partners who can really activate across both content and also those other experiences to create a much richer fan experience."
Macaulay notes that creating content for Snapchat is a unique endeavor but that it delivers high engagement for brands.
"Producing a show for Snapchat is three to five minutes of 10-to-15-second snaps and the experience is very quick. If you don't have that young user immediately with great action, they're gone. They're doing something else. The transition for traditional sports organizations to make that step has been a big ask."
Despite that, Macaulay adds that Snapchat sees sports as being a critical pillar of its engagement strategy going forward.
"Sports drives huge interaction. We can claim that it's Snapchat, but the reality is that sport drives conversations and that conversation is happening on Snapchat. That naturally helps drive engagement on here too. That's how we see it. Basically, the importance of sports is huge and can't be understated."
He adds: "We want to create experiences that really resonate with fans and help them experience that live moment. I think it's something like 83% of Snapchatters use the app while watching sports to do a variety of things – to message friends but also use augmented reality Lenses."
Macaulay believes that, where it might not have been the case previously, the last four or five years have seen Snapchat really position itself to become a pillar of brands' engagement strategies – and for sports organizations that means using the platform to engage in new ways.
"That's really our focus, to reimagine the fan experience for the next generation of fans and this narrative that young kids or younger audiences aren't interested in sports. That couldn't be further from the truth in our opinion. It's just how they're consuming it is very different."
Sportcal's interview with Twitter's Theo Luke looks at how the outlook for sports partnerships on that platform has been upended by its recent takeover.