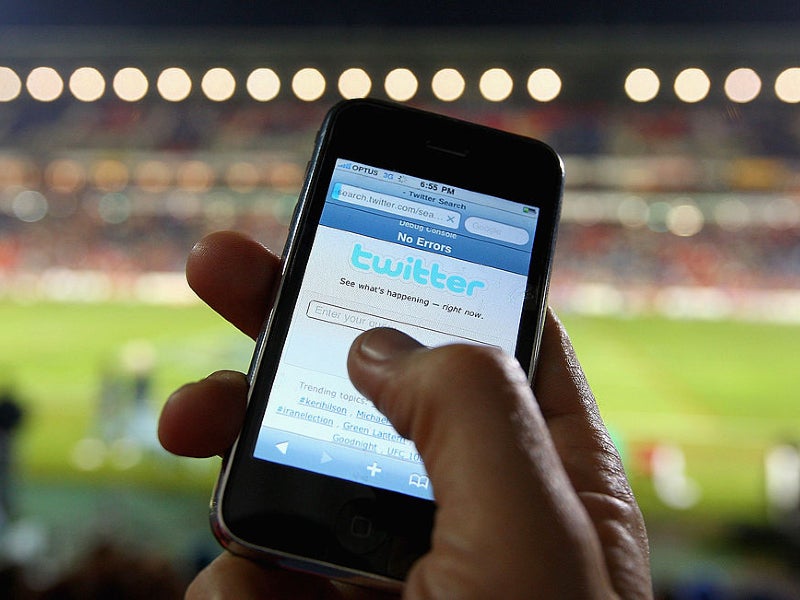 "We have got to position where for the biggest sporting event in the world there will be live goal highlights in most of the major markets that Twitter operates in, and big blue-chip advertisers are paying to be bought around that content.
"That doesn't happen overnight. You've got to also work with people like FIFA and assure them that we're a sensible and grown-up platform."
Those were the words of Theo Luke, Twitter's senior director for global content partnerships in Europe, the Middle East, and Asia when GlobalData Sport interviewed him a month ago.
Seven days later, Elon Musk's $44-billion purchase of the social media platform was confirmed.
Since then, an estimated 5,000 of its 7,500 employees have been let go, features have broken with no one to look after them (including the platform's copyright takedown system – more on that later), paid-for verification has tanked the stocks of companies being impersonated, racism and hate speech has increased, and swathes of advertisers have halted activity on the platform, alarmed at its direction.
This was meant to be an article about Twitter's sports content partnerships – how they've developed over the last decade, what they mean to Twitter, and how they benefit the teams, leagues, federations, broadcasters, and other rightsholders involved.
Instead, it's a look at what Twitter and its partners might be set to lose – and therein about the value of major platforms being "sensible and grown-up."
FIFA World Cup and beyond
The World Cup, the pinnacle of national teams soccer, run by the sport's world governing body FIFA, kicked off on Sunday (November 20) and concludes with the final on December 18.
Of it, Luke told GlobalData Sport: "Twitter is the number one platform for social media users if they're to be kept up to date with the World Cup."
That's no small claim, but it's backed up by analysis it carried out in partnership with audience research aficionado GWI.
It variously found that 75% of Twitter users are fans of the World Cup compared to 49% of non-users, 63% of Twitter users are interested in seeing video clips of sport, and 64% of World Cup fans on the platform say they can find content on there that can't find elsewhere.
Luke also noted that 261 million users follow at least one soccer account on Twitter. "So, you know, there's definitely an audience there," he added.
It's this level of interest in soccer on Twitter that has led to its striking rights deals for real-time highlights of World Cup matches in upwards of 23 countries.
Among the rightsholders with which it's working with are Fox in the US, ITV in the UK, BeIN across the Middle East and North Africa, and Mediapro in Spain.
But Twitter's sporting ties extend well beyond soccer. Among its other major partners are American football's NFL, Major League Baseball, and basketball's NBA and WNBA, all based in the US, while it has a global deal with the prestigious Formula 1 (F1) motor racing series too.
"We've begun to become a bit more sophisticated about the content asks and how they're delivered to end users," Luke said of Twitter's most recent deals.
"So, for instance, our deal with ITV, alongside lots of clips, includes bespoke activations where they'll do something during the World Cup that is unique and special to Twitter.
"We worked with our Next team, which is kind of our in-house creative house, to build out those models and do stuff that would delight our users but hopefully is also helping build out that audience of fans of the Rugby World Cup next year or the World Cup so that they're involved in a conversation they wouldn't otherwise be involved in.
"We're constantly iterating and looking to learn, and as we start building out different sorts of revenue models, whether it's on a subscription basis or when we experimented with live a few years back and acquired some rights with the NFL, those things are also potentially part of the experience that we bring to sports partners.
"But there is this sort of crawl, walk, run approach, and having advertisers leaning in as well helps grease the wheels as we become more sophisticated."
Twitter in the sin bin
That methodical and steady-building approach appears dead in the water, at least for now, and at the very least partners will be spooked. At worst, Conrad Wiacek, head of analysis at GlobalData Sport, says it could see a migration of partners and brands more widely from the platform.
"Twitter has proven to be a very effective platform for the likes of F1 and the NBA as they look to reach younger audiences who live on social media," says Wiacek.
"It offered huge reach and allowed rightsholders to produce content that is digestible and engaging for younger audiences, as well as providing a global footprint for their content. The NBA in particular has utilized short-form content to great effect, so losing this sport of audience engagement would likely be a severe blow, especially when looking at the league's upcoming rights renewal.
"However, rightsholders have shown they are incredibly protective of their content, so if Twitter relaxes protection for copyright infringements it will leave most rightsholders no choice but to walk away from the platform or risk putting multi-billion media contracts at risk.
"Furthermore, rightsholders will come under pressure from their media and brand partners if Twitter allows hateful, misogynistic, or false information to appear next to their branded content. The more toxic Twitter is allowed to become, the less likely rightsholders will want to associate themselves with it."
But just how serious is the situation? Is it just a case of a new disruptive owner coming in and shaking things up at Twitter or are there real threats to the functioning, running, and legitimacy of the platform that will impact the sports industry and beyond?
Rachel Foster Jones, associate analyst at GlobalData, explains: "Twitter is already dealing with a tough macroeconomic environment, which has led to a weak advertising market, but Musk is also now using Twitter as his testing ground. A constant back-and-forth on product launches, hiring, and policies gives the impression that the platform is descending into chaos under Musk.
"Musk is taking to Twitter to make announcements about how the platform will be run, whether Trump should be reinstated, or who he has rehired after firing, so advertisers may be questioning his ability to seriously run the platform as a business."
"He is also playing fast and loose with content moderation policies while laying off most of the team in charge. Advertisers will be growing worried about the prevalence of impersonation and misinformation on the platform, damaging its credibility in the process. Other platforms will likely be seen as less controversial options for advertising, possibly leading to an exodus of advertisers."
"It is more than just concern over whether Musk has a handle on his own company."
Taking flight
This is all a far cry from the early days of Twitter, which was launched in 2006. As Luke recalled, by 2012 there was still no video on the platform and if you wanted to view images you had to click through to separate websites hosting them.
"Twitter famously came of age with the Miracle on the Hudson," he added, referencing the iconic image of the plane that ditched into the river. That was actually earlier, in 2009, but showed the platform's potential for sharing media in real-time.
Luke explained that as Twitter grew, "Sports publishers were beginning to publish alongside games, whether that was text-based or they were posting imagery. In some cases, they were posting links to videos. The other thing that happened was advertisers were trying to get in on those moments. There was the famous Oreo 'dunk in the dark' post when the lights went off on an NFL game.
"Twitter had this eureka moment of being up saying 'Well, why don't we combine the two? We know that video is coming to the platform. We can license video from publishers and at the same time entice advertisers to put their creative around that content and promote it into the timeline'. That was the genesis of the Amplify [advertising] product."
At the time, of course, there were few if any precedents for signing media rights deals with social media platforms. There were certainly no social media rights packages as there are now.
"There were lawyers trying to find flexibility within shades of grey," Luke said of the efforts to bring sporting content and video more broadly to the platform.
Of the initial major deals Twitter struck with US broadcasters and rightsholders, Luke noted: "Sport was right at the beginning because Twitter and sport have always been bedfellows. It's sort of a natural second screen companion to live sport particularly."
All or nothing
Fast forward to October 2022 and to Luke explaining Twitter's plans for expanding its partnership program.
"Partly, it's picking up the successful blueprint that exists in markets like the US and the UK and Japan and ensuring that that then works in other markets," he said.
"It was a scramble eight or nine years ago here, and there were lots of broadcasters that were hesitant about working with us, but you can now see in each market that's changing. We're doing longer-term deals with rightsholders. They used to be just year-long deals – we're now doing multi-year deals.
"I think as our suite of products becomes wider, like with [live audio conversations feature] Spaces, we're going start seeing more of that more of those being included in our deals. And then the final thing is more of a commercial thing – we see a lot of success in allowing broadcasters to sell themselves and anything we can do to make Twitter as turnkey as possible the better.
Luke added that Twitter is keen to see Spaces be a big part of the World Cup experience for those following the tournament on the platform.
"There's been a big investment in Spaces, and I'm sure there's bound to be tonnes of audio conversation around that fans will want to take part in," he said.
"Alongside that, as we've built or established stronger relationships with the various sporting bodies, that comes with a degree of responsibility as well. We've had to improve the way that we tackle abuse. We have teams that deal with copyright.
"It becomes multi-layered. There's the there's revenue opportunity, there's the marketing opportunity, and then there's the kind of grown-up sensible bit of ensuring that we are working as we are with FIFA and their agents to proactively and reactively deal with abuse on the platform.
"You can't do a deal with any of the FIFA broadcasters unless FIFA are confident that we react to copyright complaints."
Those final few comments perhaps best illustrate in real terms the precarious position in which Twitter now finds itself. In essence, the value of the platform lies in the trust of its users, brands, and partners.
In the words of Laura Petrone, principal analyst for thematic intelligence at GlobalData: "A few shambolic weeks of Musk's leadership have frightened advertisers, irritated regulators, and upset many users.
"Regulators and advertisers alike were already concerned about Twitter, given Musk's relaxed stance on content moderation rules.
For brands and partners – including in the sports industry – advertising on Twitter may be risky if brand safety and reputation can easily be compromised. Brands do not want to be associated with harmful content and will likely desert the platform if Twitter cannot control it."
Image: Cameron Spencer/Getty Images