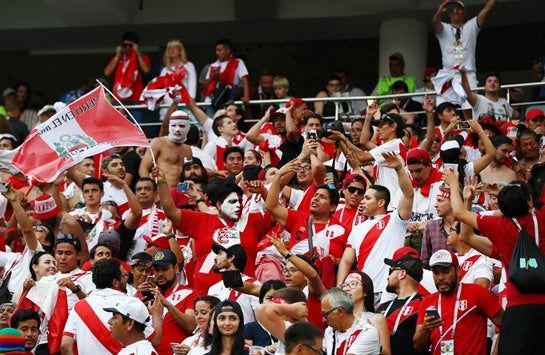 Peru have been one of the success stories of this Fifa World Cup.
While it might not have gone to plan on the pitch – the blow of a group-stage exit was somewhat softened by a 2-0 win over Australia, Peru's first World Cup win in 40 years (it was the first appearance in 36 years) – the Russian invasion of more than 15,000 red and white clad Peruvians, adorning the most distinct kit in world soccer, banging drums and dancing on the streets, are sights that will live long in the memory.
It's certainly put Peru back on the international soccer radar and sparked a new wave of enthusiasm for the sport back in the country, as the FPF, the domestic governing body, continues to digest the outcome of a record media rights auction.
Early last month, the FPF announced it had succeeded in quadrupling the value of the media rights to the matches of its national team in the four-year cycle leading up to the 2022 World Cup in Qatar, when Peru will hope to return to the big stage.
Going along on that journey will be commercial network Latina, which acquired the free-to-air rights to Peru's home qualifying matches, Movistar TV, a subsidiary of Spanish telecoms giant Telefónica that picked up the pay-TV and mobile rights to the equivalent games, and Gol TV, another pay-TV operator, which will show the away games. RPP, a leading Peruvian media house, retained radio rights.
The combined deals are said to be worth $80 million over four years, up from the $20 million the FPF earned in the last cycle.
How was such an increase secured?
It derived from the perfect storm of an improving team, a buoyant market and a professional approach, according to Daniel Cohen, who heads up Octagon Media Rights Consulting, a division of the international sports marketing agency that was appointed as the FPF's media adviser towards the end of 2017, just after Peru booked their place in the 2018 World Cup with a 2-0 two-legged, play-off victory over New Zealand.
From his office in Manhattan, close to New York's Central Park, Cohen tells Sportcal Insight: "It's a team that has been on the rise, and a market that has been overlooked because you had these giants in Uruguay, Chile, Argentina and Brazil. Here they are playing really good football, qualifying for the World Cup for the first time in 36 years, and then you go down there and start to look at their distribution and their revenues, and it is so off-kilter with the rest of the competition in the industry.
"The simple reason was the previous administrations were not doing good deals, and we don't know why. Obviously there is a cloud, and you don't want to make assumptions and it should be stated that the former federation president [Manuel Burga] was acquitted of any wrongdoing [by a jury in USA last December, having been accused of taking cash in exchange for distributing marketing and media rights to matches].
"But there was something not right there, so we were called in to do a valuation of their rights.
"The new president, Edwin Oviedo, is a really smart guy and he ran his campaign on transparency. As clichéd as that word has become, it is so integral to that marketplace because it has been such a dark marketplace traditionally."
It soon became apparent, Cohen says, that "the rights were extremely undervalued."
Combined with Oviedo's transparency pledge, the FPF, with Octagon MRC at its side, ran the first public contest for the commercialisation of its media rights, with both national and international broadcasters and agencies allowed to participate.
The federation received bids from 10 companies wanting to acquire media rights for the period from 2018 to 2021, which included games of Peru's women's, futsal and beach soccer teams.
"It was an incredible turn-out," Cohen says, albeit one that didn't surprise the data experts at Octagon.
He continues: "What came out of our research was that, out of the 10 top-rated programmes on the TV, 10 were Peruvian Football Federation matches. More than half the country tuned into watch the qualifier against New Zealand. It's an incredible stat."
The market too, was ripe for exploiting, with pay-TV, broadband and mobile sectors all growing in Peru.
---
There is an awakening of connectivity and consumption in Peru because the three pillars of pay-TV, mobile and broadband are growing
---
"Especially mobile," Cohen interjects. "Mobile is through the roof. The average Peruvian has more than two phones. There's also an immense amount of investment by the likes of Telefonica into infrastructure in that country. There is an awakening of connectivity and consumption in Peru because the three pillars of pay-TV, mobile and broadband are growing."
A well-publicised four-fold increase in media rights value has, unsurprisingly, caught attention.
"It was the largest cycle-over-cycle increase across the entire continent, surpassing Uruguay, Argentina, Chile and even Brazil," Cohen says. "We have already had three calls from Central and South American football federations, domestic leagues have also got in contact, saying: 'Hey we've got this dispute how do we settle it?'; or 'Our rights are coming up, how much are they worth?'; or 'We have these rights as a distributor, how do I monetise them more?'"
And it's not just leagues and federations that are seeking advice.
Cohen explains: "Just recently, I met with a private equity firm that was in New York and they are looking at making acquisitions of domestic league teams, and they want a better understanding to contextualise that specific country's marketplace for media rights. Where is it going? Is this a strong investment based solely on evaluating the media space because that is going to be my number-one source of revenue? What is my return in five years and how can I further optimise the value of those rights?"
Octagon MRC officially launched 11 months ago, with Cohen joining from prominent sports rights agency MP & Silva, where he held the role of managing partner, senior vice-president for the Americas.
It's been a whirlwind first year.
Cohen reflects: "Business is on fire. We have already exceeded expectations, we have clients on five continents and we have really become this global business. We thought it might take three years to get there."
Put simply, the success story can be attributed to fear and trepidation in the media industry.
---
" It's a really good time to be a media consultant because the market is changing quickly "
Daniel Cohen, head of Octagon Media Rights Consulting
---
"It's a really good time to be a media consultant because the market is changing quickly," Cohen says. "Everyone is asking questions, everyone is worried about what is next. We are not in the weeds like these telcos and linear networks that are trying to grow. We can be an unbiased outside party that watches it all unfold and give sound counsel."
2018 has been the year of major media deals and consolidation. According to Octagon MRC, there have been more mega deals – mega is registered as at least $5 billion in value – done in the first half of this year than in any other full year dating back to 1999.
Indeed, $150 billion+ could come from two deals alone: telecoms behemoth AT&T's $85.4-billion takeover of US media giant Time Warner, and the continuing pursuit of most of the assets of Rupert Murdoch's 21st Century Fox by rivals Comcast and Disney, which industry analysts believe could hit $90 billion (it's at $71.3 billion at the moment.)
Cohen believes the desire to be a content owner and distributor, "to own the pipes and the platform," has driven consolidation, and that the next target will be digital advertising companies.
Late last month, AT&T agreed a deal worth around $1.6 billion to acquire AppNexus, which operates a global digital-advertising marketplace and related software.
"The key question has always been, how do we monetise this? Traditionally there are two lines, subscription and advertising. But in order to accelerate the CPM [cost per thousand] rate we can charge, we need to target who our ads are going to, to make it a better sale than the linear folks. That's why digital ad tech is the next big thing to fall."
Once that targeted ad technology is in place, Amazon and Facebook
will flourish and create even greater waves in the broadcast industry.
Cohen adds: "These new digital players all want to be global players, they are global platforms, but in terms of localised content, they do not have the capacity right now to localise advertising sales. From an ad-tech and ad-sales perspective they just don't have that piece yet."
Amazon has made strides, and is about to enter its second year as the rights-holder of NFL American football's Thursday Night Football, while it has also landed a package of Premier League soccer and ATP tennis rights in the UK from 2019, and the US Open from this year.
Facebook did fail with an ambitious bid to acquire domestic digital rights to the Indian
Premier League, the domestic Twenty20 competition, last year, and it has largely sought to partner with leagues and broadcasters.
However, the social media giant is in the process of signing off on a deal in Brazil, along with sports broadcaster Esporte Interativo to the Uefa Champions League and Europa League from 2018-19, and is close to finalising its acquisition of Premier League rights in Thailand, Cambodia, Laos and Vietnam from 2019-20.
Cohen believes Facebook is
playing the long-game.
He explains: "While Amazon has got out ahead of them in terms of making an impact on the market, I think Facebook is probably poised to make more of an impact long-term. Of course there's my own bias with Peter [Hutton, Facebook's director of global live sports partnerships, who hired Cohen at MP & Silva]. It's just their audience size is so much bigger; their capacity to put something in front of an audience of 3 billion people if they get global rights to something.
"We've never seen an ad-supported model work. I can't think of a distributor where just ad-supported has worked on big rights fees, so Facebook will probably have to figure that piece out if they move to premium or something, but that is all solvable.
"There's also the opportunity for engagement and interactivity that you don't get on [Amazon] Prime. Prime is a new tech, but it's traditional viewing experience, you sit back on you couch and watch. It's more a lean-in with Facebook.
"In order to do a deal with Facebook, you have to do something that is special with the platform which makes it unique. Whether it's doing a live stream in Facebook Watch before the game or interacting with fans through Q&As.
"The future of consumption is much more engagement and interactivity. Facebook is built for that."