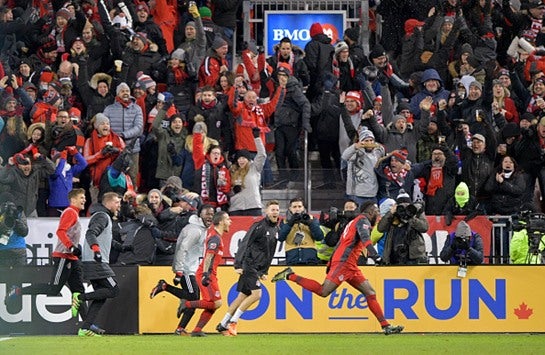 2017: A SEASON OF
RECORDS
A total of 8,267,534 spectators attended Major League Soccer regular season games in 2017 (the last complete season of the competition), representing an average of 22,106 spectators per game.
Indeed, the 2017 season marked the first time MLS drew more than 8 million fans in total in a regular season and the first time it averaged more than 22,000 spectators per game.
For its first season, Atlanta United FC recorded the highest total and average regular season attendances not only in 2017 but in MLS history. The team also boasted the single-match attendance record when 71,824 fans packed the Mercedes-Benz Stadium – which it shares with NFL's Atlanta Falcons – on the last game of the regular season.
MLS also averaged a 93.71-per-cent
stadium utilisation over the course of the 2017 regular season.
Atlanta United FC recorded the highest seat-occupancy rate among
MLS teams at 113.40 per cent, while FC Dallas witnessed the lowest ratio at
73.80 per cent.
MLS key attendances figures – 2017 season
Total
regular season attendance

8,267,534

No.
of regular season games

374

Average
regular season attendance per game

22,106

Highest
regular season team average home attendance

48,200


(Atlanta
United)

Total
playoffs attendance

453,781

No.
of playoffs

17

Average
playoffs attendance per game

26,693

MLS All-Star game attendance (in Chicago's Soccer Field)

61,428
The 22,106 average attendance represented a 1.91-per-cent increase on 2016 and allowed the league to improve its season-wide number of spectators per game for the fourth straight year.
The average annual growth rate of the total attendance from the league's inception in 1996 to 2017 is 5.94 per cent. MLS' total attendance has also nearly quadrupled (+273 per cent) between its lowest point in 2002 and 2017, while the number of teams only doubled in the meantime (from 11 to 22).
MLS' regular season attendances – 2002-2017
CROSS COMPETITION COMPARISON
With a regular season average attendance of 22,106, MLS was the seventh best-attended soccer league worldwide in 2017. MLS notably trailed average attendance leader Bundesliga and its 41,511 fans per game, as well as Mexico's Liga MX, the fourth best-attended soccer league worldwide and top in the Americas.
When the sole total attendance is considered, MLS was the eighth best-attended league worldwide. The English Premier League was the leading league in the world under that criterion, above the Bundesliga in second and England's second-tier Championship in third.
MLS performs particularly well in stadium utilisation. With a 93.71-per-cent stadium occupancy rate, it is second only to the English Premier League and its 94.95-per-cent occupancy rate among world leading soccer leagues.
This demonstrates the fundamental impact and the success of new state-of-the-art soccer-specific stadia as a key element of MLS' long-term development and expansion strategy as well as the league focus on attendances to increase its teams' local followership and fan loyalties.
Top four best-attended soccer league competitions worldwide (ranked by average) vs MLS – 2017 (or 2016-2017)
Ranking

Organiser

Competition

Country

Total attendance

Average attendance

Stadium utilisation

1

Deutsche
Fussball Liga GmbH

Bundesliga

Germany

12,452,058

40,693

91.27%

2

Premier
League

Premier
League

England/Wales

13,618,440

35,838

94.95%

3

Liga de Fútbol Profesional

LaLiga

Spain

10,491,420

27,609

66.80%

4

Liga
MX

Liga
MX

Mexico

8,319,281

27,187

67.50%

…

…

…

…

…

…

…

7

Major
League Soccer

Major
League Soccer

USA/Canada

8,267,534

22,106

93.71%
When considering 2017 regular season average attendances, MLS ranked third in comparison with major USA and/or Canada-based professional sports leagues: the 'Big Four' of NFL, MLB, NBA and NHL.
NFL was the best-attended Big Four league (and the most-attended domestic league competition worldwide – ahead of the German Bundesliga), with an average attendance of 69,487 spectators during the 2016-2017 regular season. MLB was a distant second at 30,042 fans per game, while MLS' average number positioned it above the NBA and the NHL. However, both these competitions take place in indoor arenas where capacities can limit their average numbers.
When total attendances are considered, MLS was the fifth best-attended North American league, far behind MLB which welcomed 72,670,423 spectators through its turnstiles to watch its 2,419 regular season games live. NBA, with 21,997,412 spectators was a distant second, while NHL came in third with 21,429,412. These three leagues' higher cumulative numbers of spectators are mitigated by the fact that they all feature many more games. While an MLS team plays 17 home games over the course of the regular season, an NHL or NBA side plays 41 and an MLB squad contests 81.
In terms of utilisation, with its 93.71-per-cent seat occupancy MLS came third in the ranking, trailing NFL and its near fully sold-out season (99.55 per cent) and NHL, which had an occupancy rate of 95.04 per cent in 2016-2017. The NBA was a close fourth at 93.53 per cent, while the MLB lagged further behind with slightly under 70 per cent of its full stadium capacity used over the course of the 2017 regular season.
MLS vs Big Four attendances – 2017 (or 2016-2017)
| | | | | |
| --- | --- | --- | --- | --- |
| Organiser | Sport | Total attendance | Average attendance | Venue utilisation |
| National Football League | American football | 17,788,671 | 69,487 | 99.55% |
| Major League Baseball | Baseball | 72,670,423 | 30,042 | 69.70% |
| Major League Soccer | Soccer | 8,267,534 | 22,106 | 93.71% |
| National Basketball Association | Basketball | 21,997,412 | 17,884 | 93.53% |
| National Hockey League | Ice hockey | 21,429,412 | 17,422 | 95.04% |
*Seated capacity only
This article is an extract of 'The business of MLS' report, the soon-to-be-published inaugural issue of Sportcal's new 'Football Reports' series. The series will explore the match day and attendance, media, sponsorship, social and sporting dimensions of some of the largest soccer properties worldwide with exclusive data and cross-competition comparative analyses.

For more information on how to access the The business of MLS report and future issues of the Football Reports series, please contact clientservices@sportcal.com.
Sportcal