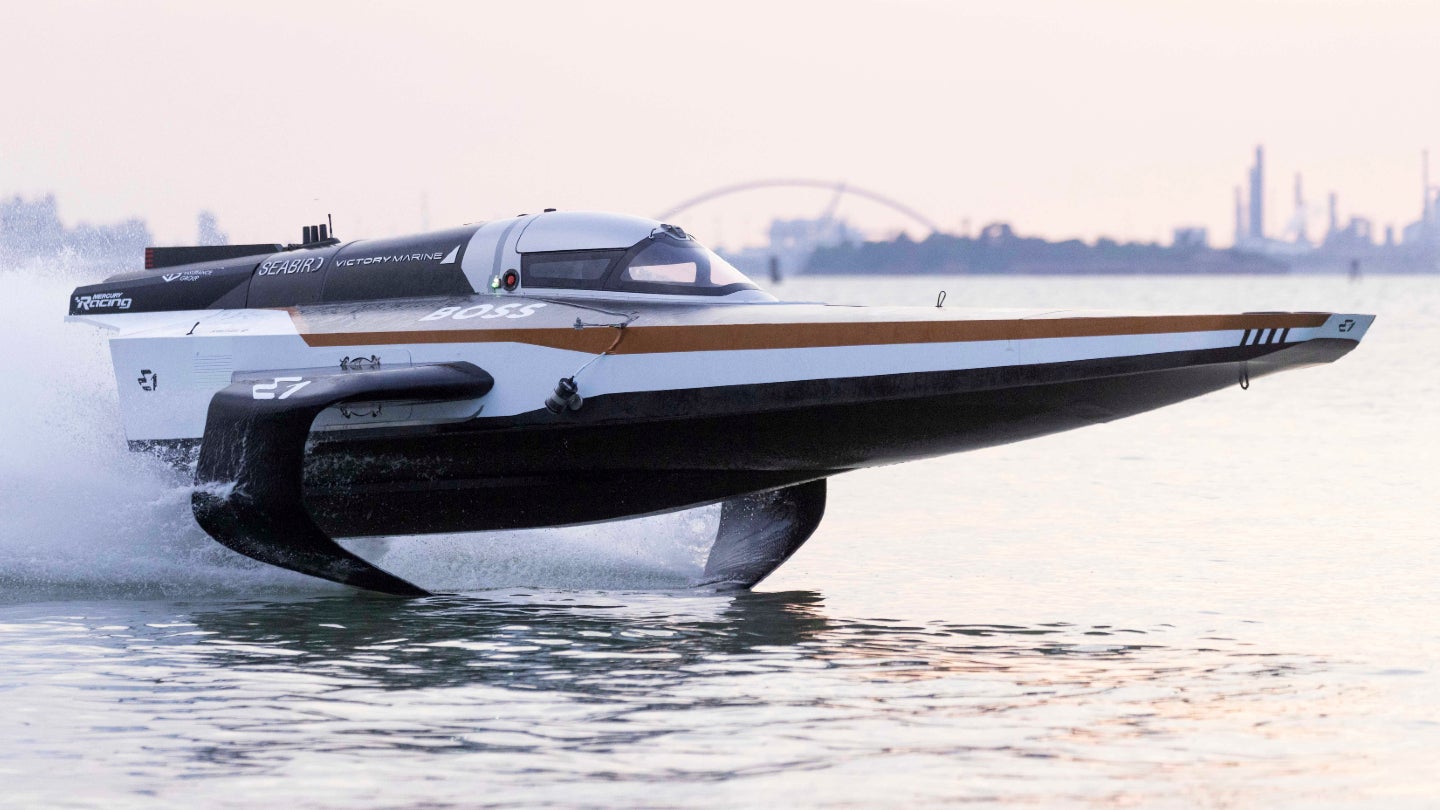 When it launches at the end of this year, the E1 Series powerboating competition will become the latest in Alejandro Agag's all-electric sporting family alongside the Formula E racecar series and Extreme E SUV series.
What it must achieve that the two motor racing series did not to the same extent is to build an almost entirely new audience for an almost entirely new concept.
"Powerboating has a rich history, going back for decades," explains E1's chief commercial officer Rupert Hunter to GlobalData Sport. "We're wanting to relate to that but at the same time create a brand-new proposition that is more intimate, closer to the shore within marinas and harbors and even rivers, as well as coastal areas of cities, to make the sport more accessible, more dynamic, and more entertaining.
"There isn't really anyone who's currently doing that, so we're ploughing a new furrow in that respect."
With that in mind, Hunter adds: "There's a huge education piece that's required."
Media
Fortunately, E1, which is based in London, UK, with a 20-strong team, has the learnings from and models of Formula E and Extreme E on which to draw – and, in particular, that has focused the series on developing the best possible broadcast product.
"In terms of the broadcast strategy, we've learned a lot from the way in which Formula E and Extreme E have approached that over the last nine or 10 years collectively," Hunter explains. "We're putting that into play in terms of our approach. I think, by extension, the broadcast distribution will also have similarities.
"What we are intending to do, and what we're in the process of doing right now, is talking to what you might classify as anchor broadcast partners in critical parts of the world that have potentially global reach, or certainly regional coverage, that really buy into what we're trying to create – the uniqueness of our proposition and that sustainable story, which is so critical."
"By extension, that will also help us shape our strategy in terms of digital and social, the need to consider a direct-to-consumer product and whether that has a role to play, and the worlds of gaming, web 3.0, the creation of a metaverse – all of those very topical areas."
Elaborating on this final point, Hunter explains: "The sport that we're creating will actually represent itself very effectively as an interactive gaming proposition. That makes it very interesting because I think we'll be able to build an audience through those channels rather than necessarily waiting a year or two or three to create a gaming concept that we then launch after the championship is launched.
"It's quite possible that we'll look to launch a gaming proposition in advance of the championship launching with a view to building marketability of the brand and driving awareness of E1 as a new world championship series."
Strategy
Key to the media proposition – and central to E1's strategy and development to date – has been its efforts to secure the most compelling possible host destinations, which will attract eyeballs and advertisers for broadcasters and commercial partnerships for the series at both an international and local level.
That process has drawn on Agag's network of relationships with cities around the world but recently also saw E1 bring on board London-based sports and events agency The Sports Consultancy (TSC), with its specialist host procurement expertise.
Hunter says TSC has been working with E1 to define its proposition and then "take it to their incredible database of cities that meet the relevant criteria we have in order to stage a race."
"We're in the process of that outreach to a very significant number of cities around the world who we are confident will show a very high level of interest in staging a race potentially in season one, but more realistically in season two and season three."
The aim of this approach, Hunter says, is to talk to the broadest possible audience that won't necessarily be made up of just powerboating fans but fans of electric motorsport, high-performance vehicles, "fun, engaging, exciting, city-based events," and these elements together with a critical purpose.
Electrification
Like Formula E and Extreme E, E1 Series is driven in large part by a sustainability message, and, in particular, a mission of driving the electrification of marine mobility.
The hope is that the technology being developed by SeaBird Technologies, the supplier of its RaceBird hydrofoil boats, will eventually be used by or at least inform to some extent the likes of the superyacht and shipping industries.
"That whole technology bent and focus around innovation is a critical pillar because we want to be a driving force behind that new movement in the way that Formula E is doing for the automotive industry," Hunter says.
Indeed, the sustainability potential of electrification has been fundamental to the development of E1 since it was conceived around three years ago when its now-chief exec Rodi Basso discussed the idea of a powerboat version of Formula E with Agag.
Very early on, Seabird was contracted to build the RaceBird boat, which ultimately allowed for the launch of the series as a concept in September 2020.
The single-seater RaceBird is described by E1 as "the world's first all-electric race boat." It lifts onto its foils above the water to reduce drag and maximize efficiency, and it can reach speeds of up to 50 knots (93kmh).
Teams
The boats will be piloted by male and female two-person teams for which E1 is currently recruiting owners.
That process is also viewed as crucial to the success of the series, with E1 putting huge stock in who will eventually own the up to 10 teams with which it will debut as part of what Hunter refers to as a "celebrity ownership strategy" to drive publicity.
Formula 1 driver Sergio Perez and tennis great Rafael Nadal are already on board as franchise owners, and Hunter says E1 is exploring interest elsewhere from the likes of national- and city-based teams, brand-led teams, and high-net-worth individuals.
"We're on the verge of making some pretty significant announcements over the next two to three months with other celebrity-owned and -backed teams that will by their very nature drive huge attention to E1 because of the following and fanbase that those celebrities have, as well as the promotional work they're going to be doing with us to build awareness of the championship and the races in the various cities we're going to be in," he says.
"It's worked very effectively with Extreme E and Formula E, so we're super confident that the same will apply to E1."
As with potential broadcast partners, Hunter notes that there has been interest from the prospective team owners about where the championship will take place.
"The teams that we've been engaging with … their interest is where are we racing, you know, where in the world is this championship taking place?" he says. "They want to understand the globality, the internationality of the championship because they're thinking with a commercial eye about the relevance for them to invest in teams."
Calendar
While the overarching aim is to visit showpiece destinations that will attract viewers, motivate broadcasters, and excite brands, there are some limiting factors for E1 as it gets off the ground.
The RaceBird boats are currently being built, for example, and there are logistical factors to consider on that front. In addition, E1 will be eschewing air travel between destinations in favor of more sustainable boat and road transportation.
As such, the first season of E1 will focus on Europe and the Middle East before the series branches out.
"We have to be mindful of the logistical parameters or restrictions that we're going to need to work within," says Hunter. "Ultimately, in order to keep our cost base manageable, it made sense to focus on a particular geography, and the most obvious was the Middle East and Europe just to sort of get the championship established.
"Then, it'll be season two and season three when we will look into the Americas – North and South America – into Asia, and ultimately into Australasia."
There will be eight dates on the calendar in the inaugural season, with a view to that becoming 15 to 20 races come seasons three, four, and five.
"We're almost there in terms of knowing exactly where each of those races [in season one] will be staged and roughly when," he explains. "The season will run, as things stand, from December 2023 to September 2024, and that in many respects creates the architecture of our championship moving forward.
"I think we'll continue to start the season in the Middle East and then expand out from there to the back end of each year. The season [at that time of year] will suit us very nicely in the Middle East, and then we'll move back into Europe through the summer.
"As we expand, in seasons two and three, we'll be plugging those additional races into that 10-month window."
Commercial
The strategy for E1 Series – and virtually any startup sporting property – is to maximize its reach at an early stage before seeking to recoup funding and deliver returns on investment.
"It goes back to that quality broadcast proposition," Hunter outlines. "If the broadcasters have got confidence in the product, which they will do because they've seen how effective Formula E and Extreme E have been in managing that, then they're more inclined to want to invest in what we offer.
"That investment will come through rights fees but, as much as anything, it'll come through a really comprehensive 360-degree marketing and promotional program that the broadcasters will put together with us to help raise our profile and drive fan engagement."
To get off the ground, the series has been privately funded, with Saudi Arabia's increasingly ubiquitous sovereign wealth Public Investment Fund among those with a stake – perhaps another reason for the early focus on the Middle East.
"The shareholders are invested because they see the business potential," continues Hunter. "Ultimately, the intention is to build a brand and a product that will grow in value over the foreseeable future."