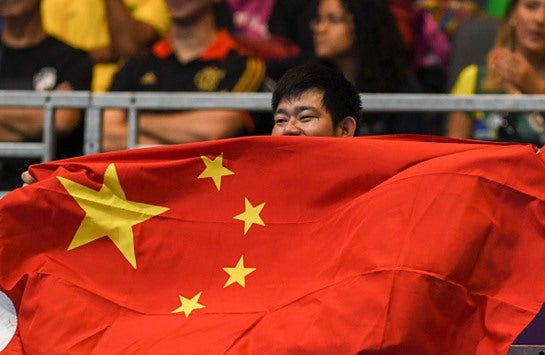 The frantic rush for exclusive sports content among China's online players has delivered inflated fees for federations, leagues and agencies alike in the last 18 months. Martin Ross examines whether the spending is sustainable and who might last the pace.
The Chinese market used to be a headache for rights-holders. Dominant state broadcaster CCTV had held on to major properties for years at a tiny cost, thanks to a shortage of challengers in spite of the lure of the country's massive audience. Now all that has changed, and while CCTV will continue to have its place, those selling the rights are reaping the benefits of the Chinese government's drive to turn the country's sports sector into a ¥5-trillion ($760-billion) industry by 2025.
The government-backed spending has helped to entice leading soccer players to the Chinese Super League, with wage packets hitting $350,000 per week, and the spending on rights has been equally eye-catching. Basketball's NBA is earning $500 million in media rights alone through its exclusive five-year deal with Tencent. Spain's LaLiga netted a 500-per-cent rise in the value of its rights through a tie-up with PPTV. Women's tennis' WTA Tour brought in a nine- figure sum from an exclusive 10-year agreement with iQiyi.
And all this is against a backdrop of the recent Chinese stock market crash. The spending continues unabated, motivated not only by the government's backing, but also by an urge to tap into the internet generation and a middle class willing to spend heavily on leisure pursuits.
Various new names have surfaced in the bid to grab a slice of China's market of 700 million regular internet users, around three-quarters of whom watch video online. Leading the pack in terms of spending and rights acquired has been Le Sports, the sports arm of the burgeoning digital company recently rebranded from Letv to LeEco. Over 200 sports properties have been signed up by Le Sports, which joined Tencent in promoting itself heavily at the Sportel trade fair in Monaco last year.
Even considering China's huge internet audience, a growing middle class eager to spend money on leisure pursuits and the ability of the country's internet giants to absorb losses on their sports projects, the industry is thought unlikely to support the current number of digital players long term. Some form of consolidation is considered inevitable.
Arguing that consolidation will begin within a year, Yu Hang, Le Sports' vice-president of strategy, tells Sportcal Insight: "Five years ago we saw the video streaming sites and some of the names have gone. Most of the players [now] come from very strong groups, like Baidu, Alibaba and Tencent, and have financial support. For a single business, they care about losing money but there is another purpose for them, for branding purposes [for example] and using sport as an entry point for users.
"There is also the defensive solution that platforms need sports content or all the sports- related users will go to other platforms. I think in the long run, some names will survive and some may not but there will definitely be consolidation, which may happen in a very short time."
However, for Sam Li, Sina Sports' head of content acquisition and strategic partnerships, the "government's big blank cheque" to spend on sports will ensure that there remain several players in the market. Looking ahead, he observes: "The government has made certain that this is going to be a very big industry so I don't think that there are just going to be a few players. Each player in the market could have a different space and niche."
One source from a leading international federation predicts that consolidation could come more from the form of cross investment by the bigger groups already seen with the likes of Alibaba backing Le Sports and Sina, or Wanda's Wang Jianlin's buying into Le Sports.
But he welcomes the change brought about by the flurry of exclusive digital deals, saying: "China has been a state-run monopoly for too long on the media side with CCTV playing the market. CCTV will still have its place but there is a digital space developing next to it. The question is who is built on a solid business plan and who isn't?"
Asked whether all rights-holders should be making hay while the sun shines and selling their rights now for the next decade to the highest bidder, he said: "An international federation could still be underselling itself in a long-term deal. Of course the market could implode, but, on the other hand, what sounds like a fantastic deal now might not be, as the market could go the other way.
"I think an IF needs to build a deal with the necessary [financial and other] guarantees. It might be wiser to take an offer from a massive group with a lot of promotional and financial power than an offer of 10 or 20 per cent more from somebody that might explode."
Sina remains adamant that the various digital platforms' investment in sports rights cannot be financially supported in the long run.
"We don't see their model being sustainable in the long term," says Li. "You are paying $100 million or $200 million for particular rights and you don't have any way of making that revenue back, then how long will you stay in business for?" He claims that Sina is unique as "we're here for the fans and we care about what content they want to see."
Li also reserves particular criticism for Le Sports, asking, "If you look at their 30 different football leagues around the world… do the Chinese fans really want to see the Russian football league or the Belgian league? Our fans are not telling us that they want the live rights to every single football league in the world."
Sina Sports has pointed to research that
found that its website accounted for 39 per cent of daily users of sports
websites in China in the first five months of 2015, ahead of Tencent with 17
per cent, and insists that the strength of its editorial output and content
partnerships, not weighty rights deals, will keep them at the top.
Le Sports' Yu, who was previously with Sina Sports, argues that such a model will not succeed as users will migrate to other platforms offering exclusive streaming of popular sports, citing the example of Tencent, which he says increased its users by three or four times when it started showcasing NBA rights.
"Where are the [Tencent] users coming from?" he asks. "Not nowhere, they are coming from the other platforms." So what does Yu make of the unsustainability argument? He admits: "The market is not a rational market as the competition is fierce," but adds, "whether there is overspending remains a question. If you don't have a resource at an early stage then how can you keep your users amid this fierce competition?"
There remain several sceptics in the market about the viability of Le Sports' business model, but Yu insists the company will be returning a profit from 2018 onwards. In fitting with LeEco's bold goals, he states: "We see at that time after the consolidation, we will be one of the survivors with maybe three players in the market, redesigning the structure of the sports industry in China."
The key to a sustainable model, once the frenzied scramble for rights eventually dies down, will naturally rely on the monetisation of users that can be lured to the various platforms, which will come in part through subscription revenue, until now scarce in China, given the country's rampant piracy problem.
Le Sports and Tencent have set up pay walls
for their Premier League and NBA coverage, respectively, and Yu is confident
that the SVOD (subscription video-on-demand) model that is now so prevalent in
the rest of the world can be effective in China too.
Yu notes: "We feel the pay model will come sometime in the near future. Even the companies with huge financial support are also looking for the commercial model. At the end of the day they are running a business. Globally everyone follows the pay model so I don't see China as an exceptional case and that's why we are trialling it now and we will put more resource into the subscription base service."
Chinese consumers are still reluctant to pay for sports or film content, according to Yu, but he is buoyed by LeEco customers' willingness to pay for exclusive television drama content and the ease with which the transactions can be made online, be it through WeChat or Alibaba's 'Alipay.' There is also a pertinent argument that piracy will now be taken seriously by rights-holders in China, as for the first time they have a vested interest in defending massive outlays.
Yu concludes: "The question is what content will they [potential subscribers] pay for and how much they can afford? I don't see paying for content as the problem… there always needs to be a balance between the percentages of free and paid content."
Meanwhile, the international federation source states: "It will come and it will need to come. The digital players are not paying hundreds of millions of dollars for content to stream everything free to everyone."
Whether subscription revenues and increased
advertising revenue for free content can offset the swollen rights fees remains
to be seen.
A who's who of China's digital platforms:
Le Sports: An astonishing exclusive rights spending spree in the last 18 months has rocketed Le Sports, an arm of the rebranded LeEco group, to the top of the market in terms of content. Along with live streaming, the business also organises events (such as soccer's ICC in China), manufactures smart TVs and sports-related portable hardware (including 'smart bikes') and creates sports-related apps. Exclusive rights to MLB, Ligue 1, MLS, Serie A, countless other soccer leagues (allowing customers to bet on games as they watch the action), ATP Tour and Wimbledon are among those signed up. In Hong Kong, exclusive Premier League rights (for around $130 million a year) and the 2018 Fifa World Cup were also secured. A second funding round held last year valued the firm at $3 billion and observers have predicted that Le Sports (vice-president Yu Hang is pictured top, right) is beefing itself up for a sale, a theory the company rejects. Olympic broadcast guru Ma Guoli has also been recruited from Infront to help lead the sports push.
Tencent: One of the global internet giants, Tencent's services include social networking, e-commerce and gaming. It operates QQ.com, one of China's largest portals, along with the popular WeChat instant messaging service. Tencent, which holds non-exclusive rights to the Champions League, Bundesliga and Premier League, made its major sports move at the start of 2015 by landing the NBA rights. A subscription video-on-demand platform – still a rarity for sports coverage in China – was subsequently launched by Tencent for the NBA coverage and it also offers the NBA League Pass streaming service. Tencent this year linked with ESPN to launch an exclusive digital partnership in China with exclusive ESPN content in Mandarin on the QQ Sports portal, focusing on NBA and international soccer.
iQiyi: Owned by Baidu, the leading search engine and the first Chinese company to be included in the NASDAQ-100 index, iQiyi shot to prominence at the end of last year through exclusive long-term streaming deals with women's tennis' WTA Tour and golf's PGA Tour. The former allowed the WTA Tour to increase its Chinese media rights income from $2.2 million over four years to over $100 million from 2017 to 2026. iQiyi also showed non-exclusive Wimbledon coverage in 2015. Baidu, Alibaba and Tencent are China's three internet giants and known by the BAT acronym.
Ali Sports: E-commerce giant Alibaba Group, founded by Chinese business magnate Jack Ma, is becoming increasingly involved in acquiring digital sports content since its purchase of the remainder of Youku Tudou, the online video provider known as 'China's YouTube.' Ali Sports was launched in September 2015 as Alibaba vowed to "transform China's sports industry" by teaming up with Sina and private equity firm Yunfeng Capital on the venture. Deals have been signed by Ali Sports with the Chinese Boxing Association, boxing world body AIBA and the NFL (non-exclusively). A partnership with basketball's FIBA was also discussed in January when Ma visited Switzerland.
PPTV: A live streaming platform in which Chinese electronics retailer Suning holds the largest stake, PPTV's flagship offering is exclusive rights to Spain's LaLiga for which it is investing up to $75 million per season in a deal that includes the sale of league merchandise in over 300 Chinese cities and towns. Exclusive deals for Dutch soccer's Eredivisie and MMA's UFC have followed. PPTV also operates channels for various Chinese soccer clubs. The company was valued at $560 million upon PPTV's swoop for a 44-per-cent stake in October 2013.
Sina Sports: The first Chinese company to provide live streaming from both the Olympics and World Cup, Sina Sports has taken a more cautious approach amid the lavish spending elsewhere, choosing to focus on editorial content on its traditionally popular website and partnerships with the likes of UFC and Dakar Rally, plus the exclusive carriage of Manchester United's channel, deals that do not involve the hefty acquisition of rights. Critics say that Sina will be left behind with its 'web 1.0' model, while Sina claims it is wise to sidestep "unsustainable" rights spending. Sina is already involved in the Ali Sports venture, though, and amid reports that Alibaba could invest in Sina.
Best of the rest: Arguably the most eye-catching rights investment so far was the five-year Yn8-billion contract between the Chinese Super League and Ti'ao Dongli, the Beijing-based sports media firm, worth 20 times the previous fee. Shanghai Media Group's BesTV was the first Chinese IPTV service to hit the market and holds Premier League rights, while Sohu, Netease and Phoenix operate sports news portals, but fail to match the audience of Sina. Elsewhere, the Shanghai-based Hupu mainly focuses on basketball.
Wanda: Buying from the top
The name of Wanda, the Chinese property and entertainment giant, first surfaced in sports business circles in November 2014 when its interest in Infront Sports & Media, the agency it eventually acquired for €1.05 billion, became public.
Wanda has adopted different tactics from the likes of Le Sports and Tencent, sidestepping the tussle for exclusive media rights at inflated prices and taking the approach of owning IP "from the top" by becoming the rights-holder.
The Infront acquisition was followed last year by a $650-million deal to buy the World Triathlon Corporation, organiser of Ironman long-distance triathlon events, amid a government-led focus on mass participation events. Lagardère Sports' endurance division (once known as Upsolut) became Wanda's latest sports investment when an agreement was announced in January, adding 21 mass participation events to the Ironman stable.
These investments, along with the existing Wanda Sports China operation, now sit in the recently- established Wanda Sports Holding division. Group chairman Wang Jianlin, China's richest man with a net worth of $23.1 billion at the end of January 2016, has promised more investments this year and has vowed to "create the world's first sports company with an annual income of more than $10 billion." He has also invested €45 million in 20-per-cent of Atlético Madrid.
Wanda Sports, which has established its headquarters in Guangzhou, has predicted revenues of ¥7 billion in 2016, 19.3-per-cent up on 2015. The figure would appear conservative given the turnover at Infront and WTC alone, along with Wanda's seemingly insatiable appetite to invest in sport.
Wang also teamed up with Jack Ma's private equity firm last year to buy into Le Sports by taking part in a ¥800-million fundraising.
Sportcal