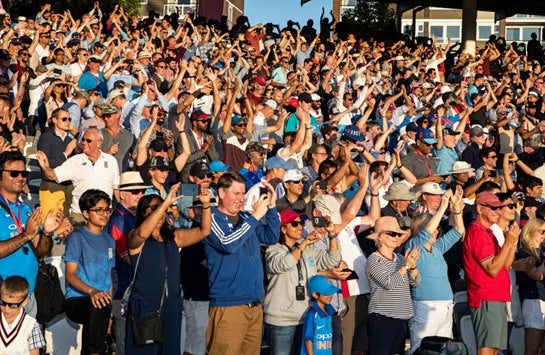 On July 14, six years of planning culminated in hundreds of millions of fans around the world watching England win the Cricket World Cup in front of a packed crowd at Lord's, the 'Home of Cricket', in London. It was a dramatic and memorable end to an amazing six weeks of cricket, and we feel proud that we achieved our goal of delivering the world's greatest cricket celebration.
An unbelievable final between the hosts and New Zealand that culminated with England's first-ever World Cup title (secured on boundaries scored after the match and subsequent super over had been tied) will ultimately be what people remember about CWC19. However, we aspired from the outset to make sure the tournament was a vehicle to drive the growth of cricket globally. And that meant opening the sport up to new audiences – the world's future cricket fans.
Our ticketing and marketing strategies were therefore critical in taking the game outside its 'traditional' fanbase. Internally, we set ourselves an even more ambitious task: to create a ticketing and marketing blueprint for global sporting events.
Now, we can show that we were able to achieve this, and delivered the
most diverse cricket tournament of all time, breaking
commercial and attendance ticketing records in the process. Having had time to reflect, we think several areas contributed to this success, which I am happy to share with the sports industry here as we hope to support other events to achieve their goals.
Defining
success
It is unlikely you will find a global sports event that does not set out to both fill stadia and create a lasting legacy by reaching new audiences. However, the reality is that unless a tournament is fully state-financed – the exception rather than the rule – revenue from ticket sales must underpin the staging cost.
In 2014 and 2015, a small number of the CWC19 team sat down to realistically define what
success looked like. For us, it was clear that ticketing revenue was
required to cover staging costs, and this enabled us to develop a financial
framework and ticketing strategy that was based on data and designed to achieve
clearly-defined goals.
We surpassed the record ticketing revenue for a Cricket World Cup in the summer of 2018, 10 months out from start of the tournament, and ultimately delivered record-breaking ticket sales of over 95 per cent of the total available.
Identifying target audiences
Using data to understand what influences ticket-buying decisions was
crucial.
At a macro level, major event attendees can be split into two core
groups: those with an affinity to the sport and the teams competing; and those
attending for the experience. With circa 880,000 seats to fill at CWC19, it was
important to understand who had the highest propensity to purchase tickets for
each of the 48 matches, and what the correct pricing approach was to maximise
value and attendance across the tournament.
We knew, through our work with our data and insight partner Two Circles,
that cricket in the UK has a loyal following with 2.4m
attendees in 2018. Naturally this was the base audience interested in attending CWC19. However, surveys and behavioural analysis of ticket-purchasers showed that due to the UK's population diversity, large sets of fans had a strong affinity to the 10 different teams competing, the South Asian sides of India, Pakistan, Bangladesh and Sri Lanka in particular.
This was just one of numerous data-driven insights – too many to write here – that drove segmentations of the groups targeted, the messages used by our marketing team to resonate with them, and the best channels to target them on. South Asian attendees, incidentally, ended up exceeding 320,000 for CWC19, the most ever for a UK sports event.
Next, and something I have been acutely aware of since moving to the
business side of sport in 2003, is that pricing
decisions can make or break a tournament. Fans will pay a premium to experience a once-in-a lifetime event, and this allows events to price tickets higher than the 'market rate' for a regular sports ticket.
We wanted to develop a fair and balanced approach across the 48 matches,
and not just maximise revenue of a few. Any event that does the latter risks
not only a short-term PR problem but damaging the image of the sport in the
long-term.
Most global events have a range of matches, sessions or days which are more appealing than others due to the teams involved, locations or day of the week, and so we looked to understand which factors drove scarcity, benchmarked them against the market, and used fan insight to understand spending preferences. This allowed us to develop a pricing strategy that not only delivered full stadia but also enabled entry price-points and optimised pricing for premium matches.
For CWC19, over 80,000 tickets were priced at £20 ($25) or under, over 200,000 at £50 or less, and under-16 tickets for 45 out of the 48 games were priced at only £6. This helped us sell a large majority of the tickets for the event, with the most kids tickets ever bought for a UK cricket tournament.
Using ballots to drive demand
We learnt from other major global events around using sales windows to drive demand. In our case, ballots, in which fans were invited to apply for tickets during a certain period, after which they are allocated randomly, helped us to understand demand, manage ticket inventory accordingly, and drive scarcity messages. Post-ballot, they also give us an understanding of each applicant's preferences and contact data to deliver personalised communications in the lead-up to the event, in support of engagement objectives.
We utilised significant quantitative and qualitative market research to
model and test demand, before confirming pricing and developing our two-pronged
ballot approach. Our first ballot targeted the cricket community to reward their fandom via the 'Cricket Family Ballot', with groups like England's Barmy Army, Play Cricket and We Are England Supporters and India's Bharat Army engaged. A second 'Public Ballot' targeted new audiences
(largely big event fans).
The former was timed for the start of the 2018 cricket season to take advantage of renewed interest in the sport, and the latter timed at the heart of the summer of cricket and outside of the Fifa World Cup to maximise marketing impact.
Across the two ballots we had 290,000 people from 157 countries apply for over 2.5 million tickets, and allocated over 400,000 to winners. Forty per cent of UK ticket purchasers had not bought tickets for cricket in the country before, which was hugely significant for us in terms of growing the game.
---
"We hope the positive impact of the six weeks will be felt across the game for years to come."
Steve Elworthy, managing director of the ICC Cricket World Cup 2019
---
Bringing
the sport together
Lastly, and probably most significantly, collaboration is key.
To reach potential, I firmly believe
that every stakeholder in a sport's major event has to recognise that collaboration is required. One joined-up plan, with the organising committee at the centre co-ordinating, allows the expertise of many to work towards one common goal.
Specifically, for ticket sales, collaboration gives the event the widest possible reach across owned, earned and acquired customer sets. CWC19 benefitted from close collaboration between the local organising committee, the global governing body (International Cricket Council), host governing body (England and Wales Cricket Board), participating nations, host venues, host cities, suppliers, partners and agencies – critical in particular for the success of the Cricket Family ballot, which was targeted through the ECB network.
For CWC19, the entire cricket world came together, and that's something we are hugely proud of. And we hope the positive impact of the six weeks will be felt across the game for years to come.
Sportcal