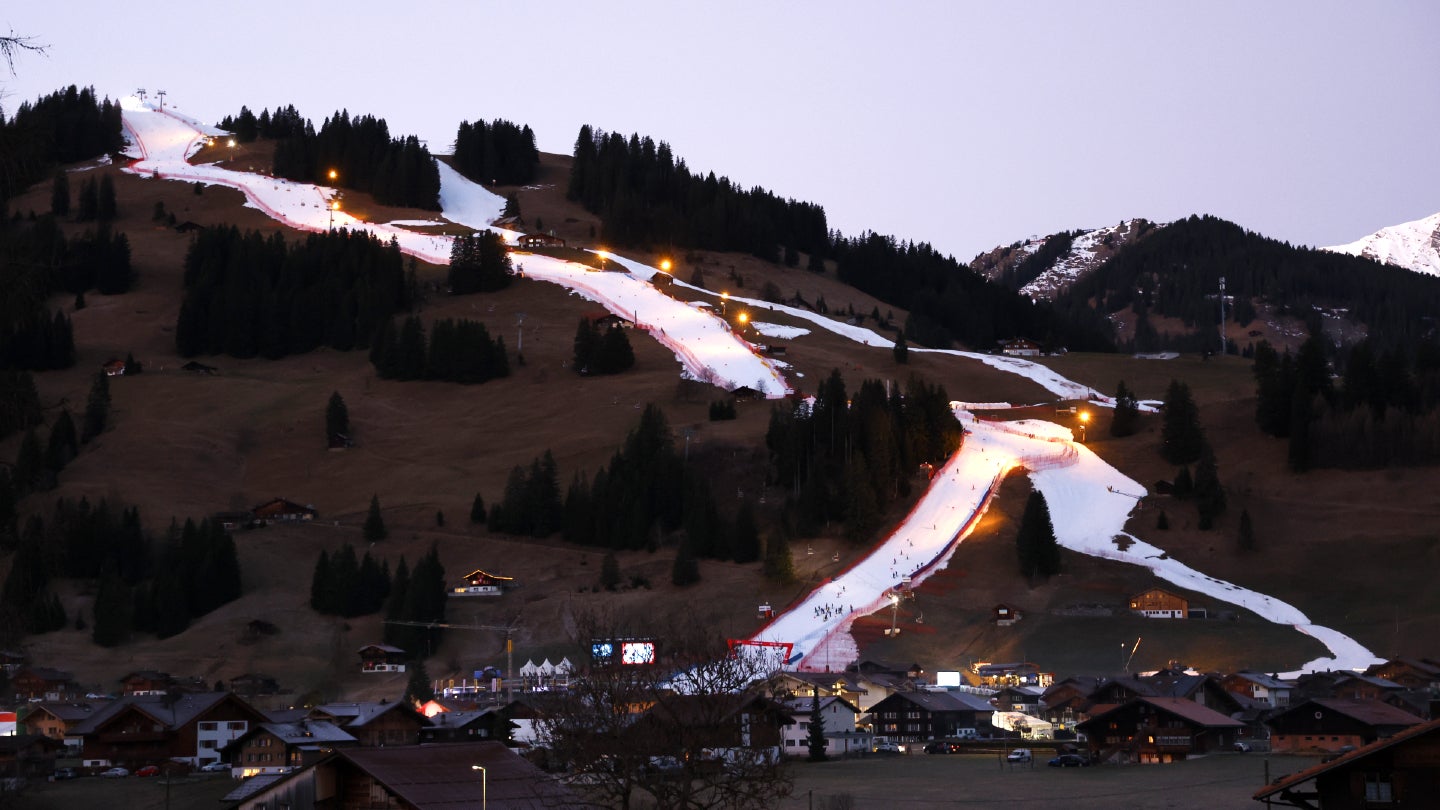 Snowsports are witnessing some of the most significant impacts of atmospheric warming on competition calendars.
This winter has seen a record lack of snow in the European Alps. Indeed, in the last 50 years, the Alps have seen a 5.6% decrease in the duration of snow cover every decade – and climate scientists predict that this trend is only going to continue as alpine winters get warmer.
Recreational and professional skiers alike have been affected by this year's lack of snow, with the ski competition calendar forced to adapt through cancelations and the use of artificial snow.
GlobalData Sport spoke to Jenny Wiedeke, communications director at the International Ski Federation (FIS), and Chris Scott, head of external relations at sports management and promotions firm GBsnowsport, to discuss what this means for snowsports and how they will have to adapt moving forward.
To what extent is the current lack of snow in the Alps an unusual weather issue or part of ongoing climate change?
Jenny Wiedeke: This year has been very extreme in terms of the warm temperatures with many seasonal records broken. That being said, these types of extreme situations are becoming much more common across the globe as a result of climate change. The biggest challenge is being able to plan for what kinds of extremes we will face in any given region each winter.
Chris Scott: What we're seeing this year does appear relatively extreme, but that doesn't mean that we aren't concerned that it's part of a longer trend or a more widely experienced trend towards this sort of issue with conditions. We did experience disruption last year to the calendar – there were a number of competitions that had to be moved, postponed, and in some cases canceled, owing to weather conditions. It's not necessarily just a lack of snow, but it is the extremes that are coming with changes in the conditions – it does also include excessively heavy sudden snowfall, which obviously has an impact as well for competition.
I think we're certainly concerned that this is really a sport, our sport, experiencing the impacts of a change in the climate. If the winters we experience this decade have less predictable, less regular, and less competition-worthy snow, that is a huge concern for us. And it's something that we know other federations, other countries, and our international federation too, are all thinking very strongly about what that means for the sport, for the calendar.
I don't think anyone in our industry is writing these experiences off as one-off freak weather conditions. We're all very aware and we have our eyes very much open to the fact that climate change ultimately could have an existential threat to and impact on our sport. There's really no major disagreement that this is just a huge topic of concern for us.
Will a lack of snow become an annual recurrence in the Alps?
Jenny Wiedeke: Climate change doesn't necessarily translate directly into lack of snow. So far, we have seen it creates unpredictable weather patterns and extreme situations. For example, on the North American west coast, they have gone from extreme drought conditions during the summer to having record amounts of snow and rain this winter. Meanwhile, Europe had the record warm temperatures during the same period. It makes it very difficult to say what the conditions will be from one winter to the next.
Of note, one thing we have seen on a consistent basis is that the freezing point is gradually moving up in terms of altitude, which will ultimately result in resorts at lower altitudes being adversely impacted with warmer temperatures.
Chris Scott: I think it's really difficult for us to say that. We can only really rely on the science and the projections that are provided by people that are really specialists in this area. I think we are seeing that it has been an issue and we would be naïve if we weren't concerned that it could become an ongoing issue. Again, what I would say is I don't think that is us saying that because it's bad this year, we think it could be worse next year or we expect it to be worse next year. But I think we do have to factor that into our plans and our preparations.
Increasingly, our coaches and our athletes are having to have contingency plans for almost every training and competition event that they are planning, because we know that conditions may not suit the plans that we have in place and that's probably something that we wouldn't have had to do even five or six years ago. So, it's certainly something that does have an impact on us and we are factoring that into our thinking and our planning.
With events such as the men's downhill and the giant slalom being canceled during the World Cup this January, how will skiing need to adapt to these changing conditions?
Jenny Wiedeke: The FIS organizers are doing an excellent job of preparing for every weather scenario. We have seen this winter that the ability to efficiently produce artificial snow, or use snow farming, enables organizers to deal well with a lack of snow. For inclement weather conditions, the stakeholders are more prepared now to shift races, lower starts, invest in protection like winds nets (more for ski Jumping), and take many more proactive measures to be prepared.
Chris Scott: It's a really hot topic. It's a really big issue for us to consider. I think there are a lot of different considerations at play. We saw in the Olympics last year in Beijing that there was extensive use of artificial snow because that was required to make the venues that had been selected competition ready. That's certainly something that we know has been utilized and we suspect it probably will continue to be utilized where it's appropriate to do so. Now, obviously, that comes with economic impact. It can be quite expensive to produce and maintain artificial snow to a competition standard. And we also do recognize that it can have its own environmental impact as well, both in terms of water usage and the equipment required to make that happen.
I think as well, we will probably see some quite complicated discussions about the timing of traditional seasonal competitions. Will things change? Will the season be shortened? I don't think anyone really at the moment has a definitive answer, but I think it is a topic that is taking a lot of attention at the very highest levels of our sport, particularly at federation level. [FIS president] Johan Eliasch has made environmental sustainability and the future of winters quite a key pillar for his presidency, so I know it's a topic that is absolutely high up on the agenda at those international relations and national federation levels.
How do you expect the European ski competition calendar to be affected in the future? Do you think more competitions will have to move further afield?
Jenny Wiedeke: Again, the unpredictability of the weather patterns makes it difficult to say which region will have the best conditions during any given season. What is important is to have organizers that are prepared to work with a wide array of weather conditions in order to successfully host competitions.
Chris Scott: Although in Europe we think of the European winter as the traditional winter season, for a long time now, we have really had the opportunity for a year-round calendar with Australia and New Zealand competitions in the Southern Hemisphere winter. We see that Japan, in particular, has a very strong competition track record for freestyle skiing and snowboarding, so there is already a really well-established global year-round calendar available. A lot of our athletes during the European summer have traditionally trained on glaciers in South America, for example. Those opportunities are always there.
I think the challenge to a certain extent is that there is so much legacy and history and tradition in the European alpine calendar that I don't think it will ever be simply the case of transplanting some of those traditional landmark races to other parts of the world. I think it may be more about looking at the scheduling within the season – whether it is a compressed season or something of that nature that sees the main landmark events retained in the places they have historically been held or moved to slightly different mountain spaces where conditions have proved to be a little bit more reliable regularly.
But I also wouldn't rule out that there could be significant changes at some point in the future. I think if we were to see a sort of acceleration in the type of conditions that we've experienced this year over the next few years I think that it would be naïve to just assume that everything can carry on as normal. I think there will be real pressure from all stakeholders to develop and put in place some sort of robust plans for how we do manage this in the future.
What do you think the economic knock-on effects of these temperature changes will be in terms of professional ski competitions and the wider skiing industry?
Jenny Wiedeke: The wider ski industry will also have to adapt, much like the FIS World Cup organizers have. Investing in efficient snow-making systems and implementing the use of snow farming will likely become more of the norm in the industry, especially for resorts at lower altitudes, which are the most likely to feel the impact of climate change.
Image: Alexis Boichard/Agence Zoom/Getty Images