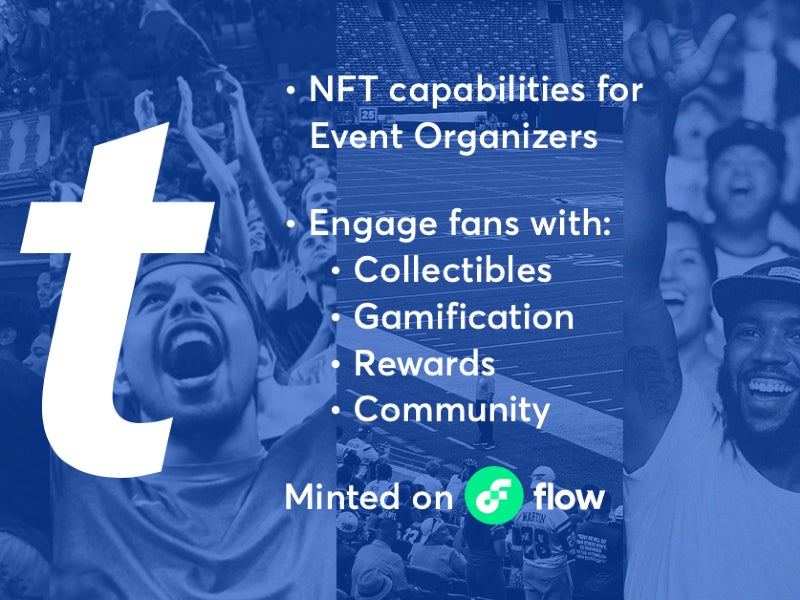 Ticket sales and services company Ticketmaster has launched a new feature on its platform with the Flow blockchain platform that will allow event organizers to enhance fan experiences by offering accompanying non-fungible tokens (NFTs).
The rollout, announced yesterday (August 31), builds on an existing partnership between the two firms via which Flow "distributed more than 70,000 one-of-one virtual commemorative ticket NFTs at Super Bowl LVI with each attendee's unique seat location on the NFT itself."
It is intended to give fans the opportunity of accessing "digital keepsakes" by which to extend the event experience.
They may be activated to provide loyalty rewards or engagement opportunities, and it will be possible to share them online.
Organizers who sell tickets on Ticketmaster can issue the digital collectibles before, during, and after live events, and they will benefit from having a new way to engage with fans and event attendees.
Big news for live event fans! @Ticketmaster Event Organizers now can offer digital keepsakes, minted #onFlow!

🎪 Activate access to experiences and rewards

And that's not all! Stay tuned for some exciting prizes 🤫 pic.twitter.com/bjfNgFkv4g

— Flow (@flow_blockchain) August 31, 2022
Ticketmaster contextualizes the NFTs as one of a number of tools it offers to deliver integrations across the fan journey and notes that every event organizer will have different goals for issuing NFTs.
The company says it has already minted more than 5 million NFTs for event organizers on the Flow blockchain.
Brendan Lynch, executive vice president of enterprise and revenue at Ticketmaster, said: "Event organizers who choose to offer fans an NFT with their ticket have a real opportunity to make this new technology relevant and relatable at scale. This is why we are partnering with Flow because their blockchain is custom-built for fan engagement and frictionless consumer experiences."
Mickey Maher, senior vice president of partnerships of Dapper Labs, which created the Flow blockchain, added: "Our partnership with Ticketmaster will enable millions of live event fans to immortalize, share and enhance their in-real-life experiences through digital collectibles.
"Ticketmaster has quickly become a leader in this space, so we're excited to support their work in empowering event organizers to deliver even greater value to fans through the benefits of blockchain."
Among the sporting properties with which Dapper Labs has partnerships are American football's NFL, North American basketball's NBA, mixed martial arts' UFC, and Spanish soccer's LaLiga.