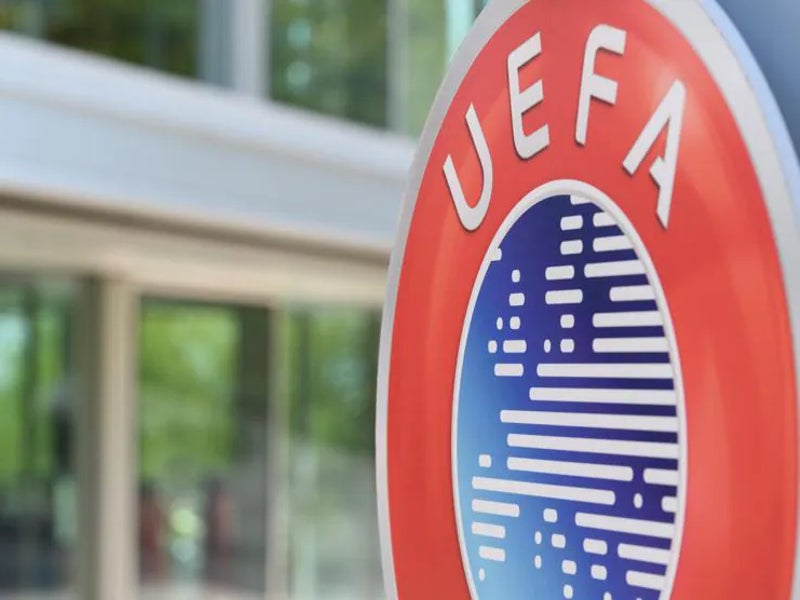 A22 Sports Management, the sports development company that was set up to help launch soccer's aborted European Super League (ESL) in April 2021, this morning (November 8) held talks with European governing body UEFA in what can be viewed as the first step in an attempt to revive the project in some form.
Among the representatives from A22, UEFA, European national leagues, clubs, players, and fans present at the meeting, held at UEFA's headquarters in Nyon, Switzerland, were the governing body's president Aleksander Čeferin and Bernd Reichart, the recently appointed new chief executive of A22.
Following the meeting, Reichart said: "It was good to meet with UEFA and we are happy they accepted our invitation to have an open exchange. This is an important signal to clubs and fans across Europe that we need discussion and that it is welcome, even when it is difficult. I look forward to continuing my engagement with many clubs and other stakeholders over the coming months. The club discussions I have had in recent weeks clearly show that the football community is eager to discuss the future and has concrete ideas for change.
"Our takeaway from the meeting was that the status quo is satisfactory to UEFA. This position was anticipated as UEFA has been the sole, dominant operator of European club competitions since 1955. This monopoly structure is currently being reviewed by the Court of Justice of the European Union which is expected to deliver its conclusions in Spring 2023."
A22 is a co-claimant to legal proceedings brought against the ESL founder clubs – Spain's Real Madrid and Barcelona and Italy's Juventus – by UEFA.
The sports development company has argued that UEFA's monopoly on top-tier soccer in Europe breaches competition law.
UEFA, on the other hand, has called the ESL a "textbook example of a cartel."
As Reichart noted, a ruling on what punishment UEFA can hand out to the aforementioned trio is still outstanding from the European Court of Justice.
One of the main bones of contention stakeholders across soccer had with the ESL when it was launched was its proposed closed-shop format, without promotion to it or relegation from it.
As it seeks to revive the project A22, has now said it is "fully committed to open competitions based on sporting merit and the fundamental role played by national leagues – which would be complementary to a new format."
This was one of the topics said to have been discussed in Nyon today, along with club governance of European competitions, the failure of European club competitions to reach their full potential, lack of adequate financial controls, affordable prices for fans, and the investment needs to fund the women's game, infrastructure, and solidarity.
A22 has said it also noted during the meeting that it is in ongoing dialogue with clubs and other stakeholders about the future of European club competitions, that this must be carried out in an environment free from threats and other restraints, and that it has asked UEFA to "allow clubs and others the freedom to exchange ideas about important reforms."
Reichart added: "Free speech and the free exchange of ideas are fundamental rights and A22 will continue its efforts to reform football, informed by the views of a wide group of stakeholders including clubs, fans, players, leagues, policymakers, and other parties. We are heartened by the fact, that, we have already been contacted by and are in conversations with numerous clubs who wish to take part in this dialogue to develop a sustainable foundation for European club football."
Following the meeting, UEFA said that it and the participating soccer stakeholders had "once again unanimously rejected the rationale underpinning projects such as ESL during today's discussion."
It continued: "UEFA and football stakeholders remain committed to the foundations of European football, which are based on openness, solidarity, and meritocracy and serve broader objectives of sporting principles and societal interest, rather than privilege and self-entitlement."
The European Club Association (ECA) body that represents clubs across the continent, which was also present at the meeting, also subsequently released a statement, which read: "Following the end of the 2.5-hour meeting, ECA remains steadfastly opposed to the creation of any new so-called super league or breakaway project. ECA was firmly against such concepts in April 2021; the same remains true in 2022."
It added that since the initial failure of the ESL project it had achieved many significant reforms, including changes to decision-making and governance via the creation of the new joint venture for commercializing media rights and commercial revenues, changes to the men's club competition structure post-2024, and progress on sustainability with the introduction of new financial sustainability regulations.
UPDATE – subsequent to A22 and UEFA releasing statements after today's meeting, UEFA also released the following:
A22 Sports Management has published an account of their visit to UEFA Headquarters in Nyon today. UEFA is currently checking the recording to see if they are talking about the same meeting.
The "other executives" they refer to were not faceless bureaucrats but senior stakeholders from across European football, players, clubs, leagues, and fans; people who live and breathe the game every day. To fail to recognize that is disrespectful.
If there is a "takeaway" from today, it should be that the whole of European football opposes their greedy plan, as was clearly communicated in our media release. European football has constantly demonstrated its openness to change but it must be for the benefit of the whole game, not just a few clubs.
A22 wanted dialogue so we gave them 2.5 hours of time from all of the game's stakeholders and each one rejected their approach. As the Football Supporters' Association said, the UK has had as many Prime Ministers in the last two months as they have supporters of their plans.
They claim not to represent the three remaining clubs. They refuse to define what their alleged new approach is. They claim to want dialogue. But when presented with the chance, they have nothing to say.
The time for real dialogue is tomorrow when the Convention on the Future of European Football reconvenes here in Nyon. National associations, clubs, leagues, coaches, players, fans, agents, and administrators will gather to discuss the real issues facing the game, not to spend time indulging bankers and marketing executives on ideas that put the future of the world's favorite game in jeopardy.