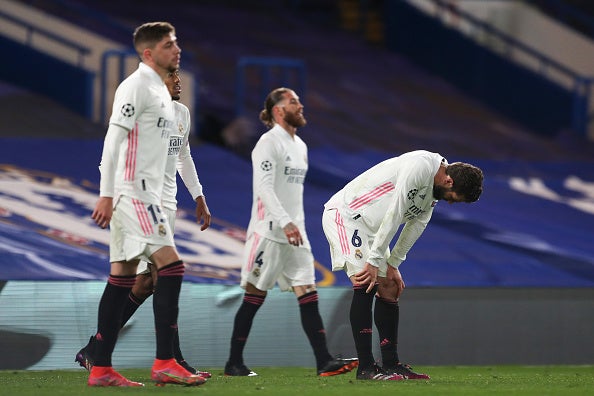 Uefa, European soccer's governing body, has launched a disciplinary probe into Real Madrid, Barcelona and Juventus over their involvement in the proposed breakaway European Super League.
The three clubs are the only members of the original 12 yet to formally withdraw from the project, and face a possible ban from Uefa competitions, including the Champions League, if they maintain their position.
In a statement on Wednesday, Uefa said: "Uefa ethics and disciplinary inspectors have today been appointed to conduct a disciplinary investigation regarding a potential violation of Uefa's legal framework by Real Madrid CF, FC Barcelona and Juventus FC in connection with the so-called 'Super League' project.
"Further information regarding this matter will be made available in due course."
It is thought that the three clubs could face a two-year ban from Uefa competitions if found guilty.
Real president Florentino Perez and Juventus chairman Andrea Agnelli were lead protagonists in the creation of the Super League, involving a group of Europe's top clubs, plans for which were announced last month only to fall through within days as nine of the participating teams pulled out amid a significant backlash.
However, Real, Barcelona and Juventus continue to support the venture, insisting it is necessary to address the financial fallout from the coronavirus pandemic and ensure soccer appeals to young audiences in the future.
The nine clubs that withdrew have recommitted to Uefa club competitions while agreeing to sanctions including a combined donation of €15 million ($18.1 million) to youth and grassroots soccer, and the withholding of 5 per cent of revenue they would have received from the competitions for one season.
The group comprises Liverpool, Manchester United, Manchester City, Chelsea, Arsenal and Tottenham Hotspur of England, AC Milan and Inter Milan of Italy and Atletico Madrid of Spain.
While welcoming the nine back to the fold, Uefa said last week it "reserved all rights to take whatever action it deems appropriate against those clubs that have so far refused to renounce the so-called 'Super League'. The matter will promptly be referred to the competent Uefa disciplinary bodies."
However, Real Madrid, Barcelona and Juventus subsequently issued a joint statement defending their involvement in the project, and hitting out at "the unacceptable and ongoing pressures and threats received from Uefa".