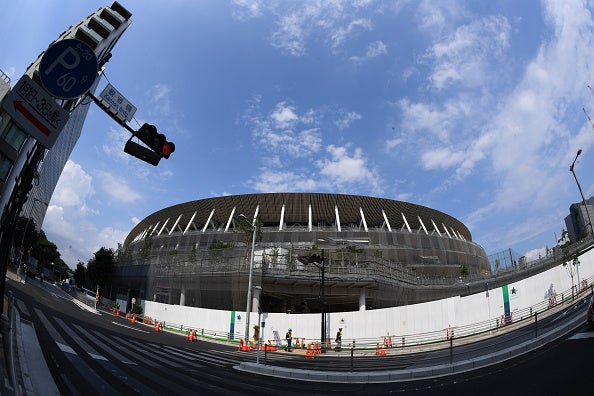 The organisers of the Tokyo Olympic Games have set a limit of 10,000 spectators at events at the forthcoming sporting showpiece.
Given ongoing coronavirus rules, attendance is limited to Japanese fans up to 50 per cent of a venue's capacity.
The stipulations are in line with relaxed measures in Tokyo after a state of emergency was lifted at the weekend, and conditional on no rapid change in the number of infections that would necessitate a return to stricter conditions.
The announcement comes with a poll showing increased support for the Olympics in Japan albeit most respondents are still in favour of a cancellation or further delay because of the health situation.
Having been postponed from last year as a result of the Covid-19 pandemic, the Olympics are due to take place on 23 July to 8 August, and be followed by the Paralympics from 24 August to 5 September.
The spectator capacities were determined today following a meeting of officials from the Tokyo 2020 organising committee, the International Olympic Committee, the International Paralympic Committee, the Tokyo metropolitan government and the Japanese government.
Although foreign spectators had already been excluded, the organisers were determined to have some domestic fans at the games, and despite warnings from medical experts that risk would be mitigated by staging the events behind closed doors.
Seiko Hashimoto, the president of Tokyo 2020, said on Monday: "There are so many cases, domestically and internationally [of] sports events with spectators.
"By exercising thorough measures and based on the government criteria, we believe we can hold the games with spectators. The entire world is facing the same issues and we have to wok together to overcome them."
The 10,000 limit does not include delegates and sponsors, which will also be able to attend Tokyo 2020 events.
However, the organisers are imposing rules on all attendees including the compulsory wearing of masks and bans on speaking in a loud voice or shouting. Congestion will be avoided with appropriate announcements and visitors are encouraged to leave venues in a staggered manner.
Spectators have been requested to travel directly to venues and return home directly, and to take all necessary precautions when moving between prefectures.
In light of the ongoing Covid-19 situation, the Japanese authorities are looking to cancel of reduce the scale of live sites and public viewing events.
In the event of a rapid change in infection status, the five aforementioned parties will meet promptly to consider further measures.
Leading health adviser Shigeri Omi, who is also the Japanese government's coronavirus adviser, had contributed to a report issued last week stating that the Olympics should ideally take place without spectators.
The medical experts wrote: "Holding with games without spectators is the least risky option and we think desirable. This event is different from ordinary sports events in scale and social interest and because it overlaps with summer vacations.
"There is a risk the movement of people and opportunities to interact during the Olympics will spread infections and strain the medical system."
Japanese prime minister Yoshihide Suga had announced last Thursday that the state of emergency would be lifted in Tokyo and other prefectures, although 'quasi-emergency' measures will remain in place in some areas, including the capital, until 11 July.
The latest survey from the Asahi Shimbun newspaper shows that 34 per cent of Japanese people now support the Olympics, up from 14 per cent last month.
However, 32 per cent still want the games to be cancelled and 30 per cent want another postponement, down from 43 per cent and 40 per cent respectively in May.
The poll was carried out on 19 and 20 June, with 1,469 people questioned on home and mobile phones.
Although it has not been impacted as much as many western countries, Japan has reported more than 770,000 Covid-19 cases and over 14,000 deaths, while only 5 per cent of the population has been vaccinated.