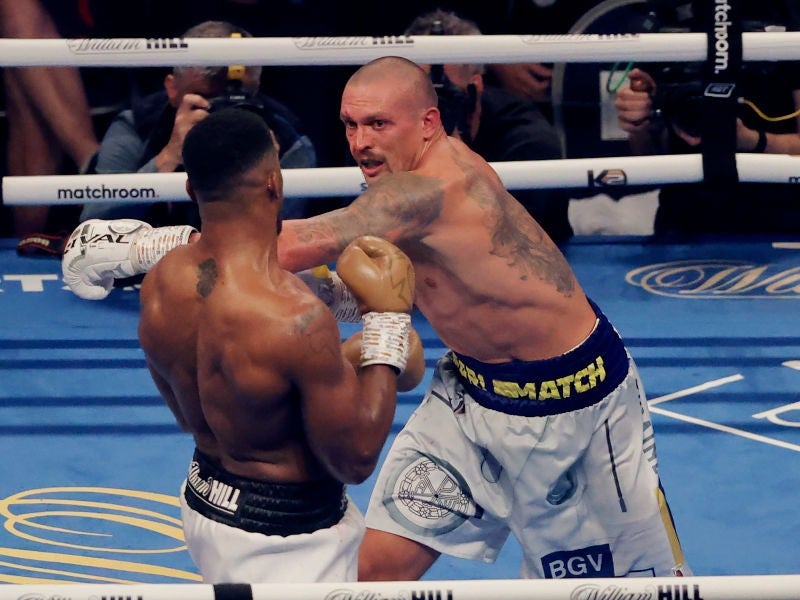 The hotly anticipated rematch between British heavyweight boxer Anthony Joshua and Ukrainian Oleksandr Usyk will take place on August 20 in Jeddah, Saudi Arabia, it was announced yesterday (June 19).
The bout had been due to take place on July 23 but a delay was announced at the end of May due to what were described as broadcast wranglings between pay-TV broadcaster Sky (which had UK rights for Joshua) and streaming service DAZN (which has international rights for him).
Last week (June 13), it was announced that Joshua has signed a long-term broadcast deal with DAZN, bringing to an end a nine-year partnership with Sky and suggesting that the negotiations between the two broadcasters had been more widely focused than on just the upcoming rematch.
It is thought that Joshua-Usyk II will be AJ's first fight under the new partnership.
He is seeking to regain the IBF, WBA, WBO, and IBO titles he lost when he was beaten by Usyk last year in a unanimous judges' decision.
The rematch will be the latest major sporting event to partner with Saudi Arabia, with the kingdom having been accused of using such events to sportswash a reputation of human rights abuse allegations.
Indeed, Joshua previously fought there in 2019 when he faced Mexico's Andy Ruiz for the second time in a bout that was the most-streamed event on DAZN that year. At the time Eddie Hearn, chairman of Joshua's promoter Matchroom Sport, faced questions about whether or not the event should have been held there.
Saudi Arabia's increasing footprint in the sporting world includes a date on the Formula 1 motor racing series calendar that was added in 2021, majority ownership of the English soccer's top-tier club Newcastle United following an acquisition last year, and the recently launched LIV Golf Investments company, the first tournament of which was held earlier this month.
Hearn said: "We are thrilled to get one of the biggest heavyweight rematches in boxing history made and give Anthony Joshua the chance to reclaim what he lost in London last September. Everything is on the line for this unified world heavyweight championship bout and it could not be a bigger contest.
"It was a huge success to host Anthony Joshua's contest with Andy Ruiz Jr. in The Kingdom of Saudi Arabia in 2019 and we are looking forward to working with the country again to stage this historic event."
Prince Khalid bin Abdulaziz, chairman of the Saudi sports and entertainment agency Skill Challenge Entertainment, added: "This is another proud moment for the Kingdom of Saudi Arabia bringing the biggest rematch in global boxing to our great country."