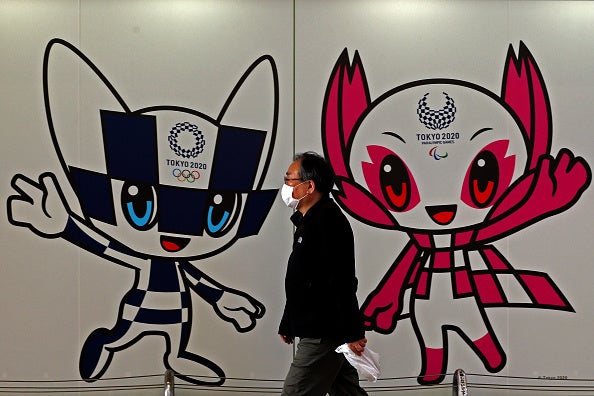 Japan looks set to allow up to 10,000 spectators to attend events at this year's Olympic Games in Tokyo with the lifting of strict coronavirus restrictions.
The capital is one of the areas of the country under a state of emergency, with attendance at sports events limited to 5,000, or 50 per cent of a venue's capacity.
The Tokyo 2020 organising committee is due to make a decision later this month on whether domestic fans can be present at events at the games, which were postponed from last year because of the Covid-19 pandemic.
Encouragement has been taken from the likely ending of the state of emergency on Sunday, after which the minimum capacity at events would be doubled.
It is envisaged that new measures would be in place until the end of August although this is conditional on the level of infections and new variants.
The Olympics are due to take place from 23 July to 8 August, and foreign spectators have already been ruled out.
Yasutoshi Nishimura, Japan's economy minister, who is overseeing the country's response to the pandemic, told a government advisory panel yesterday: "It is important that we maintain thorough anti-infection measures to prevent a rebound in cases, especially as we foresee a spread of the Delta variant."
Although it has not been impacted as much as many western countries, Japan has reported more than 770,000 Covid-19 cases and over 14,000 deaths, while only 5 per cent of the population has been vaccinated.
This has influenced negative feeling towards the Olympics in Japan with polls showing a majority of the population in favour of a further postponement or cancellation.
However, Tokyo 2020 and the International Olympic Committee are determined to press ahead, and this week saw the release of new playbooks laying down regulations for athletes and officials set to travel to Japan in the coming weeks
Competitors have been warned that they face various punishments, including possible expulsion from the games, for breaching Covid rules.
The prospect of an albeit limited number of spectators would be a boost for Tokyo 2020 revenues, with the Financial Times reporting yesterday that Japanese taxpayers could be forced to cover the cost of an $800 million bailout if all ticket-holders have to be refunded.
The UK newspaper said this analysis was based on organising committee records.
In addition, having no fans at the events would be catastrophic for the Japanese tourism sector, which was hoping to capitalise on having the world's biggest sports event in the country's capital.
Ralph Hollister, travel and tourism analyst at GlobalData, commented: "The prospect of no attendance would take things from bad to worse for Japanese businesses involved in the tourism sector. The wait for the announcement on spectatorship with be agonising for all businesses involved, as domestic attendance would at least allow for the recouping of some losses."
He added: "Many Japanese hotels were built and refurbished in time for Tokyo 2020. According to GlobalData, the number of hotels that opened in Japan between 2013 (the year that it was announced that Japan would host the Olympics) and 2019 increased by 9.1 per cent, showcasing the investment that has occurred."
The pandemic and the postponement of the Olympics will have contributed to the 57 per cent rise in bankruptcies in Japan's hotel industry last year, compared with 2019.
Hollister said: "If the games are played behind closed doors in 2021, hotel bankruptcies could well exceed 2020 levels, as many smaller businesses will not be able to deal with a second summer of rock-bottom occupancy rates. Additionally, the large hotels built to directly cater for the Olympics will remain empty, leaving stakeholders in the lurch with little return on investment."
With international spectators already excluded, a ban on domestic fans would add insult to injury for the Japanese airline industry, notably dominant players Japan Airlines and All Nippon Airways.
There would also be serious implications for the retail sector, with Hollister saying: "Many retailers in Tokyo would have been expecting a significant boost to revenues due to visitation created by the Olympics. Alike other industries involved in tourism, the retail sector has invested heavily in the build up to the Olympics. Many new concepts have been trialled to improve retail and touristic experiences for the Games, including mixed-use spaces that offer retail, food stands, coffee shops, art, cultural events and product launches.
"If no visitation is allowed, minimal returns will be seen on this kind of expenditure for the event, further forcing Japanese businesses into the red."