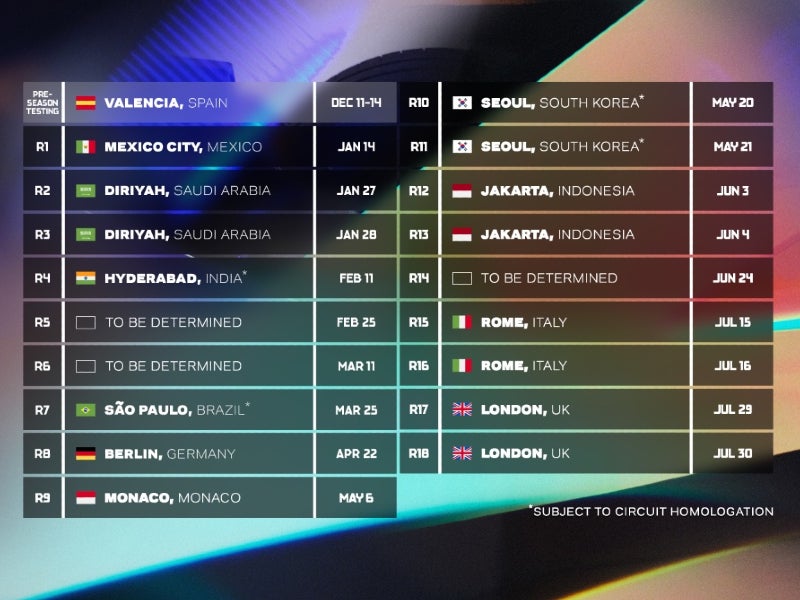 The upcoming 2022-23 season of Formula E, which will be the ninth of the all-electric motor racing series, is to feature a record 18 races across 10 cities and visit two new destinations.
The provisional calendar, released yesterday (June 29) and ratified by the FIA global governing body, accommodates two more races than the 16 across 10 cities that had made the ongoing 2021-22 season the most extensive to date.
It will also see races take place in Hyderabad, India, and São Paulo, Brazil, for the first time.
Season 9, which is the start of Formula E's Gen3 era when the "the fastest, lightest, most powerful and efficient electric race car ever built" will be introduced, will begin in Mexico City, Mexico, on January 14, 2023, and come to a conclusion in London, UK, with a doubleheader on July 29 and 30 later that year. It has kept the 2022-23 designation despite taking place within a single calendar year due to the knock-on effect of previous seasons that were disrupted by the coronavirus pandemic.
There are five doubleheaders planned for the season, with Jakarta in Indonesia having been upgraded to one of the two-day, two-round affairs following sold-out grandstands and a record-breaking TV audience there for its inaugural e-prix this season.
Seoul in South Korea also returns after making its debut, while Berlin in Germany will be the only destination to have hosted a race in each of the nine seasons.
The destinations for three rounds are still to be confirmed, but negotiations are said to be at "an advanced stage".
A revised calendar will be reviewed by the FIA later this year.
The new season will see McLaren Racing compete in Formula E for the first time following its acquisition of the Mercedes-EQ Team, the addition of Maserati to the grid as it re-enters motorsport, and the reappearance of ABT to the series after a hiatus in season 8.
In total, season 9 will be contested by 12 teams and 24 drivers.
Season 8 continues this weekend (July 2) in Marrakesh, Morrocco, and runs through until mid-August.
Alberto Longo, co-founder and chief championship officer at Formula E, said: "The Season 9 calendar of the ABB FIA Formula E World Championship is our most expansive and dynamic racing schedule yet and I cannot wait to get started.
"We will continue to push the international boundaries of all-electric street racing with E-Prix in Hyderabad and São Paulo, while maintaining the hugely popular races in Diriyah, Mexico City, Berlin, Monaco, Rome, and London with Jakarta and Seoul now established on the calendar. We are also working hard to include Cape Town and a race in the USA when the provisional calendar is updated later this year."
Jamie Reigle, chief executive officer at Formula E, added: "Engineers and sustainability experts at the FIA and Formula E have worked together to build the Gen3, a race car that proves how high performance and sustainability can powerfully co-exist without compromise.
"We welcome Maserati back to motorsport for the first time in decades alongside McLaren Racing and the incredible roster of teams and manufacturers that makes Formula E unique. We expect Season 9 to continue our momentum of growing the global fanbase for the sport."