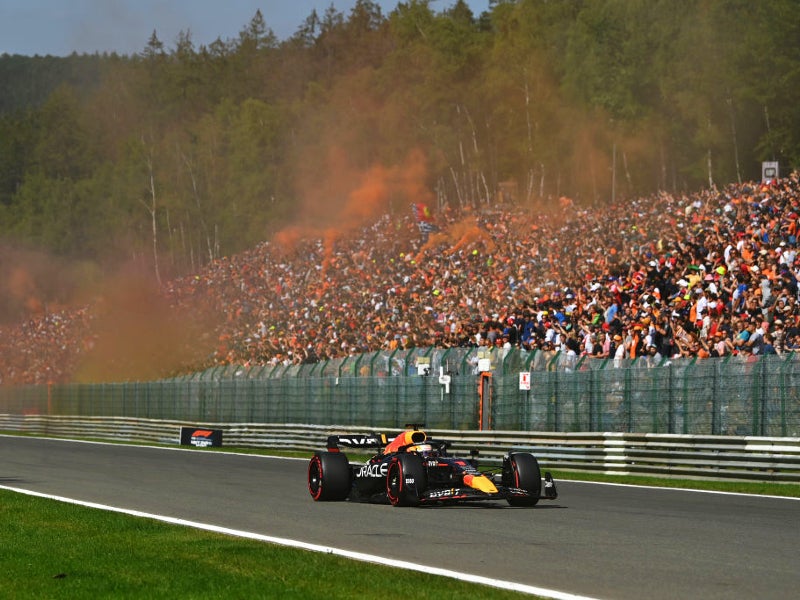 The Belgian Grand Prix will remain on the calendar of motor racing's prestigious Formula 1 (F1) series next season.
In an announcement on Sunday (August 28) ahead of the 2022 Belgian Grand Prix later that day, F1 confirmed that it reached an agreement to extend the contract for the race, which was due to end this year, by one year.
A statement read: "Formula 1 can confirm that the Belgian Grand Prix will be on the 2023 calendar following an agreement to extend our partnership together. Further details on the 2023 calendar will be announced in due course."
The Belgian Grand Prix has been a fixture on the F1 calendar with only occasions since the sport's first season in 1950 – and, prior to that, it was a staple race of Grand Prix motor racing from which F1 derived.
The Circuit de Spa-Francorchamps, where Sunday's race was held, has hosted the vast majority of Belgian Grands Prix and is regarded highly among both drivers and spectators.
However, the race is one of a number that has been under threat of being dropped due in part to efforts by F1's owner Liberty Media to take the series to new destinations, aging facilities at Spa, and logistical difficulties with running the event there.
This weekend's announcement gives the race and venue a reprieve, but as only a one-year extension there is still the possibility that the Belgian Grand Prix could be dropped in 2024.
The French Grand Prix and the iconic Monaco Grand Prix are among other races thought to potentially be at risk of being dropped, while there remains uncertainty about the Chinese Grand Prix due to the country's ongoing zero-Covid policy.
F1 president and chief executive Stefano Domenicali confirmed last week (August 23), meanwhile, that the Russian Grand Prix has been permanently dropped as a result of the country's invasion of occupation of Ukraine.
Of the Belgian Grand Prix's renewal, Domenicali told broadcaster Sky Sports: "We have to congratulate the job [the race organizers] did. You've seen the investment they did. You see the number of people that are coming here … Incredible crowd, incredible attention to the people, and this is great. Great I think for the sport.
"We always said that the race is a part of our tradition, and it has a very important space in our calendar, and this is a fact that we wanted to share in this moment."
Red Bull's Max Verstappen claimed victory at Spa on Sunday in one is effectively one of two home races for the Belgian-Dutch driver, who has built up what is an all-but-unassailable lead in the 2022 driver standings with eight rounds of the 22-race season remaining.
Image: Getty/Dan Mullan