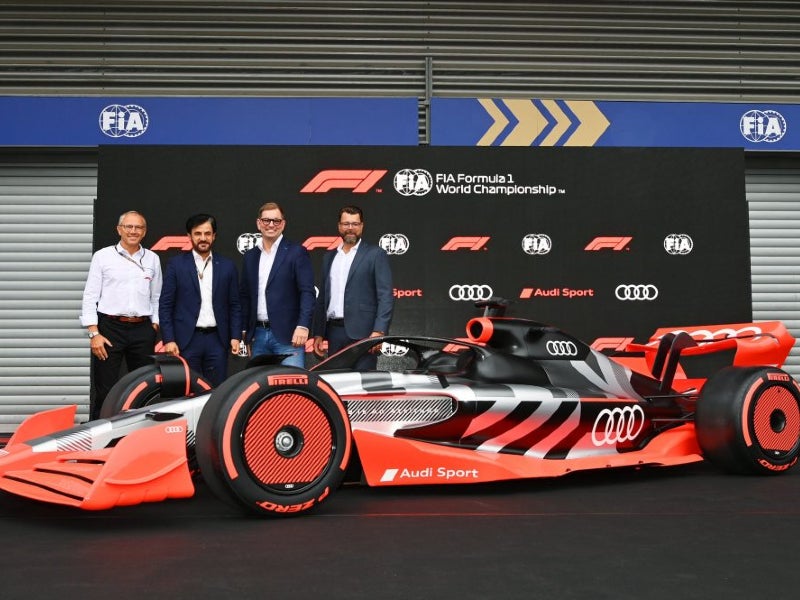 Audi, the German car manufacturer, will compete as a power unit supplier in the prestigious Formula 1 (F1) motor racing series from 2026, it has been confirmed.
The announcement was made today (August 26) at a press conference at the Circuit of Spa-Francorchamps ahead of the Belgian Grand Prix there on Sunday (August 28) after months of speculation.
In attendance were Audi's chairman of the board Markus Duesmann, member of the board for technical development Oliver Hoffmann, F1 president and chief executive Stefano Domenicali, and president of the International Automobile Federation (FIA) motor racing governing body Mohammed Ben Sulayem.
The marque's entry into F1 had appeared inevitable after Herbert Diess, chief executive of Audi's parent company Volkswagen (VW), all but officially confirmed the move in May and F1 confirmed last week (August 16) that its new engine regulations for 2026 onwards had finally been approved by the FIA.
Audi's decision was contingent on those regulations, which will see F1's current V6 internal combustion engines retained but increased electrical power and 100% sustainable fuels. Improved cost efficiency in the series was also a factor.
It will partner with an existing team rather than establish its own from scratch, because, as Duesmann explained: "The starting position and development is much better if you start with an existing car."
A decision on which team that will be is to be provided "by the end of this year," but it is widely expected to be Sauber.
Duesmann noted that he hopes, whichever team it will be, they will have a German driver behind the wheel.
He and Hoffman also indicated that a decision had been made to keep the likely entry of Porsche, another VW brand, entirely separate from that of Audi due in part to their two separate fanbases and also the need to design different powertrains for different chassis.
Conrad Wiacek, head of analysis at GlobalData Sport, commented: "Audi joining F1 as a team from 2026 is not only a significant shift in strategy for the German automotive manufacturer but also a coup for F1. It highlights just how successfully the series has managed to shift perceptions with younger audiences.
"Audi's sponsorship portfolio, which has a total value of over $575 million, with most of the value tied into its partnership with Bayern Munich, has targeted popular sports such as soccer but also sports that resonate with younger audiences, such as esports. With F1 managing to attract a younger audience through its Netflix partnership as well as through its innovative use of social media, alongside growing a new audience in the United States, the appeal for Audi is obvious.
"Audi will be looking to replicate the success rival Mercedes-Benz has had in the sport, generating over $143 million in sponsorship revenue annually. Not only the move provide Audi a global footprint through the sport, but the opportunity to develop new partnerships with leading technology and partner brands should not be underestimated."
Audis' F1 project will be based at the Audi Sport site in Neuburg an der Donau and will see a Formula 1 powertrain being built in Germany for the first time in more than a decade.
Audi says it already has test benches for F1 engines at Neuburg and that the development of personnel, buildings, and technical infrastructure is underway.
The project will be headed up by Adam Baker, who was recently recruited by Audi from the FIA and has held several senior positions for manufacturers and teams in motorsport.
Pressed on the potential cost of the whole project, Duesmann described it only as "pretty high numbers" and a "long-term investment."
Audi's entry into F1 builds on a significant motor racing heritage, which has included particular success in rally driving and the iconic 24 Hours of Le Mans race.
It exited the Formula E all-electric series at the end of the 2021-22 season.
Addressing its entry into F1, Duesmann said: "Motorsport is an integral part of Audi's DNA. Formula 1 is both a global stage for our brand and a highly challenging development laboratory. The combination of high performance and competition is always a driver of innovation and technology transfer in our industry.
"With the new rules, now is the right time for us to get involved. After all, Formula 1 and Audi both pursue clear sustainability goals."
Domenicali added: "I am delighted to welcome Audi to Formula 1, an iconic automotive brand, pioneer, and technological innovator. This is a major moment for our sport that highlights the huge strength we have as a global platform that continues to grow.
"It is also a big recognition that our move to sustainably fuelled hybrid engines in 2026 is a future solution for the automotive sector. We are all looking forward to seeing the Audi logo on the grid and will be hearing further details from them on their plans in due course."
GlobalData report: The Business of Formula One 2022 – Property Profile, Sponsorship, and Media Landscape