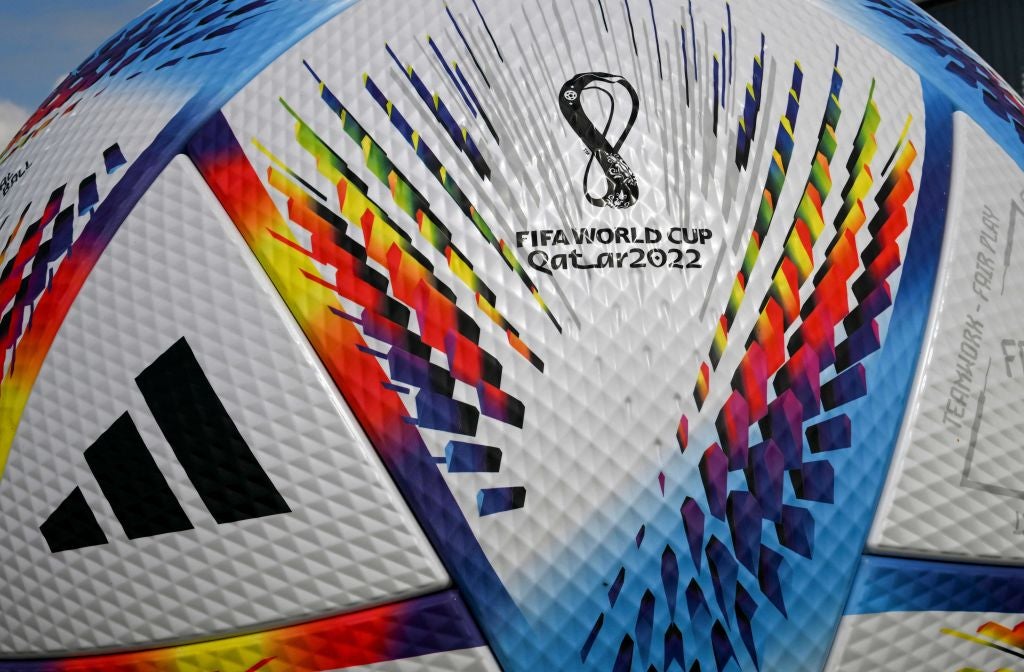 Sportwear brand Hummel has every reason to want to promote its relationship with the national football team of Denmark. Hummel first made the Danish football team's kits in 1979 and continued to do so until 2004, during which time the team achieved its greatest triumph: being crowned European champions in 1992. Its World Cup team from 1986 is also remembered as one of the most attractive to never win the sport's biggest honour.
After a 12-year break, Hummel became the team's kit sponsor again in 2016 and remains so today. Yet those watching Denmark compete at the FIFA World Cup being held in Qatar from November 2022 will not see the iconic Hummel branding on the team's shirts. In late September 2022, Hummel announced it had "toned down" its logo and chevrons branding for Denmark's tournament kit in a protest against alleged human rights violations in Qatar.
"We don't wish to be visible during a tournament that has cost thousands of people's lives," read a brand statement.
Qatar has attracted widespread criticism for the reported labour conditions experienced by migrant workers who built from scratch seven of the eight stadia that the tournament will use. Some reports put the death toll in Qatar as high as 6,500, although this is disputed by the tournament's organising committee.
A statement from the Supreme Committee following Hummel's announcement said that FIFA had worked with the Qatari government "to ensure that the tournament delivers a lasting legacy" and that this led to "significant reforms to the labour system enacting laws protecting the rights of workers and ensuring improved living conditions for them".
Despite this well-rehearsed defence, clearly some corporates think that the risks of being seen to endorse the tournament are too great for a brand to tolerate.
The move from Hummel is a small gesture. It will probably raise brand awareness ahead of the tournament, at very little expense to the kit maker, and attract praise from some quarters.
The main sponsors of the tournament, in contrast, are under much greater scrutiny. Most have refused to address publicly the controversy surrounding stadium construction in Qatar. If other kit manufacturers or team sponsors make similar gestures, it will increase pressure on them. So who exactly are the brands that have decided to sponsor World Cup 2022?
A changing mix of World Cup sponsors
Football is big business, and the World Cup, a competition held over four weeks every four years that pits the best national teams from every continent against each other, is the sport's biggest international tournament.
FIFA claims that 3.75 billion people watched the final game of the 2018 tournament, hosted by Russia, and has predicted as many as five billion could watch the final of Qatar 2022. The World Cup in Russia was the most expensive ever, with a total cost of $14bn. That was a drop in the ocean compared with the $200bn latest cost estimate from the Qatari government for the 2022 event, thanks to the need to build so much new infrastructure.
Host countries of major sporting events such as the World Cup hope they will boost inward investment and economic activity, and there are few better platforms for brands to promote themselves globally.
FIFA raises billions of dollars through sponsorship deals for each World Cup and its many other international tournaments. Sponsors include some of the biggest brands on Earth.
US companies have a long valued the global reach of the FIFA World Cup. Coca-Cola has been an official sponsor since the 1978 tournament, while McDonald's first became a sponsor in 1994, the only iteration of the tournament to date to be held in the US.
Touring the event around the world has seemingly been a good way of picking up sponsors over time. A number of major companies from the host nation will be signed up for each tournament, seeking to be associated with a national success story. The event in 2022 will be no different, with six Qatari companies sponsoring it.
Sometimes those sponsors stick. South Korean automotive manufacturer Hyundai started its relationship with FIFA ahead of the 2002 tournament, which was co-hosted by Japan and South Korea. It has remained a sponsor of the tournament ever since, and in 2010, signed a package deal up until 2022 that made it a sponsor of a range of male and female football tournaments run by FIFA.
The controversial nature of the last two tournaments has seen some long-term sponsors fall away, however. Although they were not as severe as those imposed since its invasion of Ukraine, Russia was already under international sanctions when it hosted the World Cup in 2018 and that seemed to deter some companies.
Continental had been a sponsor of the tournament in 2006, 2010 and 2014 but did not extend the relationship further. UK oil company Castrol sponsored two tournaments but didn't return in 2018, and Johnson & Johnson of the US was also a main sponsor in 2014 but not 2018.
These 'Western' sponsors were replaced in part by local ones, with Russian energy company Gazprom an additional sponsor for 2018. Gazprom had been a keen supporter of football tournaments and teams, having also been a sponsor of the UEFA Champions League, until the war in Ukraine made the company a pariah in the international community.
The rise of Chinese sponsorship at the World Cup
With Russian money no longer available and some Western sponsors still staying away, the latest World Cup has relied heavily on Chinese sponsorship deals.
A year after the 2014 tournament, German sports brand Adidas signed an extension of its rolling sponsorship of the FIFA World Cup, committing itself until 2030 in a deal worth $800m. Adidas has provided the match ball for every World Cup since 1970 and pays a premium to retain its monopoly position ahead of fierce US rival Nike.
This deal was surpassed just a year later however by Chinese real estate developer Wanda Group, which signed a $850m deal up until the 2030 tournament.
Chinese companies are providing more sponsorship revenue than companies from any other country at the 2022 World Cup ($1.4bn from Chinese companies compared with $1.1bn from US companies), according to GlobalData. Even when looking at the annual value of these deals, China is the biggest sponsorship contributor.
This is perhaps surprising given that the Chinese team has only qualified once for the World Cup, back in 2002, when the team failed to win a single game. The Chinese companies involved in the World Cup are not exactly household names either, so the global market exposure would seem less valuable to them.
Yingli Solar was the first Chinese company to sponsor the World Cup, at the 2010 tournament held in South Africa. It returned in 2014 but ended its relationship with FIFA after that tournament and subsequently fell into financial trouble.
It was in 2018, when other companies were turning away from the tournament, that Chinese sponsorship rapidly increased. Tech and entertainment company LUCI, vehicle manufacturer Yadea, China Mengniu Dairy, consumer electronics companies Hinsense and Vivo, and clothing brand Diking all became sponsors that year. Three of those six have returned for the Qatar tournament.
With so much sponsorship money coming from local or Chinese companies for the 2022 World Cup, it looks less exposed to public campaigns opposing the tournament. Yet it is likely that as the tournament nears, pressure will be exerted on the 'Western' companies to comment on the human rights charges levelled at the Qatari government.
The 2026 World Cup should prove less controversial for FIFA, given that it is being jointly hosted by Canada, the US and Mexico. Whether this results in less reliance on Chinese sponsors remains to be seen.