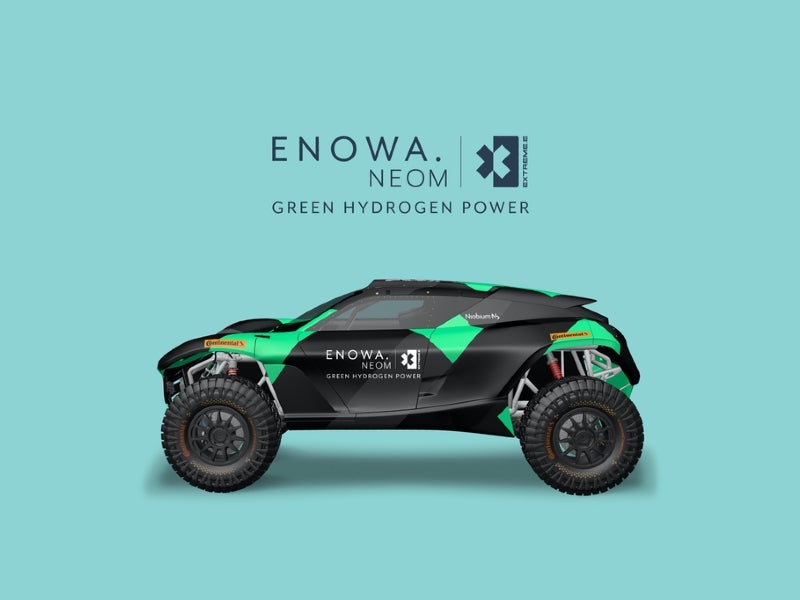 Enowa, the energy, water, and hydrogen subsidiary of the Saudi eco-city Neom, has been named the green hydrogen power partner of the Extreme E all-electric SUV motor racing series.
Through the deal, announced today (June 29), Enowa will work with Extreme E to implement innovative green hydrogen-based technologies that can help to make it a no-impact series and to showcase the technologies.
In addition, Enowa will become a part of Extreme E's scientific advisory board, and the two will collaborate to develop educational programs about climate-positive solutions for young people.
Hydrogen can, of course, be used as a clean fuel that produces only water, but it must also be produced itself. The term 'green hydrogen' is used for the gas when it is produced using emission-free (or near-emission-free) methods.
This aligns with Extreme E's proposition of impact-free racing, demonstrating the possibilities of clean energy technologies, and developing new such technologies.
Neom, the sustainable new city in northwest Saudi Arabia that is currently under construction as part of the kingdom's Vision 2030 program, claims to boast the world's largest facility for producing green hydrogen.
It was also announced earlier this week (June 27) that the city will serve as the title sponsor of McLaren Racing's Formula E and Extreme E electric racing teams.
The ongoing 2022 season is McLaren's first competing in Extreme E.
In addition, earlier this year, Extreme E announced plans for a first-of-its-kind hydrogen-powered off-road racing championship called Extreme H.
Development for the Extreme H vehicle is already underway, with the aim of a prototype being launched in early 2023.
The series, which is scheduled to launch in 2024, will tour the same locations as Extreme E, race on the same days, and use the same format.
It would provide an additional potential area for collaboration between Enowa and Extreme E.
Alejandro Agag, founder and chief executive of Extreme E, said: "We are delighted to have Enowa onboard as our official green hydrogen power partner. We have collaborated with Neom for some time, particularly in delivering a hugely successful first Desert X Prix of Season 2; this partnership with Enowa marks a further step in our mission for a more sustainable future.
"The work undertaken by Enowa is extremely ambitious and an exciting prospect. Neom, much like ourselves, pushes the boundaries of environmental sustainability and we are delighted to be partnering with Enowa to go even further in our objective to raise awareness of the climate crisis.
"Enowa plans to lead the development of world-class, sustainable energy, water, and hydrogen systems which I am sure will become a reference point in the future, and our series will also benefit from this greater focus on technology and innovation."
Peter Terium, chief executive of Enowa, added: "Business decisions in Neom have sustainability at their core which is why we are delighted to partner with Extreme E. Our partnership is aimed towards both creating visibility to the most urgent problems the planet is facing but at the same time demonstrating solutions that deliver meaningful impact.
"Together we can accelerate innovations in clean technologies powered by green hydrogen, contributing to hydrogen mobility markets and the future of global decarbonization."